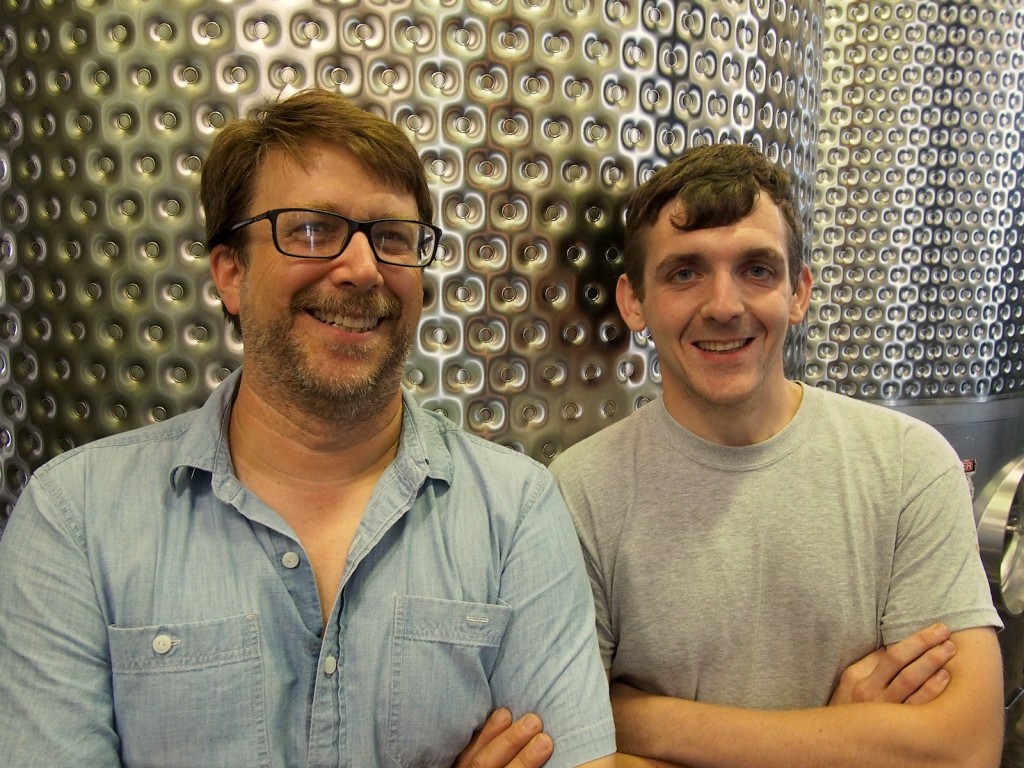 How quickly do things really change on Planet Wine? Often if you look past the headlines that try keep trying to persuade us the winemaking wheel has just been reinvented again, then take a thoughtful and probing look at history you find that many of those supposed game-changing innovations are not really that new. However, every now and again a young wine region really does take a massive leap forward within the space of a few years, and sometimes that leap is in good part the result of one person's remarkable efforts. The FLX (Finger Lakes) of Upstate New York is a young region with just over 50 vintages with vinifera grape varieties behind it, and currently it is being shaken up by a group of dynamic and often young winemakers. One of them stands out for what he has done with Riesling during just the last couple of years. Kelby Russell (right in the above photo) will be 28 years old on December 19th this year and he began his winemaking career only six years ago, but what he has achieved in that time is truly revolutionary for the FLX and for the world of Riesling.
Kelby became the winemaker of Red Newt Cellars of Hector on the eastern bank of Seneca Lake at the end of the 2012 vintage. The wines he made that year are all nice stuff, but many of them are rather cautious and few of them are really exciting. However, with his 2013 and 2014 vintage Rieslings he has done things I never expected from this region, and he has taken Red Newt high into the FLX first league. Much as I appreciate the recent leap in quality at Red Newt, particularly for the winery's larger production wines like the medium-sweet Circle Riesling (scroll down to my Riesling Revelations 2015 for more about the latter wine), the radical stylistic innovations strike me as being even more important. They are most clear in the new high-end wines that Kelby has created with the considerable encouragement and support of winery owner Dave Whiting (left in the above photo).
I never came across FLX Rieslings before with the striking nose of yellow grapefruit and smoke that the 2013 and 2014 vintages of the Red Newt Dry Riesling have. They also have a racy energy that reminds me of James Joyce's observation that, "white wine is electricity," and we are talking about a wine that costs just under $20! They do the kind of things most somms will tell you only top quality European Rieslings can do, and it is surely significant that Kelby has studied those wines very intensively and tried to learn everything he could from them. The grapes for this wine came from Harlan Fulkerson's Lahoma Vineyard on the western bank of Seneca Lake, a new fruit source for Red Newt. The winery's new top dry Riesling The Knoll comes from one particular block – it is indeed a knoll – in that vineyard and debuts with the recently released 2013 vintage. It has even more of the smoke aroma than the 2013 Dry Riesling, and this is combined with a fresh pineapple note. On the palate there's great concentration for this generally rather wishy-washy vintage (due to high crop levels that winemakers didn't see coming until it was too late) and it lacks the Botrytis note that slightly mars many 2013 FLX Rieslings. The even drier 2014 The Knoll is still science fiction, by which I mean that it will be almost a year before it reaches the market, however, it is surely one of star wines of this often great vintage in the region. For all its intensity and despite having some serious tannins (yes, tannin can be positive in Riesling!) this is a very elegant wine with flavors of way too complex to be adequately described with a few standard winetasting terms. So let me stick my neck out and say that it's an intricately patterned tapestry of acidity, fruit, spice and minerals.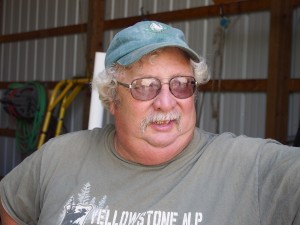 There is also medium-dry pendant to this with the working name of The Big H (as the photo right shows Harlan Fulkerson is a big guy in every sense). It has more exotic aromas, is more succulent and weighty, but is also graceful and subtle. With just 18 grams of residual sweetness in the 2014 vintage, this too is very much a gastronomic wine. Kelby is also responsible for making the excellent Dry Riesling for Boundary Breaks winery (again see my Riesling Revelations 2015 below) and almost equally striking Empire Estate Dry Riesling launched with the 2014 vintage by the Nomad Hotel group. These are also both stylistic innovations for the FLX. Then there are the wines that he makes under his own Kelby James Russell label, but they deserve separate description at a later date so they don't get lost in the crowd of all these other wines.
Given all this you are probably wondering why you haven't heard Kelby Russell's name before. Winemakers who don't continually blow their own horn are often overlooked and underrated, and Kelby is anything but a loud mouth or  24/7 self-publicist. Of course, he hasn't been up at full speed for very long, and this is also a reason for the modest crop of high praise he has gathered to date. However, it's a journalist's job to see what's going on, and regions where so much is moving so fast (many more stories on the young winemaker of FLX will follow and ROCK STARS OF WINE AMERICA #3 will be devoted to them) ought to excite journalists. Dear colleagues, it is high time that you woke up to what this young man is doing, because he is changing an entire region!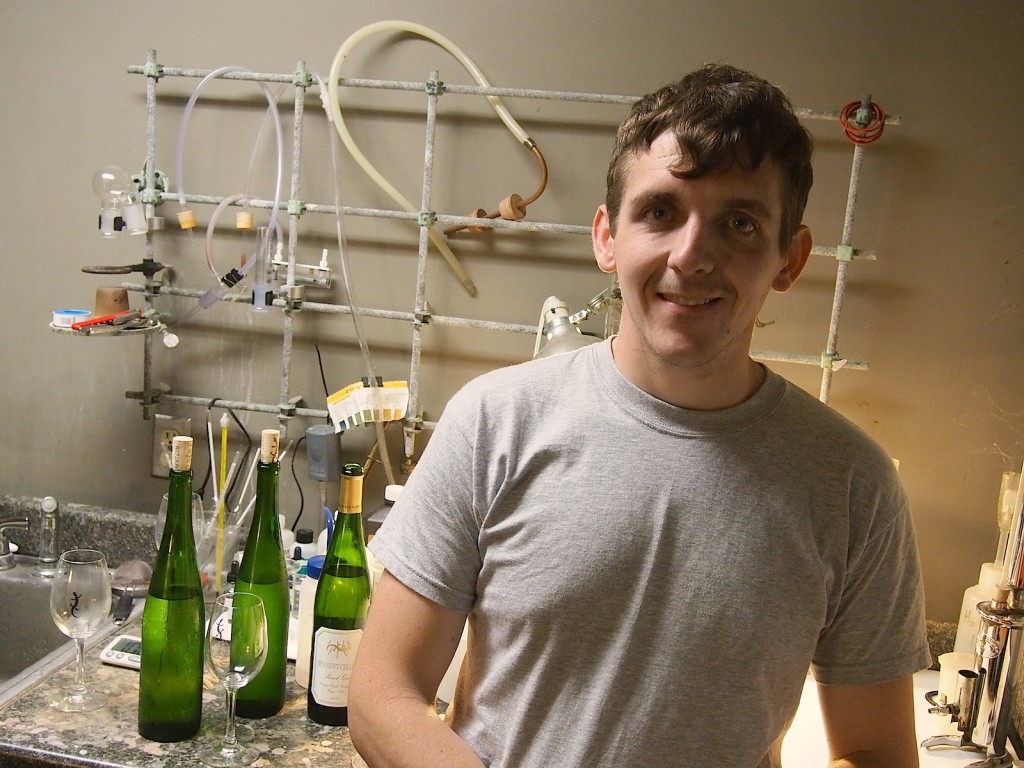 Of course, that statement prompts the question how it is possible for someone so young to get so far in such a short period of time. Part of the answer is the way that Dave Whiting spotted his talent and almost immediately gave Kelby the freedom he needed to turn his vision into such exciting wines. However, you have to have a vision and the necessary knowledge to be implement it before that kind of mentorship will work. Kelby graduated from Harvard in 2009 with a bachelor's degree in government and a minor in economics, both subjects enormously far removed from wine. He had been planning to go into orchestra or choir management, but a little taste of winemaking in Italy in 2008 made him change his mind. On the first day of the 2009 harvest he turned up at Fox Run Vineyards and became one of the "students" at the "school" of winemaker Peter Bell. Many other young FLX winemaker have done the same, and Peter helped any number of them thoroughly grasp the foundations of their craft. Somebody should give Peter a medal for what he has done for the entire FLX wine industry!
In 2010, '11 and '12 Kelby worked two harvests per year by going to the Southern Hemisphere in the Northern Hemisphere spring, working at Whitehaven in Marlborough, NZ, then Piper's Brook in Tasmania, before finally graduating to Nightshift Red Winemaker at Yalumba in South Australia. Not surprisingly, he's also doing exciting things with the Cabernet Franc reds at Red Newt. From the 2014 vintage there's a joyful, fragrant fruity tank-aged Cab Franc and the 2013 Glacier Ridge single vineyard bottling is the best Cab Franc the winery has made to date with a floral elegance that puts it in the first league of FLX reds. Other remarkable and sometimes daring new creations are about to emerge from Red Newt Cellars! These exciting other wines show that this year's Riesling Hero is by no means limited to his and my favorite grape variety!
Anyone who regularly reads this blog will already know that Kelby is also a good friend of mine and that I have been his house guest several times. That closeness has enabled this young winemaker to have a mind-expanding effect upon my awareness of Riesling in the FLX and beyond. Only a couple of other winemakers of his generation did that for me, and they are world-famous names. READ MY LIPS: TASTE THESE WINES!