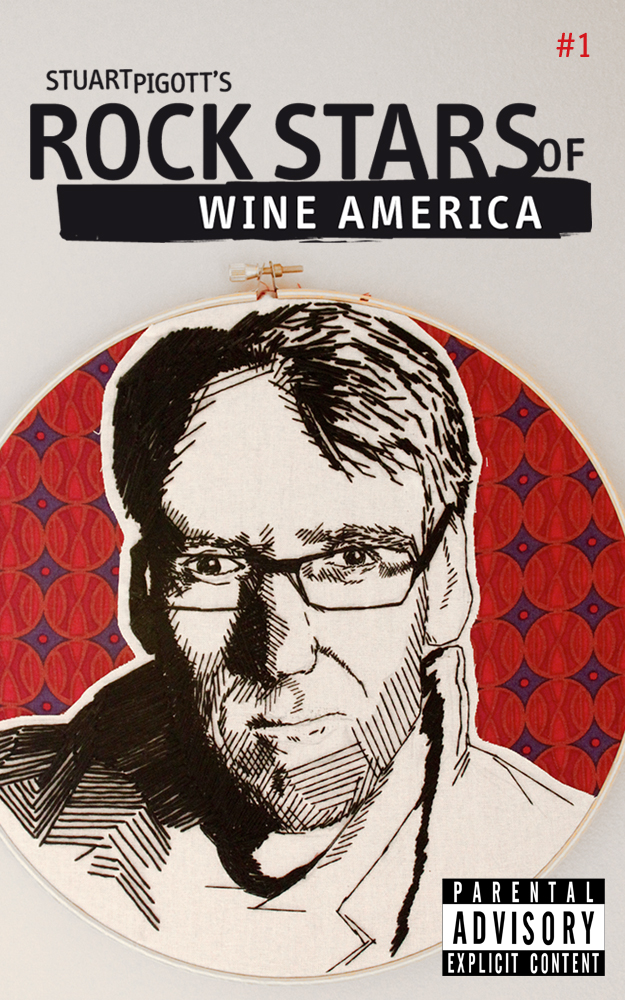 This is a call for authors to submit manuscripts for potential publication in the ROCK STARS OF WINE AMERICA e-book (for Kindle) series and is open to all. Please allow me to explain why and how I'm doing this before giving you details of how to actually submit, because you should know what exactly you're getting into before you jump in the deep end of this Olympic depth diving pool.
When I published my first e-book ROCK STARS OF WINE AMERICA #1: Point of Entry featuring Very Bad PR (pictured above) on September 29th last year I knew that it was going to be the first in series, but it didn't occur to me that with it's appearance sporting brilliant cover art by Angelyn Cabrales I had de facto become a publishing house and was thereby a (albeit very small) competitor for Penguin, Simon & Schuster and all the other well established publishing houses of Planet Wine. Our relationship may be an extreme form of the David & Goliath struggle, but that doesn't alter the fundamental nature of it. Of course, you could argue that from the beginning this blog has effectively been an online magazine edited and published by me, and the presence of other authors (particularly Frank Ebbinghaus in the German-language department) makes this undeniably true. But, with God knows how many millions of blogs out there in cyberspace it didn't feel like even when the traffic cranked up to the current level of half a million plus hits per month. Publishing that first e-book was the decisive step, because it is sold by the Kindle Store on Amazon which is hardly a small underground operation. That made me realize I would have to step up and play the role of publisher in an active way, rather than continue to dodge the issue. Should you not yet have read this outrageous tale of my first trip to the US (to Baltimore, to be precise) thirty years ago told as if it all happened yesterday, then this is where to find it:
http://www.amazon.com/ROCK-STARS-WINE-AMERICA-featuring-ebook/dp/B015QQWTKQ/ref=sr_1_1?s=digital-text&ie=UTF8&qid=1443094170&sr=1-1&keywords=Stuart+Pigott
With the publication of the second "volume" in the series, ROCK STARS OF WINE AMERICA #2: AZ with MJK: I Could Drink a Case of You (pictured below, also with art work by Angelyn Cabrales) on November 21st things became much more serious for two reasons. The first of these is that this story takes place in the present, in fact, the last events described in the book took place just one hundred hours before it's publication! Secondly, the central figure of this story set in Arizona is a genuine rock star, Maynard James Keenan the singer of Puscifer and Tool. Tonight is the first night of the 2016 Tool tour (Bill Graham Civic Auditorium, also tomorrow night). This meant that I'm now also in competition with publications like Rolling Stone! I actually offered this story to Rolling Stone, but they weren't interested. In spite of that they influenced me, because the $4,99 per copy price I set is Rolling Stone's newsstand price. I have to say that I'm still trying to figure out what being in competition with those guys really means. On the other hand, I immediately realized that one enormous advantage of their lack of interest  in my e-book is that I enjoyed that rare and priceless treasure called COMPLETE ARTISTIC FREEDOM when writing and publishing it. I never forget the first time I heard those words as a teenager – in connection with the movies of Stanley Kubrick, who insisted on those words in every movie contract – they made the hairs on my arms and on the back of my neck stand up. They are still the most erotic words I ever heard and I adopted that freedom and eroticism as my agenda for #2. The PARENTAL ADVISORY Explicit Content sticker is on the cover for a good reason. I can promise you that you will be shocked that a wine book could read like this, because I'm still shocked that it makes great sense to me that a wine book does read like this. As far as I'm concerned it's the best thing I wrote in a decade. Grab your copy now if you haven't already done so:
http://www.amazon.com/gp/product/B018BWI9EM?keywords=Stuart%20Pigott&qid=1448210914&ref_=sr_1_1&s=digital-text&sr=1-1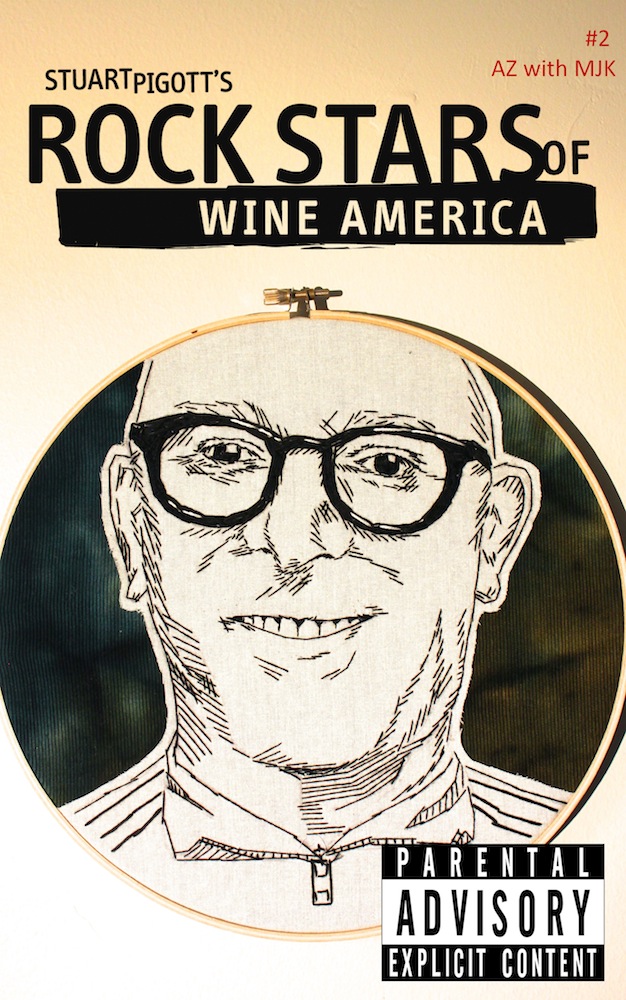 Work on ROCK STARS OF WINE AMERICA #3 about the FLX (Finger Lakes) of Upstate New York has just begun and publication is due for April 1st (!) this year. Having got this far it suddenly struck me that there's absolutely no reason why other authors shouldn't also publish under the banner of ROCK STARS OF WINE AMERICA. If you have an American wine story that's as good as my material or better, then you are more than welcome to submit a sample and an outline. HERE IS THE OPEN CALL FOR SUBMISSIONS FOR PUBLICATION IN THIS SERIES:
A sample is a maximum 20,000 characters including empty spaces and an outline explains in a couple of pages what the whole story you wish to publish is. Please include a realistic completion date and indicate (with contact info) who your editor is, alternatively I can edit your work – no editor is not an option and you cannot be the editor! Samples that are too long will be returned unread. Samples without an accompanying outline will be returned unread. Should your story be accepted we will agree a delivery date and you will deliver on time (or agree a delay with me), or the story will not be published. Before publication you must also submit a written statement signed by you to the effect that you possess the copyright of everything you are submitting and agreeing to my terms. Those terms are that your work sells for $4.99 plus tax on Kindle (they will vary the price slightly, but I will enter $4.99 when uploading your book) and that we will divide the 70% of that price which you receive as follows, $1 per copy sold for me the publisher and the rest for you the author. There will be no negotiations about those terms at any point and they hold for the entire lifetime of the e-book, that is as long as copyright still applies to your work. To submit a work first send me a message through the contact function of this blog, then we will establish email contact.
I am full of anticipation for your work! Together we can turn ROCK STARS OF WINE AMERICA into a serious competitor for the publishers and publications mentioned above