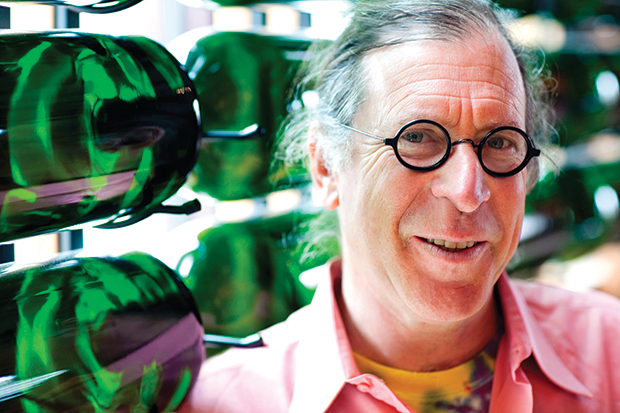 I was seriously distracted for about a week after arriving in Europe, and this caused a delay in writing and posting this second story about Randall Grahm. That was unhelpful, because the first story (scroll down to read about his Le Cigare Volant reds) attracted a lot of attention. Here it finally is! Please note that unlike the photos accompanying the first story, this one was supplied by Bonny Doon Vineyard.
For me there never was any doubt that Randall Grahm (the winemaker of Bonny Doon Vineyard of Santa Cruz since it's foundation in 1983) is not only a rock star winemaker, but that he is also the first American Rock Star Winemaker I ever met. In the first of these two stories I compared him to Neil Young, because of the latter's talent for radically and brilliantly reinterpreting his old songs. Randall was a bit taken aback by this characterization and suggested that maybe Franz Zappa was a better comparison. I found that an interesting thought, and I certainly get the comparison when I think of Zappa's often brilliant and sometimes seriously crazed early material: "I'm a rock!" However, when I think about some of Frank's later numbers like Titties and Beer, then – thankfully! – I don't see any comparison at all with Randall and his wines.
Although Randall and his wines are often misunderstood, there's no avoiding the fact that he has a certain reputation for his red wine, even if they are usually judged not to belong to CA's first league. And he used to have quite a reputation for white wines when he was transforming the Pacific Rim from a Riesling brand (first vintage 1991) into a Riesling winery, and finally a major force in Washington State and American Riesling. Then he sold Pacific Rim to Banfi Vintners at the very beginning of 2011 and his white wine profile took a hit. A few insiders and his loyal are well aware that, for example, Bonny Doon producing the best dry white Albarino in America. However, most of the American wine scene put Randall firmly in the red-wine-guy-with-fun-products pigeonhole where he's remained stuck ever since. The white side of the Bonny Doon went from obscure to virtually unknown, and now resembles an Atlantis of CA white wine!
For this reason I decided to taste the white and rosé wines Randall recently sent me samples of by themselves. I figured that I should give them a chance to come out of the shadow cast by the reds, and as soon as I began tasting I realized that I made the right decision. I'm going to focus on just three of those wines here, because they seem to me to add up to a strong argument for regarding Randall as a seriously talented CA white winemaker with a unique vision. The 2012 Vin Gris de Cigare Reserve was aged on the lees (deposit of fermentation yeast) in the 5 gallon glass demijohns you can see behind Randall in the photo, and that has given this pale and barely pink-tinged rosé a totally different personality from the fresher and more fruit-driven, but also bone-dry, regular bottling of Vin Gris de Cigare. The 2012 Vin Gris de Cigare Reserve the closest thing to a Bandol Rosé I ever tasted from anywhere in America. At once creamy, savory and pithy with just a hint of funk (most of all in the aftertaste) this is a wine that lives from its complex textural qualities and whatever associations its non-fruity character awakens in you. I felt myself transported back to the beautiful town of Collioure on the coast of Roussillon, France (admittedly a long distance to the west of Bandol, but in the same climatic zone). Either you will love this wine or you will hate it and – on your knees – beg for a bottle of fruity, fresh, spritzy rosé with a dollop of sweetness!
Those demijohns also worked their magic on the 2011 Le Cigare Blanc Reserve and together with the blend of 62% Grenache Blanc (a grossly underrated white grape for CA) and 38% Roussanne have resulted in a great dry white. With its hazelnut and flinty aromas, it is about as far removed from Riesling – the "home territory" of this blog – as you can get, but I found it totally distinctive, the textural and savory qualities even more fascinating than those of the Vin Gris de Cigare Reserve. It is also extremely well-balanced in bone-dry, mid-weight style (with just 12.5% alcohol) that is very rare in CA. The nutty-lemony aftertaste drew my hand back to the glass for more, which is the real test of any wine! The 2011 Le Cigare Blanc Beeswax Vineyard is broadly similar, but with a smoother and more polished personality than the Reserve version. It is also more fruity with a ripe melon aroma that I found very appealing. This is a very well-conceived and executed wine that is certainly not mainstream, but it is a little bit more conventional and was therefore a shade less exciting for this seeker of uniqueness.
I strongly urge you to seek out these and the other white and rosé wines from Bonny Doon Vineyard, because they are all more or less striking and they also offer great value for money. Visit Atlantis now!