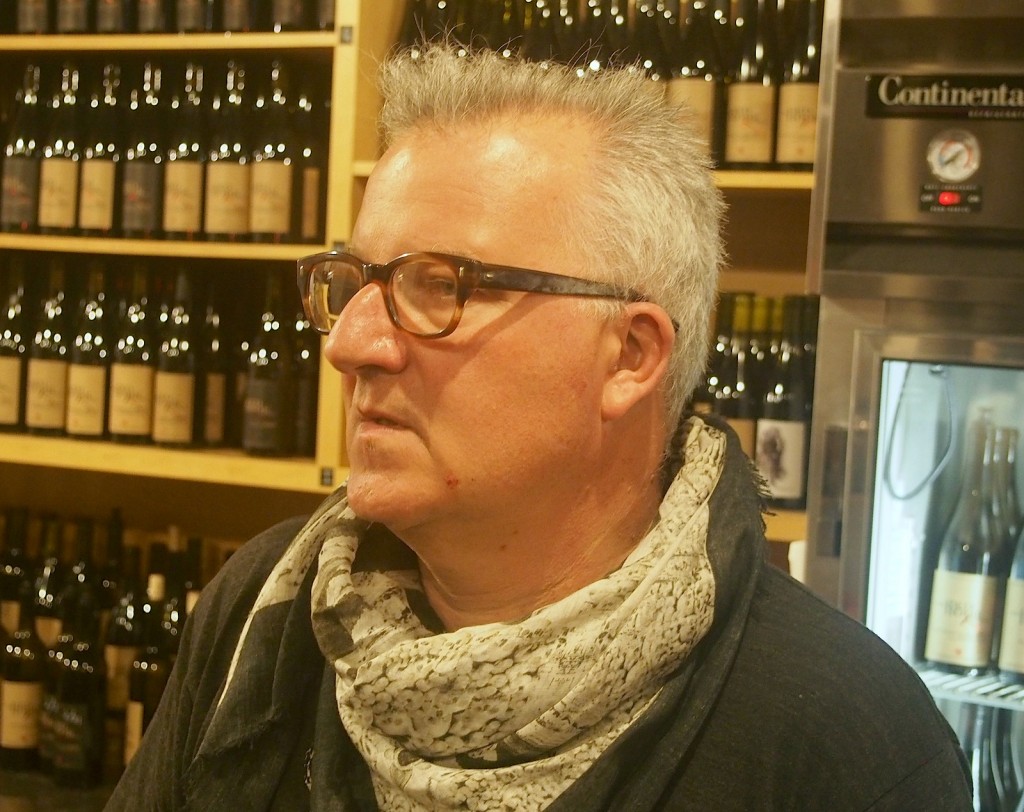 A lot of people in New York Wine City (NYWC) and in the wine scenes of other cities and  around Planet Wine regard Abe Schoener of the Scholium Project as one of the leading producer of "natural wine" in California and/or the figurehead of the New California Wine. I certainly don't mean to take him down a notch or deny that he's seriously alternative by making this observation, but the truth is, although there's plenty evidence to support those claims, Abe Schoener is a unique winemaker who defies all the conventional categories. That's what made it so fascinating to meet him, hear him speak and taste his wines at Red Hook Winery late yesterday afternoon, where I also took the above photo.
The reason that the tasting was staged at Red Hook Winery is that Abe is one of the three winemaker team at that operation based in a renovated 19th century red brick warehouse right on the water's edge. Of course, the sound of gently-lapping waves and seagullscould be considered appropriate for a tasting of "natural wines", but that's a term Abe didn't use once to describe his wines, and he assiduously avoided "orange wines" too, although he showed several examples of what the world calls that. All words are labels and although it is the context that loads them with meaning, clearly certain contexts can overload particular words with meaning and associations, and I think it was this that Abe was trying to avoid. His goal seemed to be that, as far as possible everyone in the considerable crowd that gathered at Red Hook Winery should taste each wine for itself without a big pile of preconceptions. Both his wines from West Coast and from the East Coast were worthy of that openness and attention.
The tasting began with a huge surprise for the "natural wine" freaks in the audience, because the carbon dioxide in the  Scholium Project's slightly funky and outrageously fruity frizzante 2015 "Blowout" was added from a cylinder prior to bottling and the wine also had a rather conventional sulfite content. Also, although this blend of Verdelho, Grüner Veltliner and Roero grapes tasted light it actually had close to 15% alcohol. Those are not the things Abe is supposed to stand for.
"Most of what we talk about in winemaking is about the role of oxygen in the process," he observed, "we protect this wine from oxygen right through the production, unlike many of our other wines." In fact, it was only with the fourth wine that we got into the territory that most of his fans associate with Abe: white wines fermented on the skins. As we tasted the 2015 Rhododactylos, a pale but powerful and slightly funky white from the red Cinsault grape he pointed out, "the big question isn't whether the wine was made from red fruit or white fruit, the fundamental distinction is between wines fermented on the skins and those fermented with no skins." For his skin-fermented whites and reds Abe works with very low sulfite additions, because this style is more resistant to oxidation than the wines fermented without the skins. Although most of his wines are shaped by techniques that transform the fruit he begins with, rather than seeking to simply preserving it, Abe is a winemaking pragmatist.
I enjoyed that wine a lot, but I have to say that I was even more excited by the 2010 Die Welt des Mondes, or the world of the moon, a partially skin-fermented Sauvignon Blanc from Red Hook Winery that was waxy and honeyed in aroma, and richly textural in spite of the crisp acidity. This was introduced by Abe's fellow winemaker at Red Hook Christopher Nicolson, who said of the Macari family from who's vineyard on the North Fork of Long Island the grapes originated, "I can taste the rage, the sadness and the passion they pour into their vineyard." The 2013 The Prince in his Cave (yes, the wine really is called that!) from the Scholium project took skin-fermented SB a lot further and the aroma reminded me of chutney. This wine's tannins are quite chunky and either you'll like that or you won't! "Some of the color of this and other skin-fermented white wines comes from the grape seeds, with which the wine has extended contact due to the technique," Abe observed. That was news to me, like so much else he said.
Although pink in color and made from Zinfandel like the zombie wine (yesterday's mega-fashion wine is still undead in the marketplace) White Zin Scholium's 2015 Il Ciliego is about as far away from that sweet and kitschy quaffing wine as you can get. The bouquet was discrete, but the flavors reminded me of the maraschino cherries, dried cranberries and candied citrus. In spite of having some serious body (and almost 15% alcohol) it was very clean and dry. Here the path of low sulfites had helped give the wine a unique personality unlike any other rosé I can remember tasting.
The 2007 and 2013 vintages of Scholium's Babylon made from the Petite Sirah grape (called Durif in it's homeland in Southern France) were monster reds, but also unlike anything else I ever experienced in that category. They both had a slight whiff of vinegar (technical terms: acetic acid, volatile acidity), but in both wines this was unobtrusive, rather than being a problem as it is in some California Cult Cabernets or many rustic reds from around Planet Wine. Abe claims that this actually adds some freshness to wines of this kind, and is a legitimate winemaking tool as long as it isn't pushed too far. In the still unreleased 2013 – it tastes like a great Hendrix guitar solo sounds! – I could see what he was talking about. I'm still chewing on this and a bunch of other things this category-defying winemaker active on both coasts of the US said, and I may need to devote a second posting to this subject. You have been warned!