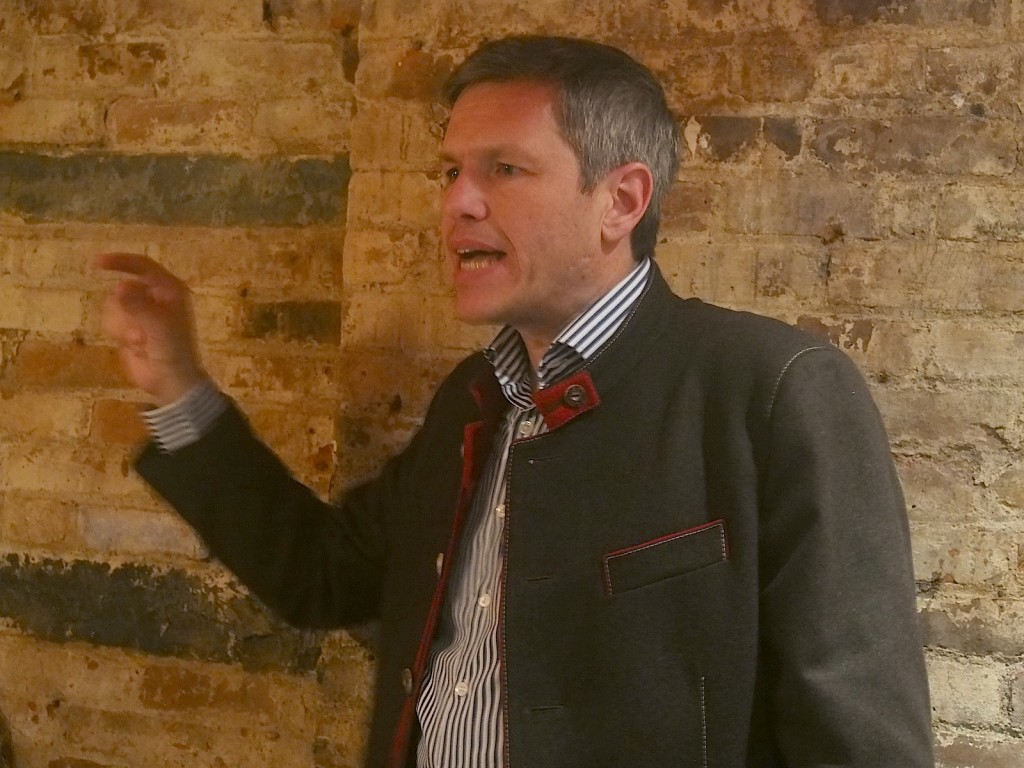 Saturday, February 20th is Rieslingfeier in New York Wine City (scroll down for the link to obtain one of the last tickets to The Gränd Tasting) and already a slew of the winemaking elite of Germany has arrived in the city to make the most of this event that focuses attention upon the wines of my favorite grape from it's European homeland. Christian Witte the director of Schloss Joahnnisberg in the Rheingau was one of the first to arrive and is pictured above during the tasting he lead at Terroir Tribeca last night. In some respects Schloss Johannisberg is an unusual German Riesling producer, because all the wines come from one 90 acres vineyard site that is a monopole of the estate, and it bears the same name as the estate. However, in every other respect I can think of Schloss Johannisberg is the archetypical German Riesling producer.
This begins with the history, because in 1720/21 this became the first vineyard in Germany to be completely replanted as a Riesling varietal monoculture and therefore stands at the beginning of the trend to varietal wines that we now take so much for granted (not just for Riesling, think also Screaming Eagle Cabernet Sauvignon!) Then followed the first, albeit accidental, Spätlese or late harvest wine in 1775. This was also an event of momental significance that spanned two years for it was in the spring of 1776 that the cellarmaster of Schloss Johannisberg realized that late harvesting and nobly-rotten grapes were twin keys to a new and extraordinary type of sweet wine. From this developed the practice of selective harvesting (successfully employed in 1787 in the production of the first Auslese) leading to the range of wines of differing amounts of body and sweetness used at the estate, and almost every other leading estate in Germany to this day.
Christian Witte presented just five wines but within this small selection there was the dramatic variation typical for the Riesling grape that some people find so confusing. The 2013 Silberlack GG was a seriously dry wine with a Grand Cru Chablis-like personality, the dominant aromas being herbal, lemon balm, camomile and green tea rather than fruity. It had quite an austere and slightly salty taste that is certainly not what most consumers associate with Riesling. Already the second wine, the 2014 Gelblack had a completely contrasting style, being full of citrus fruit flavors, rather full, juicy and crisp; a medium-dry extrovert who's charms it is hard to resist! No wonder this is the estate's most important wine for exports to the US and the rest of the world. As Christian Witte pointed out, "the history of Schloss Johannisberg is sweet, but we can also make dry wines of a very high quality so we also do that." This applies to much of Germany too, and Rieslingfeier therefore showcases both the nation's finest sweet and the dry wines from this grape.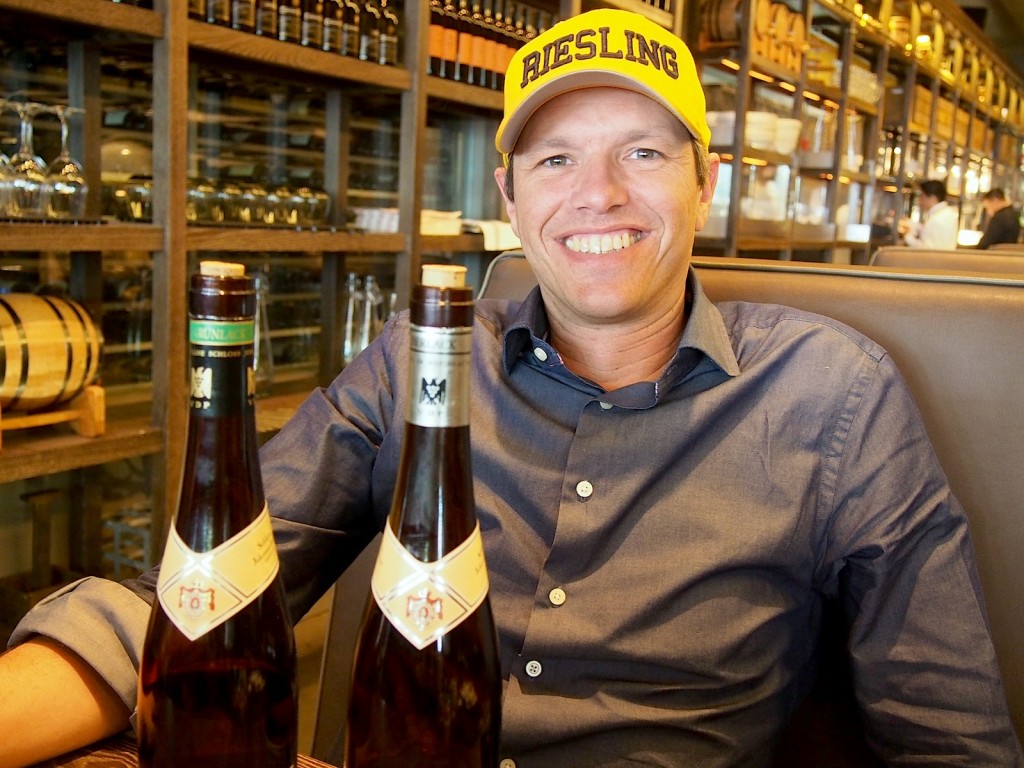 Those names I put in italics raise a question, and one of the guests at the Terroir tasting last night rightly asked what they mean. Silberlack is best translated as silver capsule – silver because it is the estate's top dry white wine – and Gelblack means yellow capsule. In the above photo of Christian from his previous visit to New York last fall you see him wearing a yellow cap of another kind. They make it real easy to remember what your favorite Schloss Johannisberg wine is, for example, the one I reach for most often is the Rotlack. The 2013 Rotlack Kabinett  was another medium-dry wine, but much sleeker in body than the Gelback with enormous mineral freshness and a bright peach aroma. Each of these wines comes from a different part of the vine clothed conical hill of Schloss Johannisberg, the Gelblack coming from the flat vineyards at the foot of the hill where the soil is up to 27 feet deep and the Rotlack comes from the top of the hill where the soil isn't even 3 feet deep and the roots of the Riesling vines go into the quarzitic slate directly below that. The Silberlack  comes from a section of the hill between these two. This is the rather simple logic of the estate's wines contemporary drier style wines.
Then came the two sweet wines, the 2014 Grünlack Spätlese is already familiar to regular readers of this column, and once again it had an enormously wide spectrum of aromas ranging from peach to exotic fruits with many herbal and spicy nuances, new ones emerging with each swirl of the glass. Sure, your first impression of this vividly youthful wine is of pronounced sweetness, but then an acidity of fresh pineapple-like intensity charges through with a ton of minerals in tow and washes that impression away. The 2013 Rosalack Auslese is an altogether bigger wine with much more of the dried fruits character, particularly dried apricot and mango, from shriveled nobly-rotten grapes. It was as undeveloped as the 2013 Silberlack with which the tasting began and if you are lucky enough to have a bottle or two of this sleeping beauty don't kiss it too soon, unless that is you find it impossible to resist!
The astonishing thing about these stunning wines is that when Christian Witte took over the direction of Schloss Joahnnisberg in 2005 the estate was seriously under-performing and he was not quite 30 years old. Within very few years the wines had dramatically improved and since then they have continued to do so in smaller increments each year. Why did the pace of improvement slow? Well, when you get close to 100% of the maximum quality that's possible, then there isn't much scope for further progress left, and each further  % becomes so much more arduous to achieve than those rather simple steps that lifted the quality from 60% of what's possible to 70%, and from there to 80%. Christian did all this through team work and team motivation, and apart from having a mastery of Riesling wine growing and winemaking, this is his greatest talent.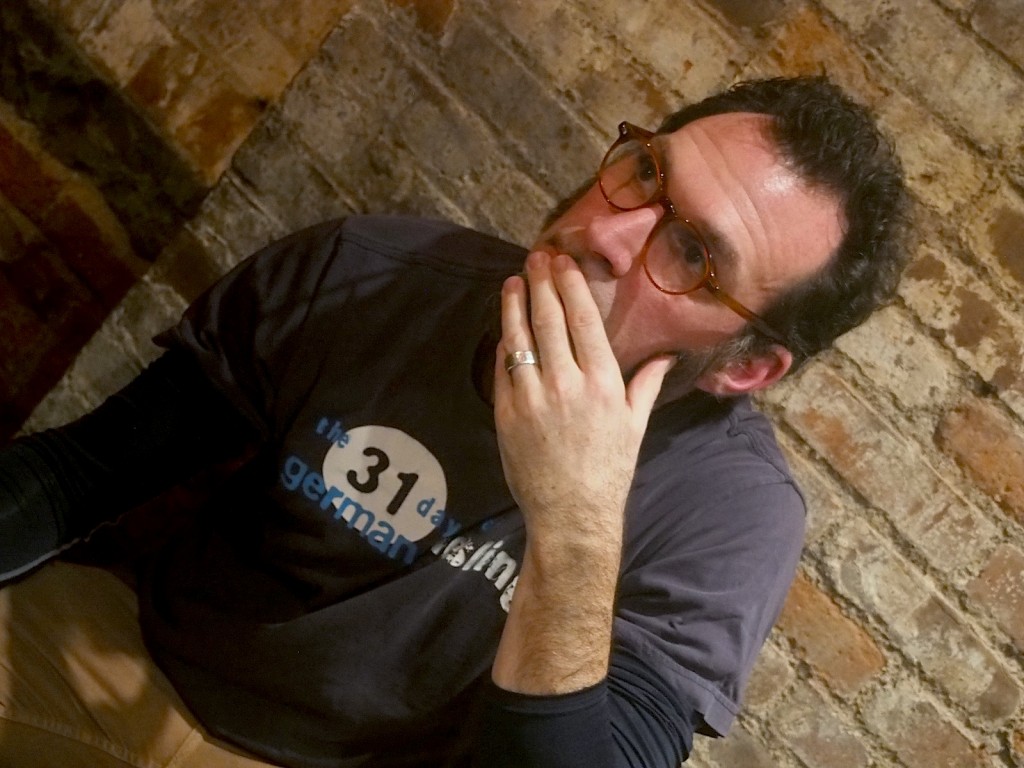 Paul Grieco of Terroir is very good at talking about Riesling, or all kinds of other wines for that matter, but he's also one of New York Wine City's best listeners. As you can see from the above photo he also did some serious listening last night, and listening means thinking. One of the great unsung virtues of German Riesling is that although it is a wine you think about and talk about, analyze in minute detail if you want to geek-out about it, on the other hand you can just drink it and let it sink into your senses, submerge yourself in it so that you forget all your everyday cares. If you give in to it's seductive pull like this, then, in spite of all the intensity of its character, it is so gentle and delicate that it leaves you fresh and invigorated rather than satiated and tired, as many other great wines do. I will go one stop further and say that you can extrapolate from the type of the wines to the personalities of Riesling fans. They have absorbed enough of the Riesling Spirit that they mirror their favorite wines to some degree.
Gathering a large number of the top German Riesling producers together with a crowd of their biggest fans is what makes Rieslingfeier so exciting and truly unique on Planet Wine. No wonder tickets for the dinner at 7pm on saturday at the Wythe Hotel, 80 Wythe Avenue in Williamsburg are long since gone, and the The Gränd Tasting at Back Label Wine Merchants, 111 West 20th Street are selling out fast. Hurry, hurry, hurry!