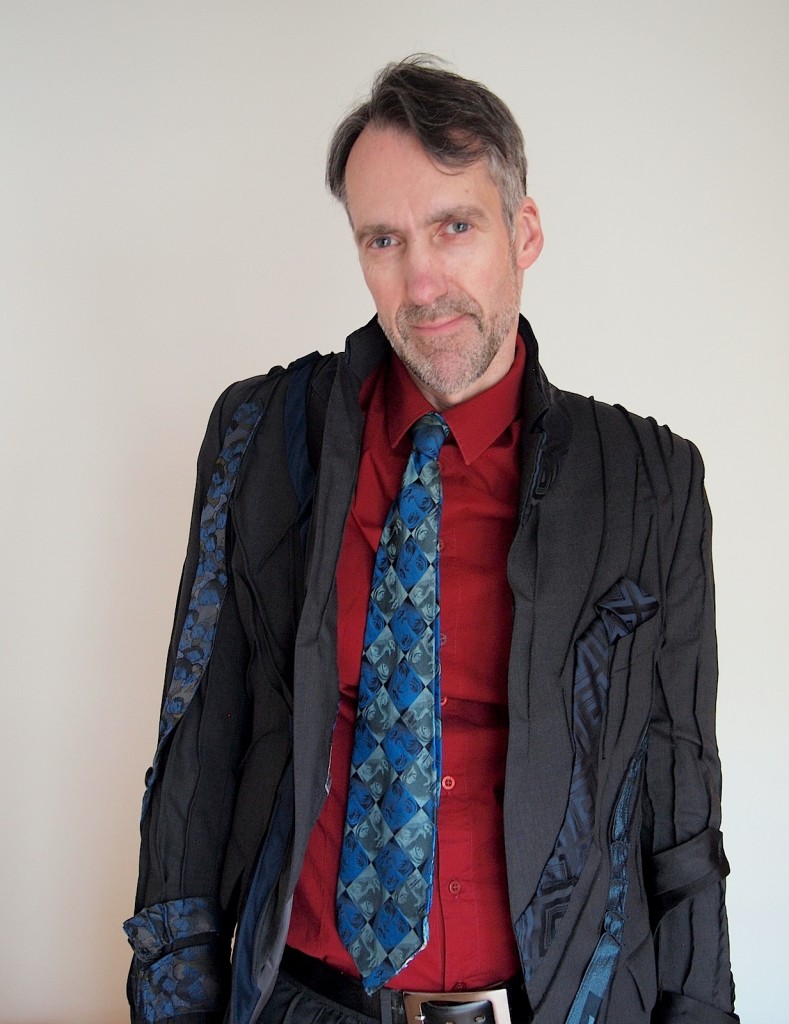 Every story has a backstory, and the backstory to my 56th birthday yesterday was one of the hardest years I can remember. For anyone who wants to know what that means I recommend my recently published e-book "ROCK STARS OF WINE AMERICA #3: FLXtra with KJR – This is a Love Story", about which there is plentiful information below (just scroll down). People keep on telling me that I should make the message here on my blog, in my e-books, and on the social media super-positive, consistently upbeat and be as cool as humanly possible in cyberspace. I've nothing against any of those things, but for me the most important things in life and art are honesty and compassion. Remove them and very quickly everything descends to a low level where greed and opportunism dominate everything else. That is a place I am anxious to avoid at all costs.
The photo shows me in the jacket that Berlin-based fashion designer Vita Datura, a.k.a. Viktoriya Zyubyairova, just custom made for me. It was completed in the early hours of my birthday morning at her studio, so dinner at Nobelhart & Schmutzig in Berlin last night was its debut. Needless to say, it turned some heads. The photograph was taken by my mother under less than ideal circumstances, so it is neither technically perfect nor a great artistic statement, unlike the jacket! The Fornasetti tie I am wearing in the photograph was also on its last legs, and I was glad to get home last night without it falling apart around my neck. All of this was in the Vita Datura spirit best summed up by her slogan: Manuscripts don't burn and Couture never dies: both can fly!
In spite of the enormous practical problems, the emotional turmoil and suffering of the last year was very productive. Looking back I feel confident that my first three e-books are the best things I have ever written in the English language. This is gonzo wine journalism as I first conceived it when during a press trip to the Atlantic island of Madeira in the summer of 1991 a colleague called Dee Lite said those words to me. Some of the books I wrote between 2003 and 2009 also realized that goal, but they were all in German and almost nobody outside Europe read them. Now the ROCK STARS OF WINE AMERICA series of e-books is making this wildly intoxicating, highly addictive and extremely dangerous substance available to an English-speaking audience around the world.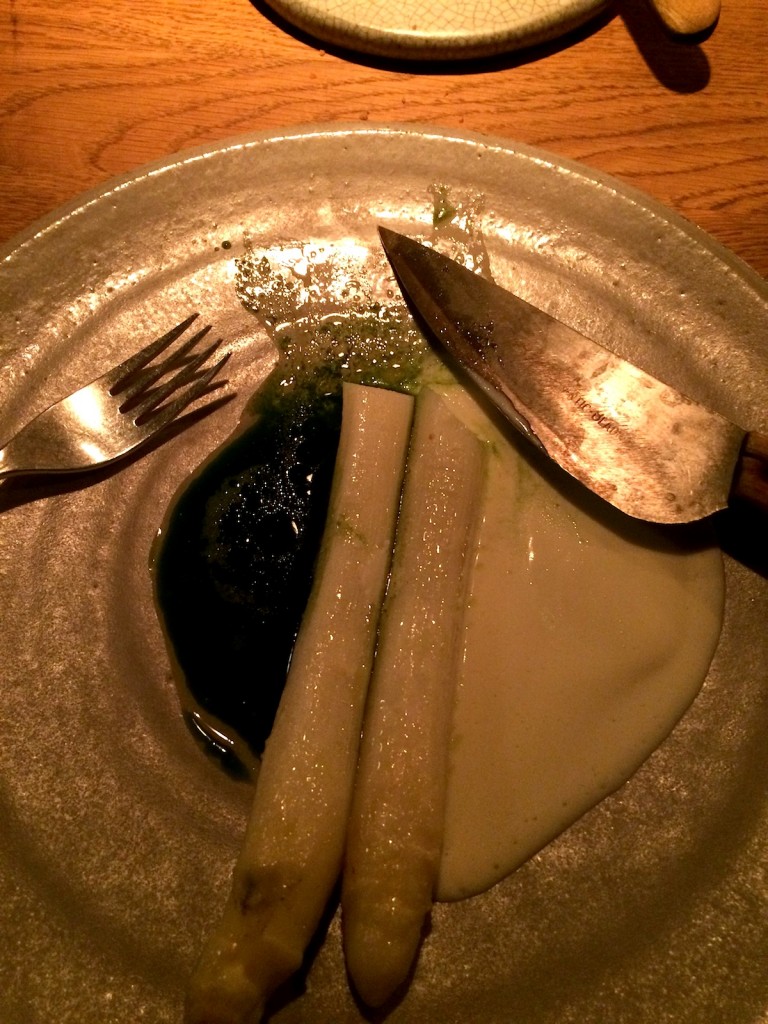 No doubt some of you are wondering what my birthday dinner at Nobelhart & Schmutzig in Berlin was like. Here is the white asparagus course from the menu with a super-intense wild garlic sauce on the left and fresh cheese on the right (Spargel / Knoblauchkrauke / Quark) that was also surprisingly intense. I didn't know whether to laugh or cry about this revolutionary reinvention of one of the Germans' favorite spring dishes. But, hell, this is the kind of reaction my e-books are aiming to achieve, so I can hardly complain, can I? In spite of that I definitely preferred the char with onions and dill flowers (Ike jime Saibling / Zweibeln / Dillblüte) and the oats with fresh goatsmilk cheese and sorrel (Nackhafer / Ziegenfrischkäse / Sauerampfer), both of which were extremely delicate. At the full-throttle end of the scale it was the potato soup with blood sausage and mustard (Kartoffel / Blutwurst / Senf), another reinvention of a German classic, that blew my mind. It was also amazing with the wine in my glass
And what did I drink? My mother can't really drink at all, but she treats herself to just one glass of sparkling wine in a situation like last night. Billy Wagner of Nobelhart & Schmutzig opened the Éloquence Blanc de Blanc Extra Brut from Champagne Marie-Courtin to pour my mother and I a glass each and I ended up finishing the rest of the bottle. Billy also poured me a couple of tastes of other wines of which the 1992 Riesling Auslese from Martin Müllen in Traben-Trarbach on the Mosel, and that still lively, only slightly sweet wine was my only sip of Riesling yesterday. However, every day, also every birthday, doesn't have to be a big Riesling day. The world of wine is very large and colorful, and that's why I love it!
THANK YOU ALL FOR YOUR BEST WISHES!!!