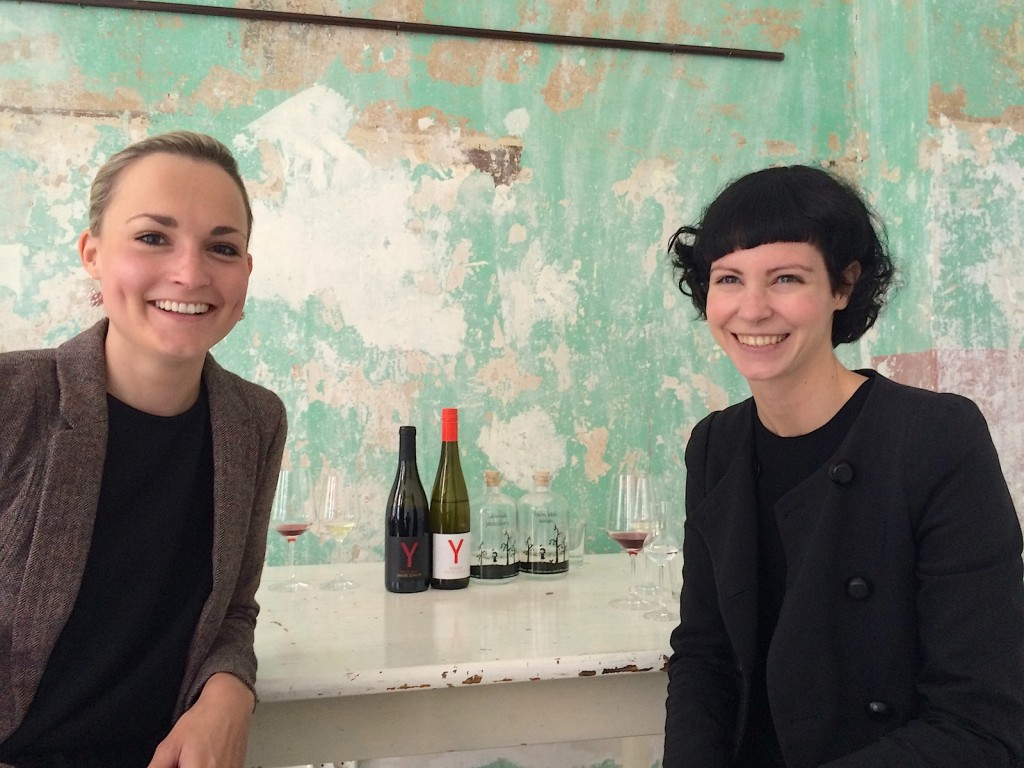 Sometimes during the last months it felt like all the young somms of the world were lined up in closed ranks facing me like an army. It seemed that I had catastrophically lost touch with them, because I wasn't head over heels in love with "natural" wines of all kinds as they seemed to be. Had I become a backward-looking arch-conservative or even the "Trump of Wine", as one of them recently described me? Sometimes it felt like it!
Don't get me wrong, I don't care about how people think of me or describe me, rather I was worried by the thought that young people working with wine and spirits might no longer be interested in fruit aromas and flavors. That would be sad, because it would mean the end of a great tradition along with all the scientific and other progress made during its development.
Yesterday I stepped virtually straight off the flight from New York to Berlin and ran straight into two talented young women in the Berlin wine scene who gave me a completely new perspective on their generation. Simone Schiller (left) who comes from Regensburg in Bavaria is the chief sommelière of Das Stue restaurant in Hotel Berlin here in Berlin, having previously worked as the somm at Hotel am Steinplatz, also here in the city. She's just launched two wines with her name on the label in collaboration with Y Sommelier, a new wine producer based in the Rheingau I'd never heard of before. That strikes me as quite an achievement considering that she's just 24 years of age.
She suggested we meet at the gallery-come-wine-store of her friend Stefanie Brösel, 32 (right) who comes from the wine region of Südburgenland in Austria, and because I'd walked past several times without going in it seemed like an excellent idea. She founded her own wine company in Berlin six years ago, then added a range of spirits she distills herself and opened her gallery-come-wine-store Fräulein Brösel directly behind Café Espresso in the Manteufelstrasse 100 in the Kreuzberg district of Berlin two years ago.
When I walked through the cafe and into Fräulein Brösel at 11am yesterday I found Stefanie sitting on a swing (!) behind her small desk deep in conversation with Simone who was sitting on a low chair that looked more like a child's stool. Stefanie immediately suggested that I join her on the swing and when I did, I wondered what that was all about. I asked her if she knew the French 18th century painter Fragonard's work The Swing. When I showed it to her on my iPhone she clearly didn't recognize it, and from her reaction it became clear to me that the swing was playful in an Alice in Wonderland kind of way, rather than erotic as the French painter's work is.
Perhaps the Alice in Wonderland feel of this unique room (one wall of it forms the background to the above photo) explains how during the good hour that we drank coffee, talked, tasted Simone's two wines, then two distillates from Stefanie time seemed to stand still. Maybe it was just my jetlag though?
Simone is one of the brand ambassadors of Y Sommelier, a kind of "flying winery" founded by the Turkish-German Ahmet Yildirim (hence the Y) in Elville/Rheingau. He works with a number of well known Rheingau producers such as Altenkirch in Lorch and Hans lang/Urban Kaufmann in Hattenheim.  That's a pretty revolutionary concept for the conservative Rheingau!
"Rheingau wines are often too astringent for the charming and smooth style I wanted," Simone explained. For that reason she chose to have her wines made at the Gutzler estate in Gundheim/Rheinhessen. The Simone Schiller 2015 Riesling is already very open and was brimming with fruit (most of ripe pears!) Although it is juicy in the way most of the dry whites from Gutzler are, it is also properly dry and has a pleasantly crisp finish. At just 11.5% alcoholic content it's light enough to quaff without any food to accompany it. In contrast, the Simone Schiller 2012 Pinot Noir will definitely show better with food (particularly with fatty meat dishes) than on its own because of the wine's dry tannins and a subtle earthy quality as well as some spice from oak and plenty of berry fruit aromas
"My wines are optimistic, they should speak to you very directly in a way that is hip," she explained, and in that moment it struck that what she meant was that for her ripe fruit aromas, freshness and charm in wine are hip for her. From everything I've seen and heard about Y Sommelier and Simone Schiller they don't hesitate for one second to bring the worlds of good food, wine, fashion, music and party culture together, and that's why the word "hip" seems very appropriate. As she pointed out, fruity wines fit far better into that picture than challenging skin-fermented and more or less oxidative "natural" wines.
I am not the world's best spirits taster, because I don't try them neat very often. However, I was very impressed with the clarity, expressiveness and the great harmony of Stefanie's Haselnuss (hazelnut) and Schwarze Johannisbeer (blackcurrant). In both of them (35% and 32% alcoholic content respectively) the alcohol was barely perceptible and the character of the nuts/fruit from which they were made was dominant. Of course, no artificial aromas were added. To my mind this is the most important quality high quality schnapps should have. The design of the bottles is part Alice in Wonderland, part Tim Burton and like nothing else I ever saw . In fact everything about Fräulein Brösel is like nothing I've encountered before. Yesterday was a day of discovery!
The Simone Schiller wines can be purchased for 13 Euros (white) and 15 Euros (red) from Fräulein Brösel. Half liter bottles of the schnapps are 35 Euros, liter bottles 62 Euros. Fräulein Brösel is open from 2pm – 7pm Monday to Friday. Enjoy the fruit!