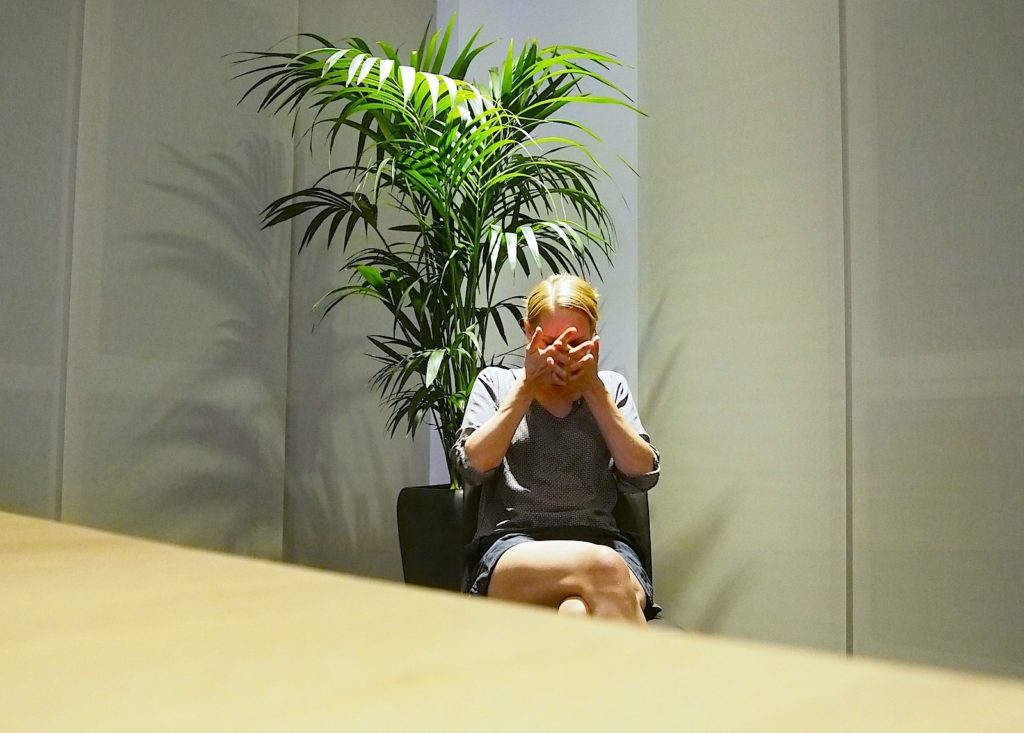 Who is my Riesling Heroine of 2016? Who is hiding behind those hands?
Read on and find out!
The title of Riesling Heroine / Hero that I award each year, no less than my choices of the best dry, medium-dry, medium-sweet and sweet Riesling of the year (scroll down to the the previous blog posting to see these), is all about daring and innovation. These are the most exciting new wines and the most exciting wine producer of the year. Sometimes the award winners were wonderful surprises for me, but often I saw them coming and followed their rise to the point where it became necessary and inevitable that they should be singled out for special praise.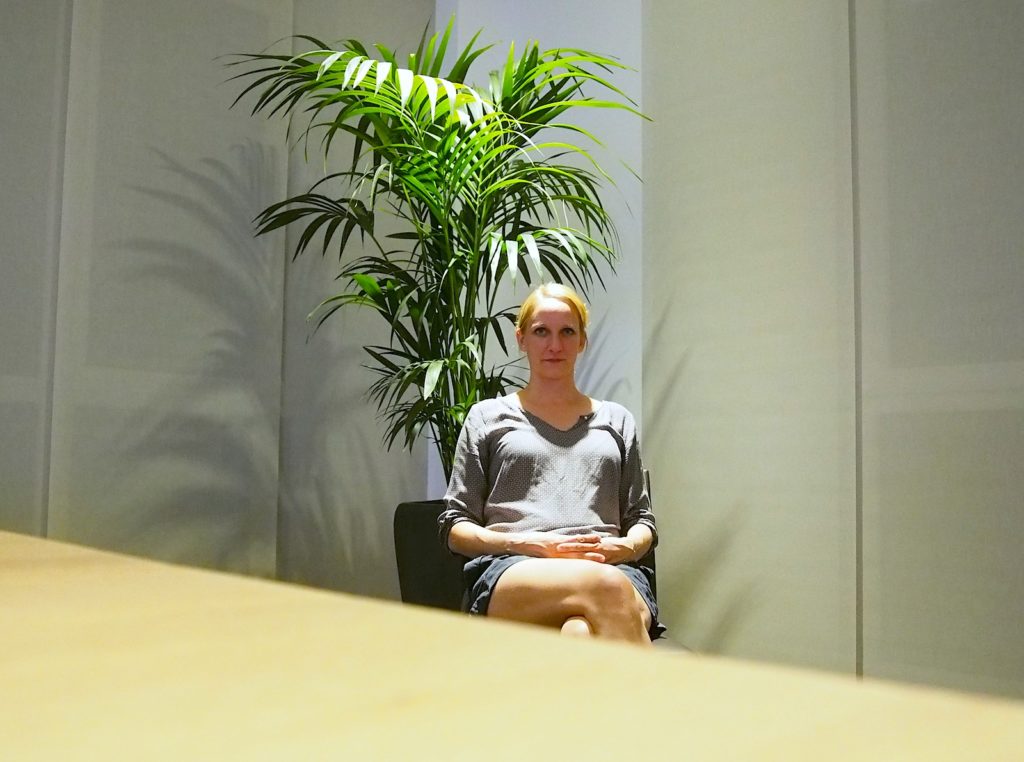 Eva Fricke of the eponymous winery in Eltville/Rheingau is my Riesling Heroine of 2016!
Exactly a decade ago she began commercial wine production from just a quarter of a hectare of Riesling vines in the then unknown Krone site of Lorch. Although she was not alone in committing to the steep vineyards of Lorch at the northern tip of the Rheingau at this time, it was her name that become synonymous with the Krone, Schlossberg and Seligmacher sites (the last of these in neighboring Lorchhausen). The reason this happened is also the reason that she must receive this award this year: the originality, brilliance and purity of aroma and flavors of her Rieslings. They are amongst the finest in the Rheingau region, and that's saying something when you think that it is the most famous wine region of Germany and the most renowned Riesling wine region in the world.
I first heard of Eva Fricke back in 2003 when she worked for J.B.Becker in Walluf/Rheingau. Hajo Becker sang the praises of a 26 year old women from the Bremen area of Northern Germany, that is from a non-wine background, who had studied at the nearby Geisenheim wine university. However, I didn't meet her until shortly after she had moved to Josef Leitz in Rüdesheim/Rheingau in 2004. There she was the winemaker responsible for a string of excellent vintages that built the international reputation of this winery. During that period this estate grew substantially both in vineyard area and bottled production.
It was while working there that she made the 2007 dry Riesling from the Krone site that turned me and a bunch of other people in the German wine scene onto her wines. It had aromas of lemon balm, white peach flint and wild herbs and somehow packed a stunning concentration of flavor into a breathtakingly sleek silhouette. It tasted like nothing else in the region. Getting from there to where she is today was a steep and stony path, littered with practical and personal challenges. Eva Fricke finally left Josef Leitz and went fully solo in 2011. Since 2015 she has made her wines at a brand new facility on the edge of Eltville, having previously worked in a historic cellar in Kiedrich. These kind of abrupt changes are rather typical for a successful German wine start-up though.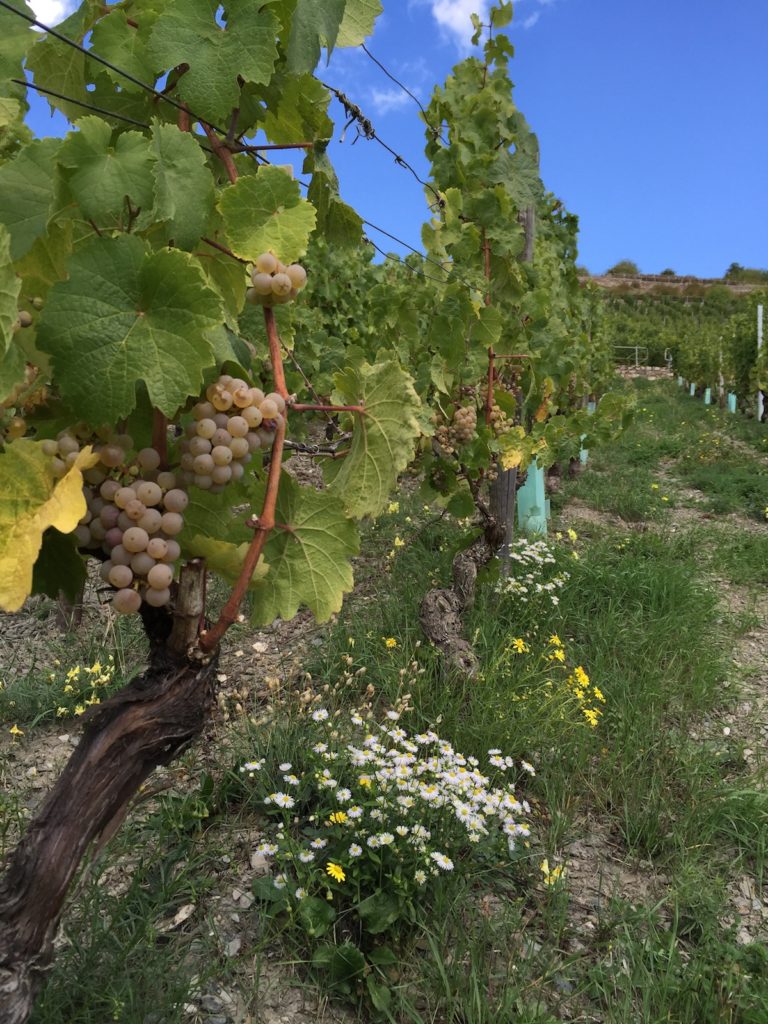 2015 – pictured above are some of those Riesling grapes – is Eva's most consistent vintage to date, and every Riesling wine shines like a diamond. Although she has a reputation of being pricey, the 2015 Lorcher Riesling trocken is a stunning wine for just Euro 15.50 direct from the winery (via the email address below). If you want the stars of the vintage from Eva Fricke, then you will have to pay Euro 27 to 36 for the Schlossberg, Seligmacher and Krone single vineyard wines. They are on a par with the best Riesling GGs in the region, and 2015 is a great vintage for the Rheingau.
Congratulations Eva Fricke!
Weingut Eva Fricke,
Elisabethenstraße 6
D 65343 Eltville
Tel.: (49)/0 6123 703 658
Email: info@evafricke.com
Internet: www.evafricke.com