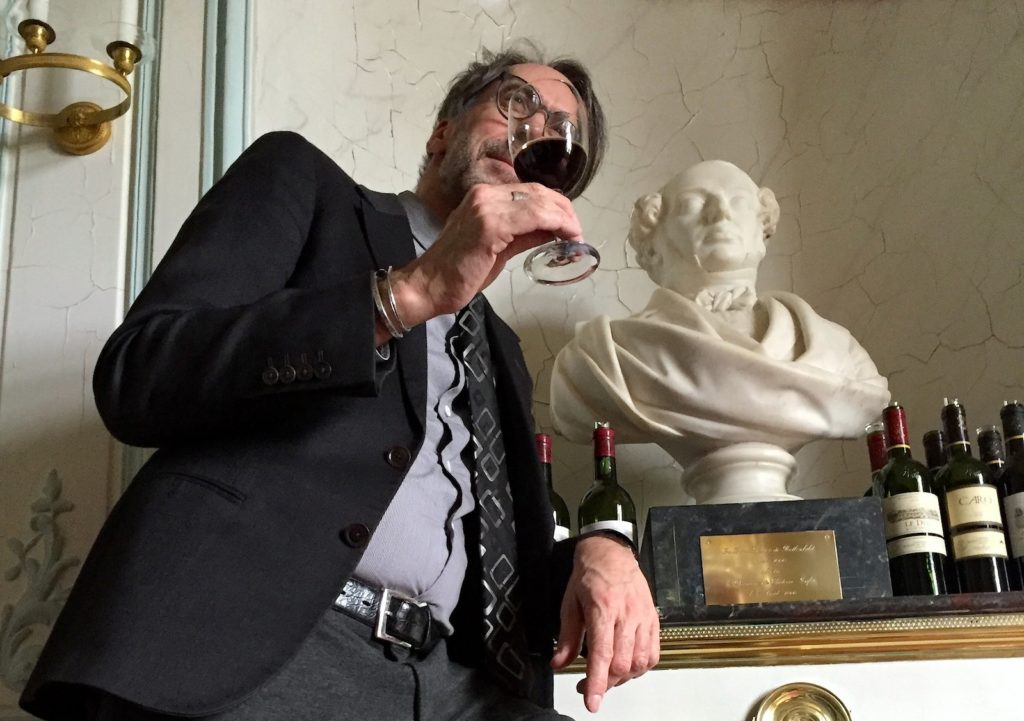 As you can see from the photograph above, taken by Nick Stock on January 15th at Château Lafite Rothschild, after steering clear of red Bordeaux for quite a few  years #bordeauxisback and I'm getting back into Bordeaux with enthusiasm. My lack of interest for red Bordeaux during the decade beginning 2006 had a lot to do with the high prices asked for the excellent 2005, 2009 and 2010 vintages. Since then prices shifted back down to more reasonable levels while prices in a bunch of other regions specialized in high-end reds continued to head skywards.
During my three tours of the region since November 2016 and most recently in January 2018 with the JamesSuckling.com team I found plenty of excellent wines in the Euro 10 – 50 range from the 2014, 2015 and 2016 vintages. It's a long time since Bordeaux had so much excellent wine to offer! I also came to the conclusion that as long as legendary wines like Château Lafite Rothschild also taste legendary there's no problem with three figure Euro prices. "Expensive" is one of the most elastic words out there, not least because it's so personal – you decide! – and often depends on both situation and mood.
The other reason for my renewed enthusiasm for Bordeaux is that after some pretty wild stylistic exaggerations that had a lot to do with certain producers trying to cash in Robert Parker's then enormous influence upon the market there's been a return to sanity. The long Parker Period is not only over, it's starting to feel like history. When I was in Bordeaux in January with James Suckling and Nick Stock tasting primarily the 2015 vintage wines in bottle for JamesSuckling.com, I frequently felt a connection between the new wines and the best I tasted when I was introduced to red Bordeaux in London back in the early 1980s. The best comparison is with the string of 1982 cask samples I was lucky to taste (although the 2014s are lighter, the 2015s crisper and the 2016 firmer than those wines). Small quantities of 1982s – I was a poor art student – were amongst my first wine purchases not destined for immediate consumption.
Wines with dominant new oak aromas are now as rare in Bordeaux as those that are massively extracted, both techniques that attempt to magnify the stature of red wines. I'm sure that reverse osmosis concentration and micro-oxidation machines are still being used in some cellars, but today none of the winemakers treat them as short cuts to high quality as was once the case. Sure, some winemakers are picking the grapes later than I would if I was in their shoes, but that's not manipulation, rather an aesthetic decision on the part of the winemaker. It helps create the wonderful stylistic diversity in Bordeaux.
The result of this is not only well balanced wines with an attractive freshness (very pronounced in 2015), but also that taste of their appellations and sometimes have a clear vineyard character. There's so much character that it would be possible to write lengthy stories about a bunch of individual producers scattered throughout the region. Isn't that what we're looking for? For quite a large chunk of the wine scene in the West the answer seems to be "NO!" in this case, because for them Bordeaux is passé. I'm talking particularly about those somms, journalists and merchants focused on so-called "natural" and orange wines. For many of them red Bordeaux is an industrial and elitist product that's grossly over-priced. To me it looks like they talked themselves into this corner, and often they can't really explain why they see the region that way.
I humbly advise anyone who hasn't taken Bordeaux seriously during recent years to study the reports on the 2014, 2015 and 2016 vintages on JamesSuckling.com because there's so many stunning wines out there, some for friendly prices. Here's a link to the report on the 2015s in bottle. Enjoy!
After this was published and I announced its posting on Facebook Annette Schiller (of Ombiasy Public Relations and Wine Tours) made a comment that's  makes some important additional points, and I therefore quote it in full:
"I totally agree with Stuart Pigott. The image of Bordeaux as a wine region that is for a big part in the hands of international companies that reign over huge wineries is simply not true. There are about 7,500 producers in Bordeaux. Only 8% have more than 100 ha; only 3.5% of wines are more expensive than 15 Euro per bottle, only 1.25% of Châteaux belong to the classified ones that make headlines in the news. There is an ocean of dedicated, quality driven producers – the so called "petits Châteaux" who struggle to make ends meet. Just last night we opened a 1987 Château du Grand Bois, Lalande de Pomerol and a 1997 Châteaux Beauséjour, Puisseguin – Saint-Émilion of our friend Gérard Dupuis whose father was a pioneer in the late 1940s to convert to biodynamic winemaking. Both wines were excellent, no teenagers anymore but wonderful mature adults, and did not break our bank. I truly love the Bordeaux wine region and Bordeaux wines."
And just to show that I don't only use eccentric photos, here is a more conventional one showing Nick Stock (second from left), James Suckling (third from left) and I (far right) with members of the Château Lafite Rothschild team.