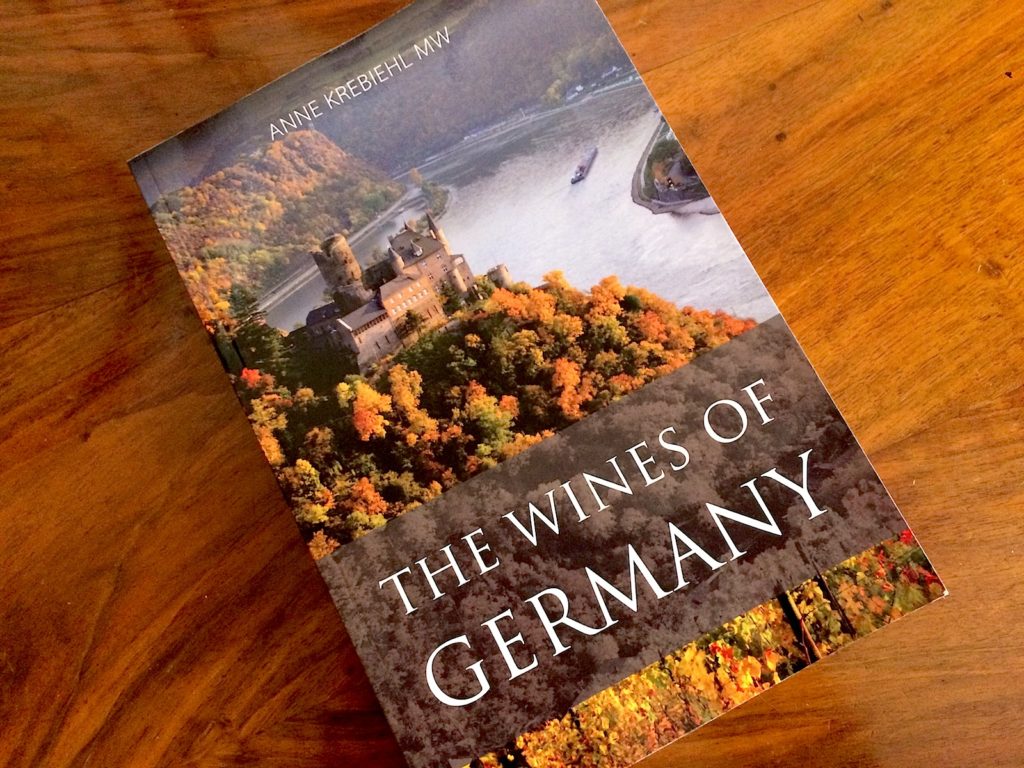 The Wines of Germany by Anne Krebiehl MW was just published by Infinite Ideas Books in London (30 Pounds Sterling, ISBN 978-1-906821-85-2), is the first new book on German wines in English in quite a few years and it deserves your attention. My own Best White Wine on Earth (Stewart, Tabori & Chang, NYC) really doesn't count, because it was about the global Riesling phenomenon in which Germany is a minority shareholder and it's now a good five years old. In the dynamic wine industry of Germany things move fast and there are exciting new producers that were invisible or did not even exist back then.
At just over 300 pages The Wines of Germany is a substantial work that fits astonishingly neatly into the canon of modern British wine books. That's surprising because Anne Krebiehl was born in Germany and only as a young adult did she adopt English as her culture of choice. It is as much this cultural synergy as her thoroughness and questioning mind that make Anne Krebiehl's work such an excellent book of its type. She has an instinctive feeling for the socio-cultural context and history of her subject that is rare amongst British authors writing about things German (Giles MacDonogh is an important exception to this very peculiar British blindness). That helps her enormously in making this subject accessible and fascinating rather than dauntingly complex.
The introductory chapter of The Wines of Germany on the German wine laws has a clarity no other modern author on this subject achieved. Those on Riesling, Spätburgunder (aka Pinot Noir) and Sekt (aka German sparkling wine) tell you more about these subjects than some top sommeliers could. However, the heart of the book are the 12 chapters on Germany's 13 winegrowing regions (the two small East German regions are rightly combined in a single chapter) that contain a couple of hundred short portraits of the most important producers. Some of them are not well-known outside Germany and for many readers it will be the first time they have read about talented winemakers like Johannes Sinß in Windesheim/Nahe and Uwe Lützkendorf in Bad Kösen/Saale-Unstrut. Together, these texts add up to an excellent overview of the best that contemporary Germany has to offer, and here lies the book's prime importance.
Currently, a few German winemaking stars like Ernst Loosen in Bernkastel/Mosel, Egon Müller in Wiltingen-Schrzhof/Saar and Klaus-Peter Keller in Flörsheim-Dalsheim/Rheinhessen get a lot of international attention, but this barely helps the majority of Germany's best winemakers tend to get the attention that they deserve based on wine quality. So deeply rooted is the widespread prejudices against German wines – that at best they're light, playful and at least slightly sweet, but almost never of much consequence or originality – it usually takes blind tastings in which the top dry white wines (Weissburgunder aka Pinto Blanc and Silvaner deserve serious attention as much as Riesling) and the best new reds stand next to international competition to demonstrate their class. Only then do many wine professionals and wine lovers in the English-speaking world realize that these wines often offer stunning value for money. This book should play an important role in improving the understanding and appreciation of these wines that have remained stubbornly underexposed.