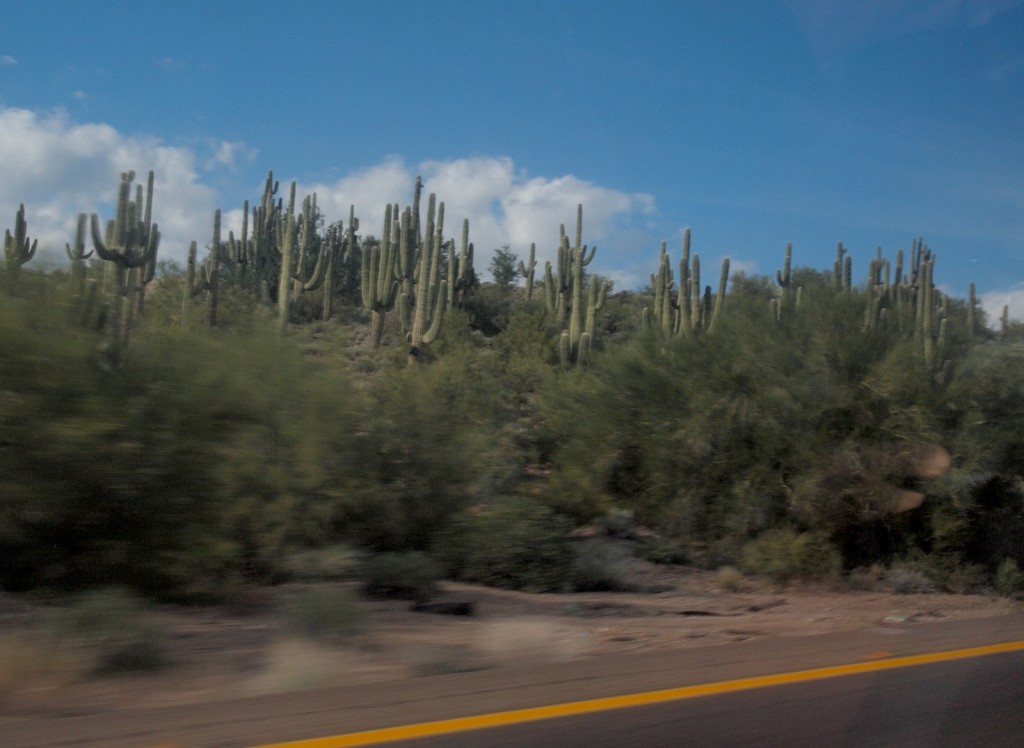 Of course, this is how many readers imagine my trip thru Arizona in search of unknown  Great American Wine, and, as you can gather from this photograph which I took on Highway 17 heading north from Phoenix to Jerome this afternoon, at least some of the time it looked exactly the way you expect. However, beforehand at the 6th Annual Festival at the Farm of the Arizona Wine Growers Association at Maya's Farm in Phoenix, pictured below, it looked exactly the way you would imagine an al fresco wine tasting in California would. The wines were very different though, in fact they were very different from any other wines I've tasted from the Western side of the United States. Here the acidities are sometimes moderate, but rarely  too soft in the way they often are in California, and the best wines have a lively acidity that I found appealing rather than tart. I have to admit that the sample was a bit erratic, because I deliberately left out the wineries we'll visit during the coming days, but I felt the pattern was rather clear. Only a couple of the wines – reds from low acid varieties like Grenache – were a little bit on the warm and broad side due to pronounced alcohol and lowish acidity.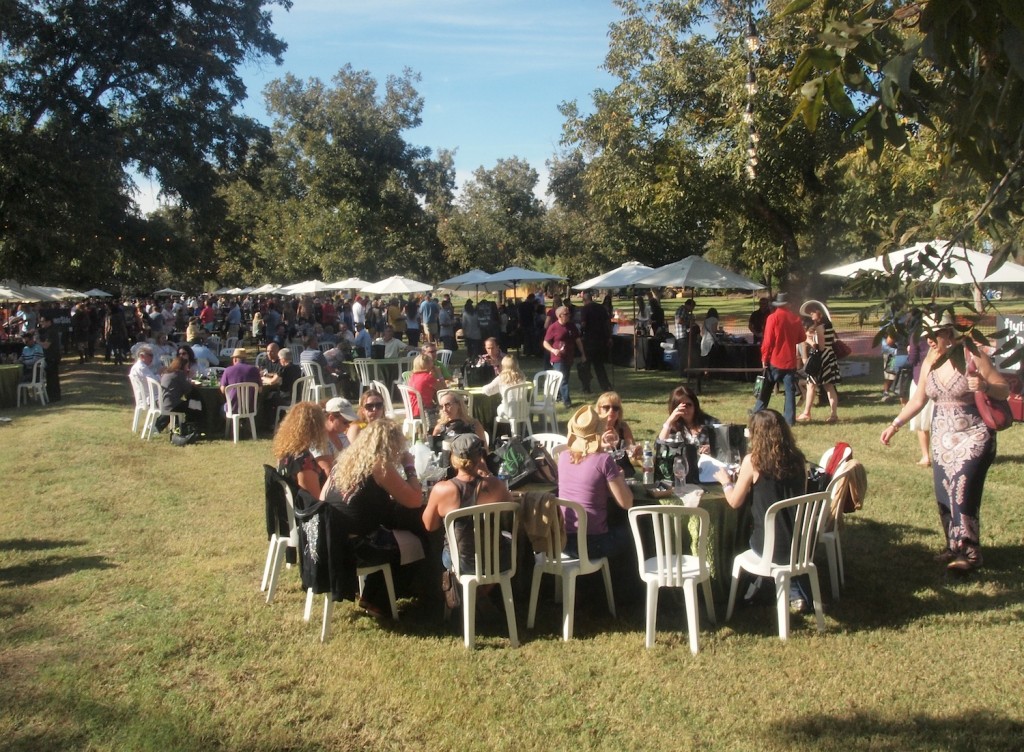 This acidity was part of the explanation for several very good white wines I tasted, although none of the Rieslings were more than solid. The most delightfully surprising of these whites was the dry 2011 Chenin Blanc from Carlson Creek Vineyards close to Wilcox in the southeast of the state. It had attractive apple, pear and honeysuckle notes as well as a touch of what I call wet wool (a rather common aroma with this variety in my experience). Better still the wine was crisp and bright with a pronounced mineral freshness and the 13.5% wasn't perceptible. A mineral flavor in a Chenin Blanc from Arizona! That was really a shocker in the most positive sense of that word.
No less striking was what the Pillsbury Wine Company in Cottonwood, a short drive south of Flagstaff, has done with a new white grape called Symphony during the last few years. The dry wine Sam Pillsbury made from it in 2012 was slightly reminiscent of a rich Gewürztraminer, but with more freshness and a great apricot aroma as well more spicy notes. In spite of 14.7% alcohol it was not heavy, finishing deliciously clean and fresh. The same winemaker's 2013 "Sweet Lies" is also made from Symphony and the complex dried fruit aromas of that wine were stunning. If only it had a little more sweetness and a little less alcohol, then it would have a really satisfying balance and be a great sweet white, but in spite of that it didn't have any alcoholic burn with 15%. That says how fundamentally right the combination of this location, this grape and this style are.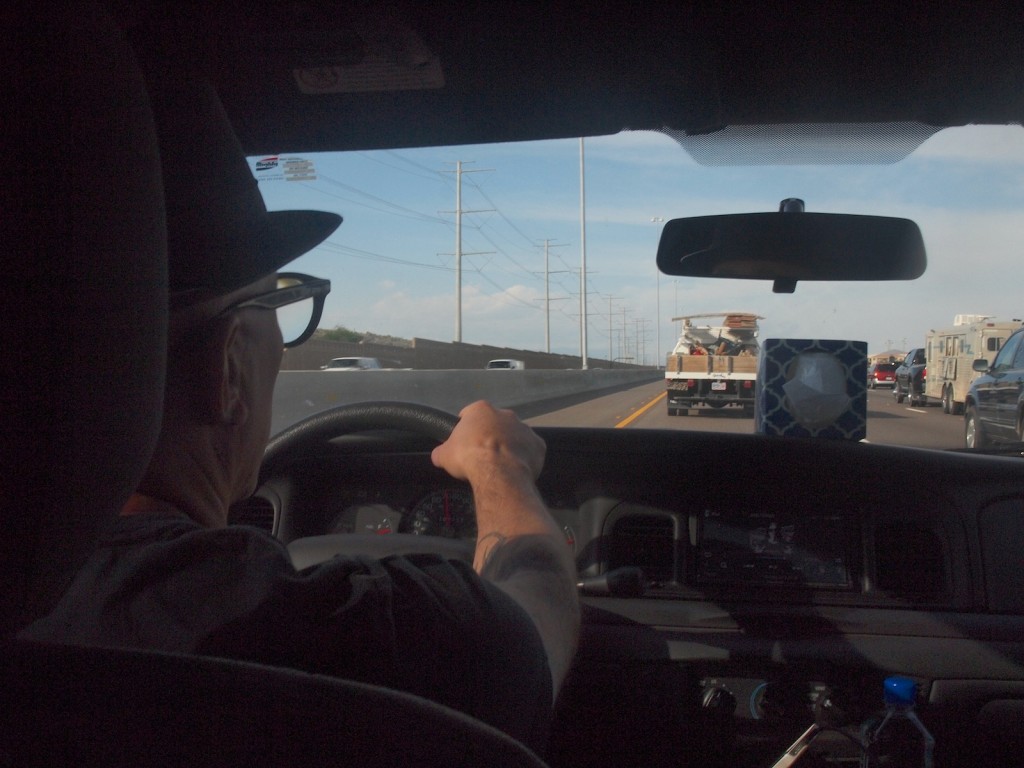 The drive north to Jerome was fascinating not just because of the frequently changing scenery, but also because the flow of no less fascinating stories from Maynard James Keenan of Caduceus Cellars, seen at the wheel in the above picture. Please be a little patient, because I'm still getting a grip on the multidimensional personality of this winemaker and musician in order to give you a story that doesn't reduce him into a journalistic cardboard cutout. Here's one of the phrase he uttered that I jotted down as sped across the dessert. "Rule one: be nice to other people. Rule two: don't eat other people's shit." He meant it literally as well as metaphorically and saw no contradiction between those two rules. That's Arizona at its best.