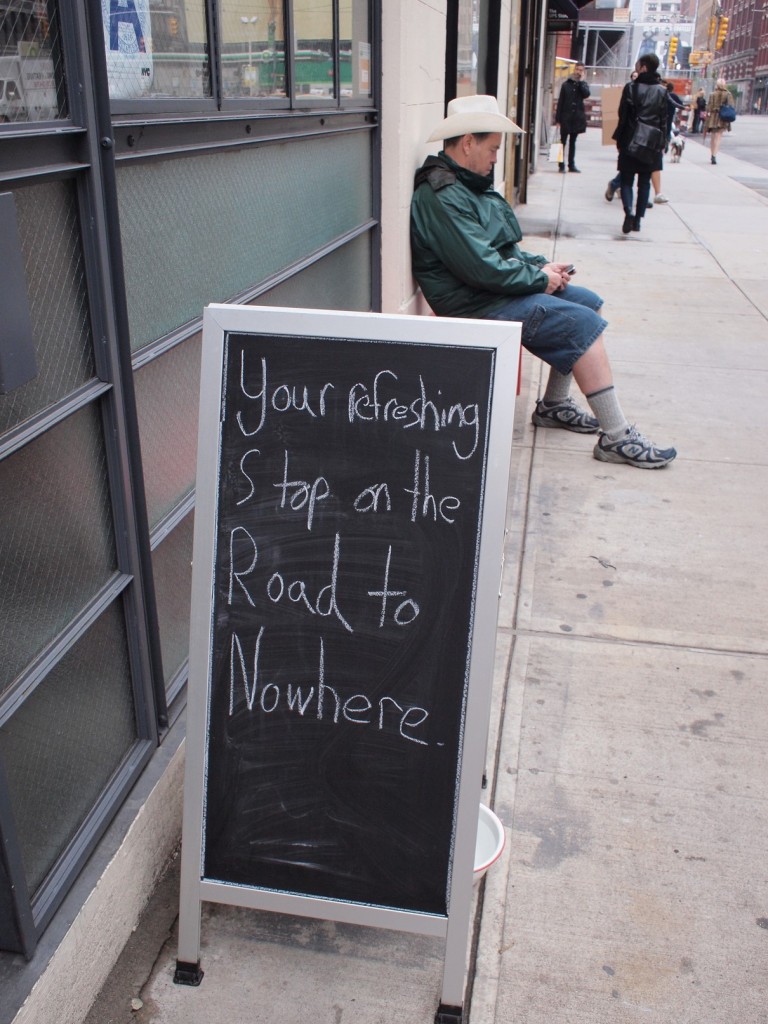 Many people are still suffering from a deep-seated misconception about Riesling's personality, though it's several years since Randall Grahm, then owner of the Riesling-focused Pacific Rim winery in Washington State, said the following oft-quoted words:
"I am Riesling, a lioness, the Queen of the Jungle, hear me roar! Riesling is constantly misunderstood as a wine for pussycats, but it is in fact a very big, powerful beast."
I've been thinking about them a lot since talking to Brian Harlan, National Sales Manager of Loosen Bros., sole US importers of the wines of Dr. Loosen, Robert Weil, Maximin Grünhaus and others. Brian's a very funny guy, but this time what he told me was also dead serious. It was all about a Loosen Bros. event in a fancy restaurant where he was staggered by the chasm separating the reactions of male and female guests. Whereas the women were open to trying Riesling, even if it was sweet, all the men then felt cornered.
"When they saw we had no red wine first they asked for Chardonnay, then Sauvignon Blanc. When they heard it was either Riesling or Riesling they wouldn't buy it unless was dry," Brian said, adding that when confronted with the sweetness in some of the wines he was pouring the men, "were terrified by it!" It sounded as if they were frightened of being infected by some terrible and highly contagious disease. Of course, we're talking about regular guys unaware of the Riesling Somm-Sation, of how for many sommeliers Riesling is the sexiest white grape on Planet Wine.
No doubt many of those guys heap spoonfuls of sugar into their coffee and frequently drink colas and sods which are sweeter than the sweet German Rieslings they so vehemently rejected at the Loosen Bros. event! Some of them undoubtedly also drink branded wines which look like they're dry, but actually contain some sweetness, like the hugely popular  [yellow tail] from Australia. The supposed dryness of many full-bodied Californian reds and white Chardonnays is also illusory, since their high alcoholic content, low acidity levels and the generous use of oak during their aging makes them smell and taste sweet, even if they're analytically dry. Even some high-end Californian reds are not even dry in that sense, a dash of syrupy-sweet, deeply-coloured grape juice concentrate called 'Mega-purple' having been added to them before bottling to smooth off rough edges and pep up the color. Your refreshing Stop on the Road to Nowhere.

What interests me here though is the sharp divide between the sexs. I think the root of the problem lies in the need many American men clearly feel to publicly demonstrate their masculinity. The dominant female stereotype in America may be as rigid as the male one, but it doesn't seem to put women under that continual pressure to perform. Are men motivated by the fear of being taken for homosexuals, or the danger of being considered girly-men? Possibly the former, certainly the latter.
Just think about how John Kerry lost the 2004 presidential election, because George W. Bush managed to create the perception of him as an unmanly "flip-flopper" and nurtured the vague, but insidious impression that his opponent was a girly-man. Kerry did loads of manly stuff like wind-surfing for the TV cameras, but he couldn't shake off that impression. Post 9/11 it was fatal to his chances. Of course, this turned into a boomerang for Bush whose abject failure to "smoke out" Bin Laden as he promised to do in true Wild West style now makes his manliness look seriously suspect.
American myth portrays the nation as having been founded by predominantly male pioneers who braved a sparsely-populated wilderness in order to civilize it. The heroic image of the cowboy in the Wild West myth, likewise set against a vast and almost empty backdrop with just a few Indians riding in the distance to provide some tension, is the next layer of this myth whose basis in fact is shaky at best. Of course, Hollywood Westerns, particularly those staring legendary actors like John Wayne, James Stewart and Clint Eastwood are largely responsible for the cowboy's grip on the male psyche. Clint is doubly important here, because of his other role as the archetypal urban cop Dirty Harry whose "go ahead, make my day!" is another crucial element defining modern American masculinity. Being a successful businessman is often portrayed in the media as requiring a similarly hard-nosed approach. High-profile sports like football and hockey keep piling the pressure on American men to act tough, or at least avoid doing anything that might look even vaguely girly. All this and a lot more is behind the guys who not only do all the stereotypical male stuff, but also have penis-extensions and take testosterone.
Clearly though you don't have to be the Ultimate American Guy to feel under massive pressure to demonstrate that you've got something in your trousers. Riesling is still widely perceived by both sexs as a sweet wine, because for a long time in America it almost always was. Sweet wine is likewise still perceived by most regular guys as a girly thing, which could, however slightly and fleetingly, cast doubt upon their masculinity; "fatal"!!! That's why for them the only safe Riesling-scenario is a dry one, though it's barely acceptable compared with the unmistakable signal of full-throttle-masculinity which a full-bodied red or a big Chardonnay would send: testosterone!!! And for them the worse-case scenario would be sweet Riesling, because that would make them look estrogen-effeminate pussycats.
By the way, after that event Brian Harlan immediately decided to change the labeling of all the dry Dr. Loosen wines imported into the US. Now they all bear a small oval neck label saying DRY. The IRF (International Riesling Foundation, see www.drinkriesling.com) graphic indicating the degree of dryness on the back-labels of millions of bottles of Riesling has undeniably helped push their sales, precisely because it helps remove insecurity about the level of sweetness.These days good quality sweet Rieslings almost always declare their sweetness on the label with designations like Late Harvest, Spätlese, Vendange Tardive and/or the IRF graphic. More importantly, the sweetness of good quality Rieslings is natural, i.e. has not been added in the winery. And from personal experience I can report that the consumption of good quality sweet Riesling doesn't cause a decline in male potency, in fact rather the opposite!
A man must go where a Man must go! Watch this space for Part 2 coming shortly.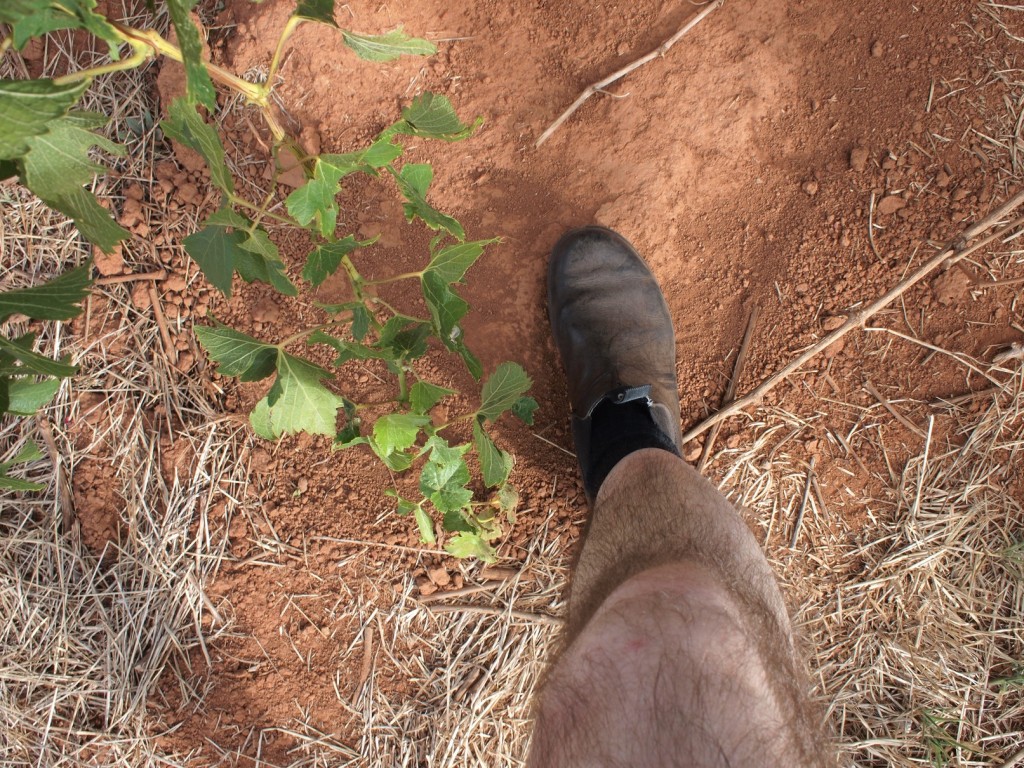 PS Yes, that is my leg and boot in the photo. The piece of dirt underneath my foot is in one of Jeffrey Grossets Riesling vineyards in Clare Valley/South Australia. His wines feature in Part 2 along with many other Bladerunner Rieslings for Real Men.
Peter Webster made an important comment about how far the trend towards  sweet wines pretending to be dry has gone. Chablis in Burgundy/France is supposed to be one of the ultimate dry white wines and William Fevre is one of the top producers:
"Stuart, it was interesting to me discover at a recent trip to burgundy that William Fevre do a seperate batch of grand cru chablis, specifically for the USA market with much higher residual sugar!  Presumably, this us to cater to the "baby taste" of the USA consumers. Just my 2 cents…"
I'd call that BAD NEWS for Burgundy, France, Grand Cru and Chardonnay. No wonder Riesling is doing so well if shit of this kind is going down elsewhere!