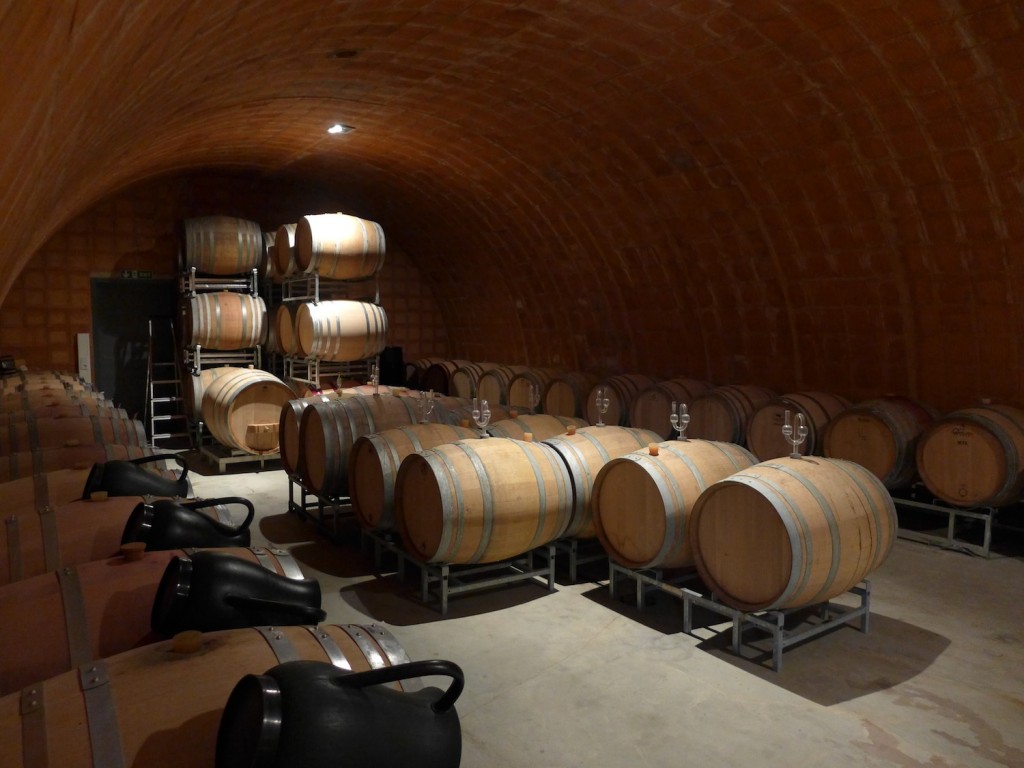 Amongst red wines Pinot Noir is all those things which Riesling is for white wine, not least amongst them being the combination of intensity and delicacy. This kept going through my mind yesterday at the 10th anniversary celebration of the founding of Shelter Winery in Kenzinegn/Baden, one of Germany's most unconventional wine producers. When Hans-Bert Espe and Silke Wolf founded their start-up in 2003 they were working in three locations in the Baden wine region: their apartment in Offenburg, their Pinot Noir vineyard in Malterdingen half an hour's drive south and their cellar in a bunker at the former Canadian air base close to Lahr. It was the later, in air force speak a "shelter" which gave its name to their venture. In fact, the situation was even more complex, because he had a full-time job running the Wolf Metternich estate in Durbach close to Offenburg and she had a part-time job at the regional wine institute in Freiburg. The whole thing was totally improvised in a way that was supposed not to be possible, or even legal, in Germany. Taking the revolutionary step of only producing wines – red, white and sparkling – from Pinot Noir seemed like a mere detail in this context and was rarely questioned. In contrast, the fact that they both come from the non-winegrowing north of Germany (he from Osterode, she from Paderbron) was invariably commented upon. And the way they avoided having to buy a tractor by sub-contracting much of the vineyard work made many colleagues' jaws drop.
After another improvised Zwischenlösung, in-between solution, the pair finally moved into their purpose-built winery just outside Kenzingen in 2010. The photo shows the main barrel room, which imitates the form of their original shelter. Not only do the pair's red wines feel at home there but so does their Jack Russel terrier Lilly.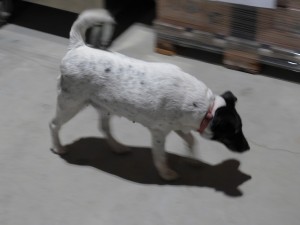 Lilly has been on board since 2004 and now it's hard to imagine Shelter Winery without her. However, so far Lilly has rejected all of Espe and Wolf's attempts to get her on the label of a critter wine, repeatedly criticizing these ideas as "opportunistic", "gimmicky", "entirely lacking in originality". Rumor has it that she also insisted on a large quantity of rosé being bulked out at a considerable financial loss, because it was "tutti-frutti".
But back to the pair's Pinot Noir red wines, of which there was a stunning vertical tasting yesterday. Even the wines from the difficult vintages like 2006 (rot due to the wet fall, which had to all be manually removed) and 2008 (very late ripening with high acidity) shone. Their first vintage, 2003 was also difficult due to the enormous heat "summer of the century" with some Pinot Noirs weighing in at over 15% or even 16% alcohol. However, their wine is still full of life and beautifully balanced with rose hip, fig and herbal notes. The 14.5% alcohol was not obvious either. As delicious as the 2005 and 2009 vintages are, the 2011 Pinot Noirs from Shelter Winery (which are all still in barrel) look to be the pair's best wines to date. And now that they have expanded their holdings to just over four hectares / ten acres they actually have enough wine to export as far afield as Japan and Oregon (!)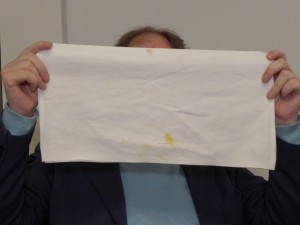 Yesterday's tasting and the dinner at the restaurant in Hotel Ritter in Durbach were not dry affairs, also thanks to the Dutch wine merchant and writer Albert de Jong, pictured below. I first met him in London back in 1982 when he already knew an enormous amount about wine and had a dangerous sense of humor that sometimes got him into trouble. The wine scene would be a much more boring place if de Jong didn't insist on telling everybody that, "life is a party which you have to organize yourself", or ask waiters and waitresses "and how's your love life?" Yesterday evening he was on top form and we were rolling in the aisles as he described his idea for a mobile wine tasting rollator trolly of the kind old people use to get around, but he was also dead serious about it as a business venture. And if a couple from Northern Germany can make a success of a Shelter Winery, then maybe this idea might also fly? By the way, Espe and Wolf still don't own a tractor!