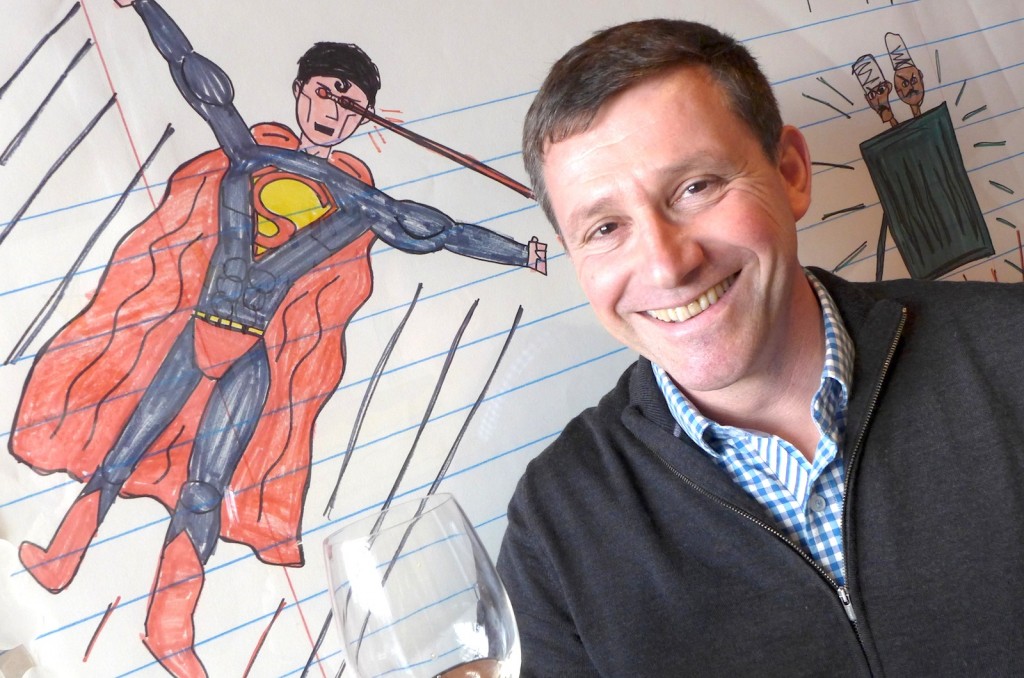 Almost exactly two years and two months ago I began research for BEST WHITE WINE ON EARTH – The Riesling Story, which Stewart, Tabori & Chang will publish here in New York Wine City (NYWC) in June and the book is just about to go off to the printers. That means there's no longer any possibility of adding anything more than a couple of words. I've long been aware that for certain Riesling regions, most notably the Mosel with its many excellent small producers, I could only present a selection of producers. After all, a book with just over 200 pages cannot be an encyclopedia, and I have to fit the whole of Planet Riesling into that limited space. However, I was hopeful that for most regions I had found and reported on most of the important rising stars. Then, yesterday, I met Vincent Sipp and tasted the wines from his Domain Agapé in Riquewihr/Alsace.
I was at the portfolio tasting of Savio Soares, one of New York's most innovative and eclectic wine importers. I expect to find interesting French red wines, German Riesling (Hahnmühle in the Nahe!) and Spätburgunder reds (Ziereisen in Baden) at Savio's tastings, but I was not expecting to bump into an excellent producer from Alsace/France I'd never heard of before. Various branches of the Sipp family have wineries in the Ribeauville area of Alsace, but I wasn't aware that one of them had moved to Riquewihr and was making innovative wines in that historic town. Riquewihr always struck me as being more of a picture on the lid of a box of chocolates than a real place. It is, of course, the very real home of the house of Hugel, but for me those wines seem to have got stuck in a tradition-laden rut, which is really a shame.
Full of youthful vitality, but also with plenty of acidity and mineral character to balance the full body of good Alsace Rieslings Vincent Sipp's wines are the opposite of Hugel's and it's tempting to declare him to be the "Anti-Hugel". However, I think it makes more sense to take his wines on their own terms, and if I do that than I have to say that he's a Riesling Superman! Look out for properly dry, vibrant and charming 2012 Riesling 'Expression' and the much more powerful, but still light-footed and elegant 2011 Riesling Grand Cru Osterberg from Domaine Agapé. The latter comes from Ribeauville and is serious competition for that town's leading Riesling producer, the house of Trimbach which is world-famous for Clos Ste. Hune and Cuvée Frédéric Emile.