The amazing Amanda Danielson of Trattoria Stella & The Franklin in Traverse City/MI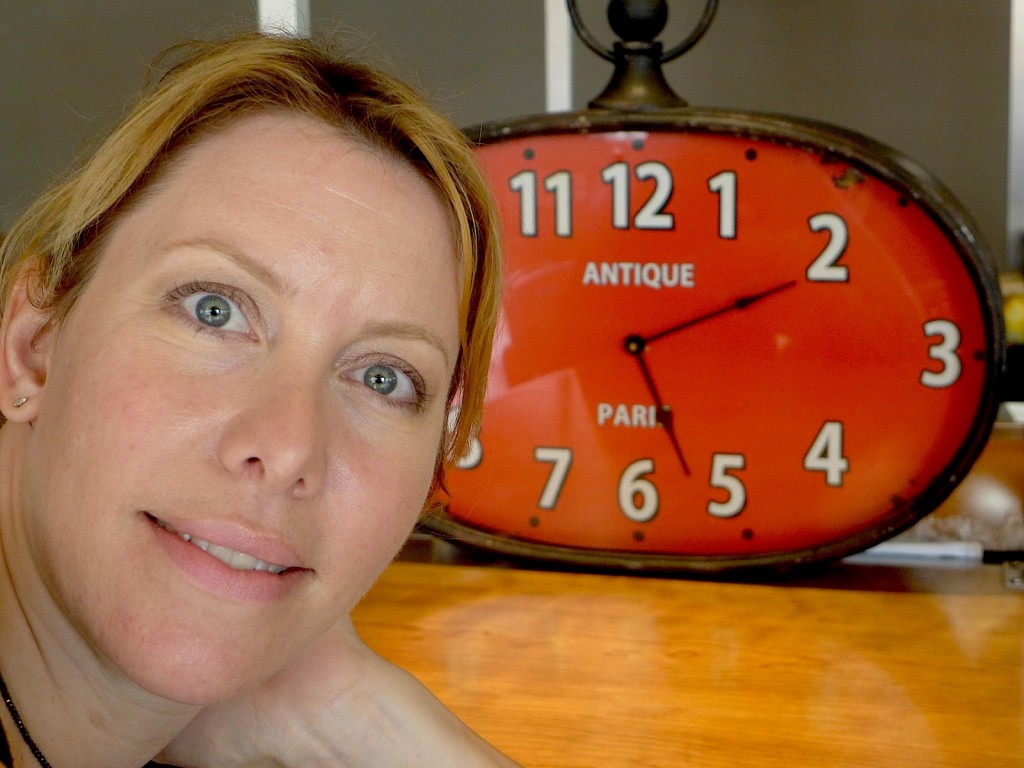 I got back to NYC from the City of Riesling festival a scant 24 hours ago and the hectic events of last weekend are still going through my head. What I remember most are the people who made it all possible and also gave it such an abundance of life and energy. Without the tireless work of Amanda Danielson it probably wouldn't have happened at all and certainly wouldn't have achieved the success which it this first time around after only a few months of planning. And most of that happened while Amanda was busy opening her second restaurant in Traverse City, The Franklin, where she is pictured above. It wasn't only organizational genius and determination that she brought to City of Riesling, she also played a major role in shaping the content of events that were celebratory, but also asked important questions about Riesling in Michigan and in the United States of Riesling as a whole. Since the turn of the century Riesling has been on a roll in America, but these questions must be addressed if quality is to continue to climb and if consumer acceptance of the wines is to increase in step with that process. The latter is particularly challenging for 35+ year old consumers who often display a fundamental unwillingness to change the way they see wine, and quite possible much else in our world too (a sad attitude that strikes me as being highly defensive).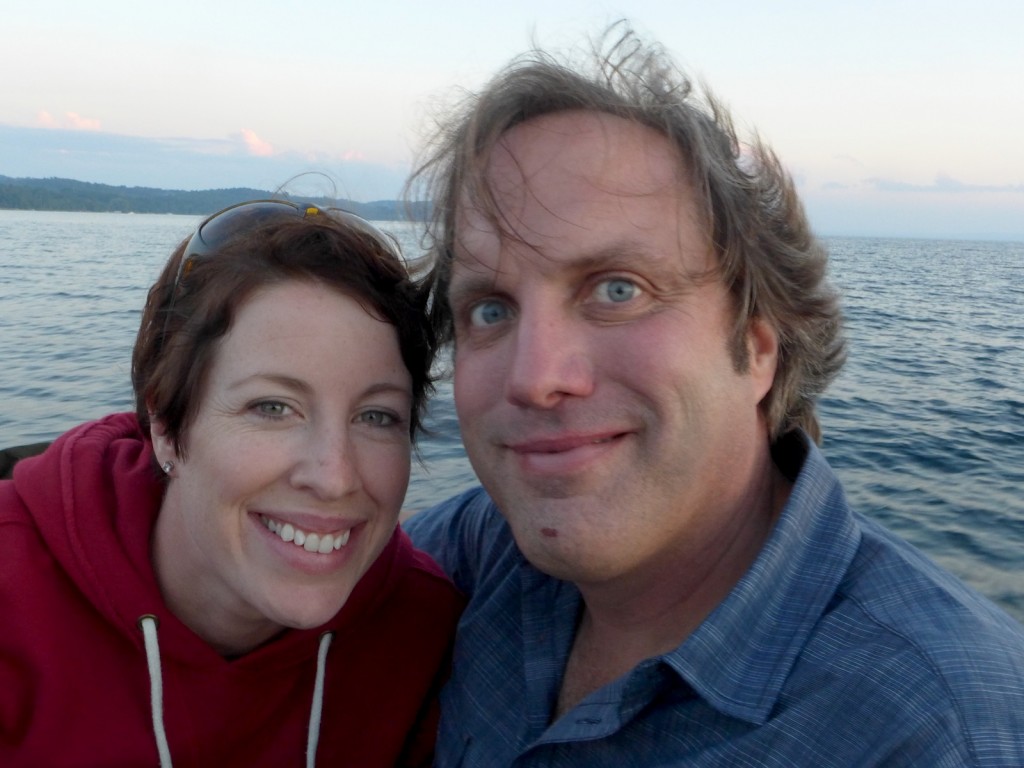 Sean O'Keefe of Chateau Grand Traverse, pictured above with his wife Stacey was also vital in shaping the content and in pulling together the great group of winemakers from right across the nation plus Angelo Pavan of Cave Spring in Ontario, Canada's leading Riesling producer. Thanks Angelo for that amazing vertical tasting of your medium-dry 'CSV' Riesling going back to the delicious 2002. Sorry Angelo, and also my apologies to Meaghan Frank of Dr. Konstantin Frank in the Finger Lakes/NY, that I failed to get good solo pictures of both of you during the weekend. However, you are both in the group picture below, taken Monday night at Trattoria Stella. Meaghan is on the left in the front row, Angelo is second from the right in the back row.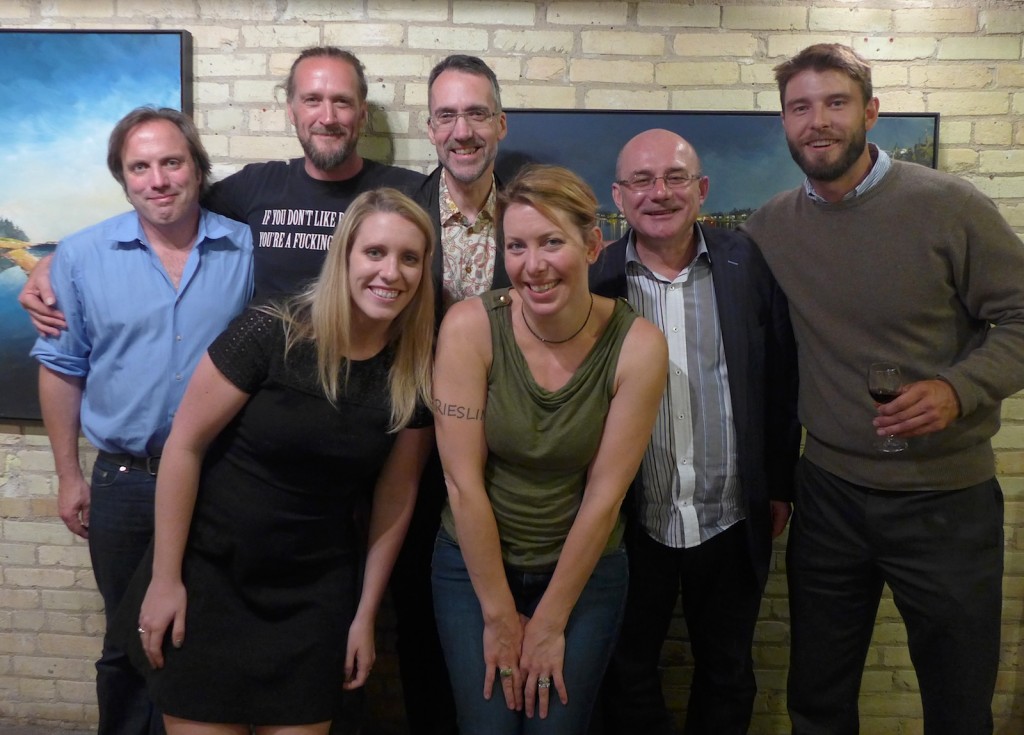 As with any subject, when it comes to Riesling there is much accepted wisdom and not all of it is actually helps us making sense of the wines that confront us all in the glass (or the reality of the Big Wide World for that matter). Sometimes ideas are passed around that are either hopeless out of date, or offer only half the answer to a question, but look like complete answers. During a generally impressive tasting of Michigan Rieslings Chris Williams of Brooks in the Eola-Amity Hills/Oregon, pictured below, suggested to me that the question of balance in Riesling – often reduced to the acidity/sweetness balance – is a way of seeing these wines that distracts us from the more fundamental question of whether we want harmony or character. This is a subject I will be following up in the near future, (also in my column in the Sunday edition of the 'Frankfurter Allgemeine Zeitung' if you read German). Of course, not only his comments generated some controversy, Chris' T-shirt also did that, also because of the logo of the elite German winegrowers association Verband deutscher Prädikatsweingüter (VDP) next to the slogan.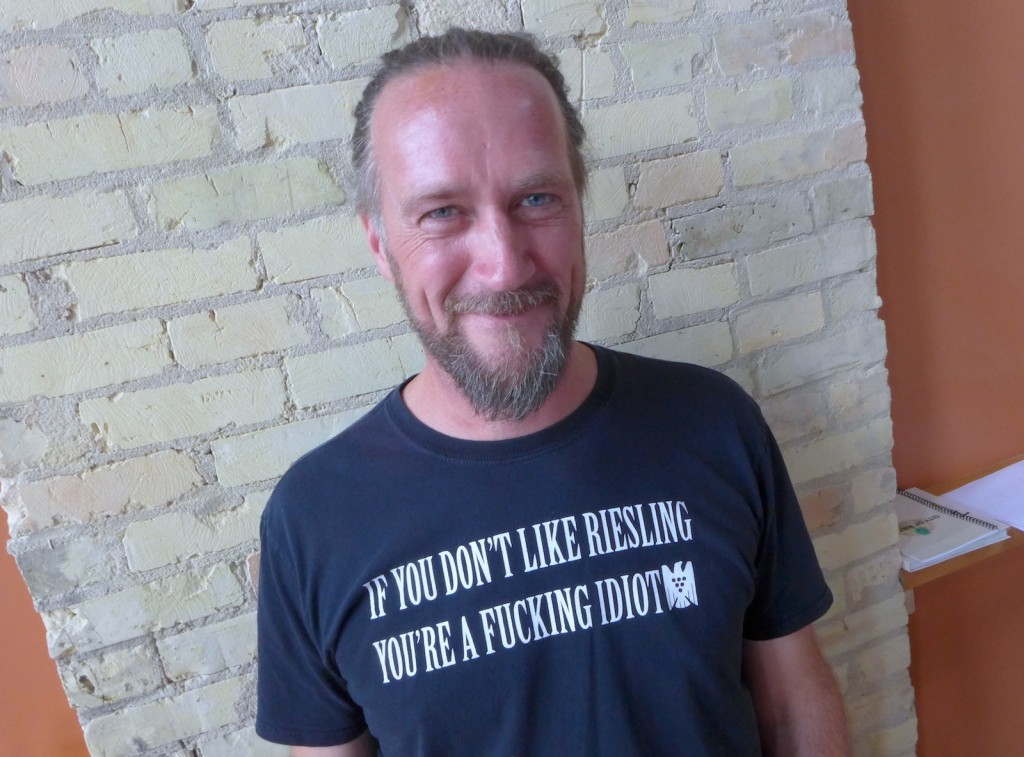 In my recent posting about the Smith Madrone estate winery on Napa/California I forgot to mention the new generation there, Sam Smith, pictured below. The great thing about Sam is that he is utterly grounded in the work his father Stuart Smith and his uncle Charles Smith have done up on Spring Mountain with Riesling, Chardonnay and Cabernet Sauvignon, yet he brings a fresh perspective to all of that resulting from his experience working for wine producers and restaurants around the world. He also has a great sense of humor that helped us avoid sliding into the geekdom too often. The problem with that is once you go into Terminal Geek Out you no longer get any real pleasure except from you yourself think and say, your awareness of other people narrowing until it disappears completely. The problem with all of that is that wine is about sharing (also ideas).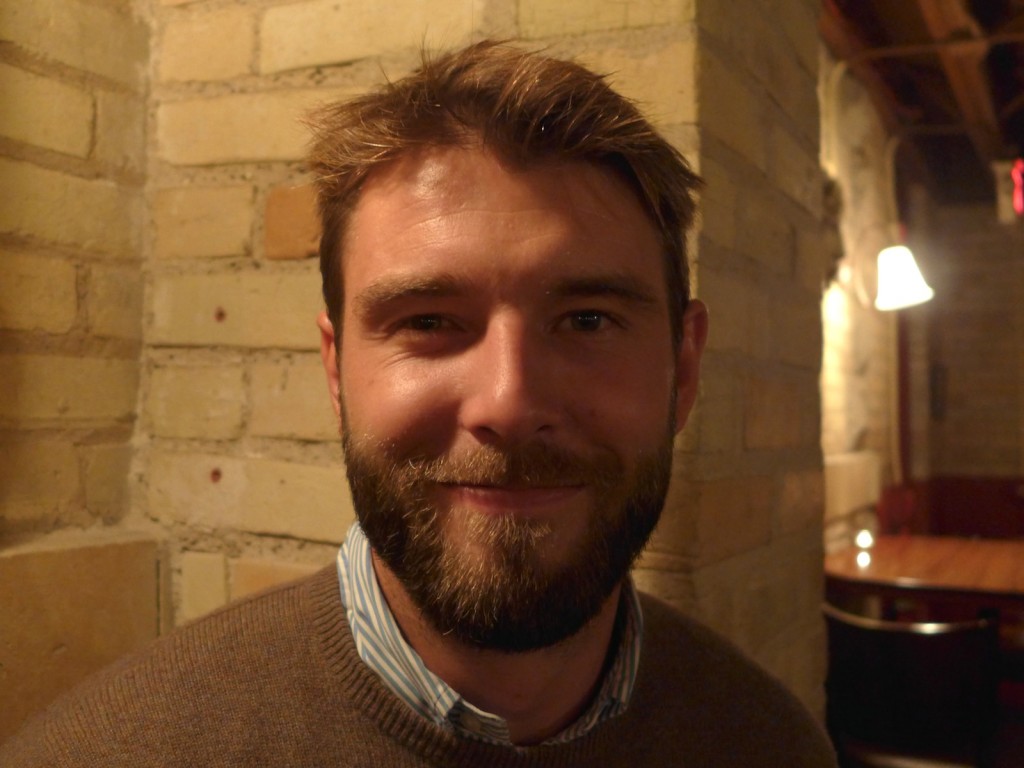 During the City of Riesling there were many great moments of sharing and also some of complete nonsense to balance (there's that word again!) the more serious ones. Nobody gave us more of these than Spencer Stegenga of Bower Harbor, pictured below, who is also the most under-appreciated Riesling producer in Michigan. His dry 2012 Block II had an intense aroma of blackberry (!) and a great interplay of ripeness, power and lively acidity. It was one of the best wines of the last day of City of Riesling and every bit as distinctive as Left Foot Charley's new 'Prose' of Chateau Grand Traverse's 'Whole Cluster', both medium-dry wines from Michigan.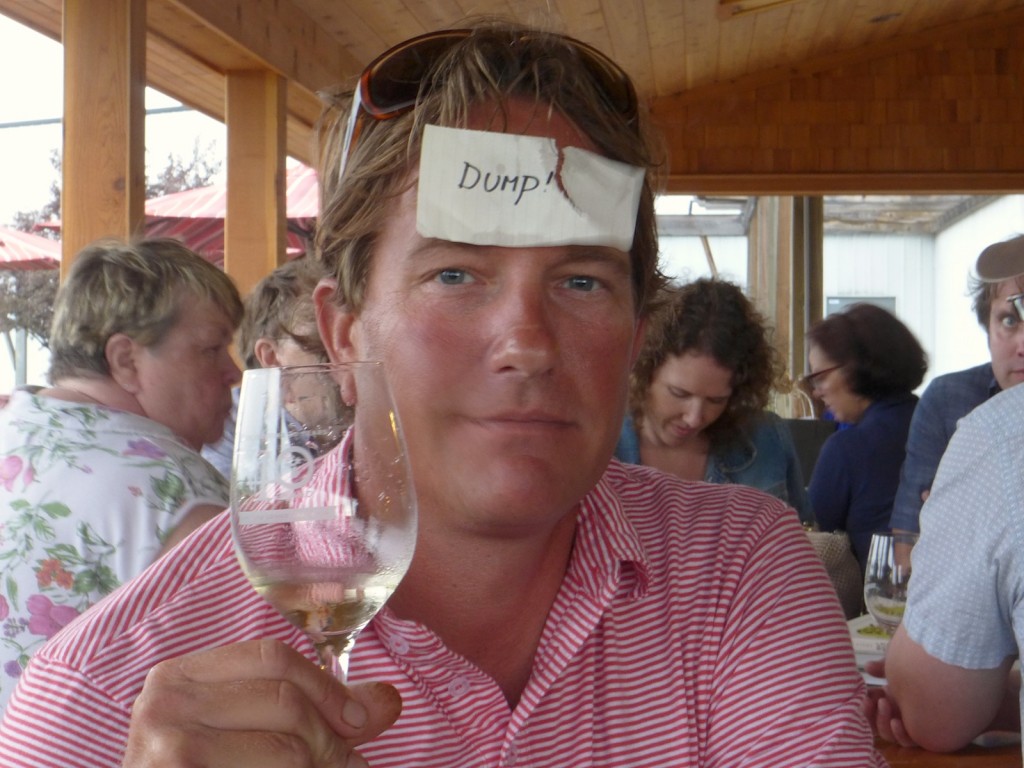 This blog never descends into that pit of boredom which is decorated with one tasting note after another. However, a number of wines I encountered at City of Riesling deserve a special mention, not least those which are off most somms radar screens. The medium-dry 2013 'Stone Cellar' Riesling from Galen Glen in Pennsylvania and the slightly drier 2013 'Golden Bunches' Riesling from Ferrante in Ohio are the best wines I encountered so far from those states. The Galen Glen wine had a pronounced cassis note along with a cool freshness that reminded me of the smell of wet leaves. Although the Riesling from Ferrante was more exotic, this side of it's personality was more subtle than in previous vintages and the wine was youthful and delicate too. Lastly, the 2013 Riesling 'Spätlese' from Brengman Bros on the Leelanau Peninsula of Michigan had a big, bold apricot bouquet that is not at all typical for MI and a succulent interplay of almost razor-sharp acidity and high residual sweetness. Whoever said that sweet Riesling cannot be exciting (unless it's German) is, to quote Chris Williams' T-shirt, "a fucking idiot".
PS A second (Traverse) City of Michigan in 2015 is in the planning!