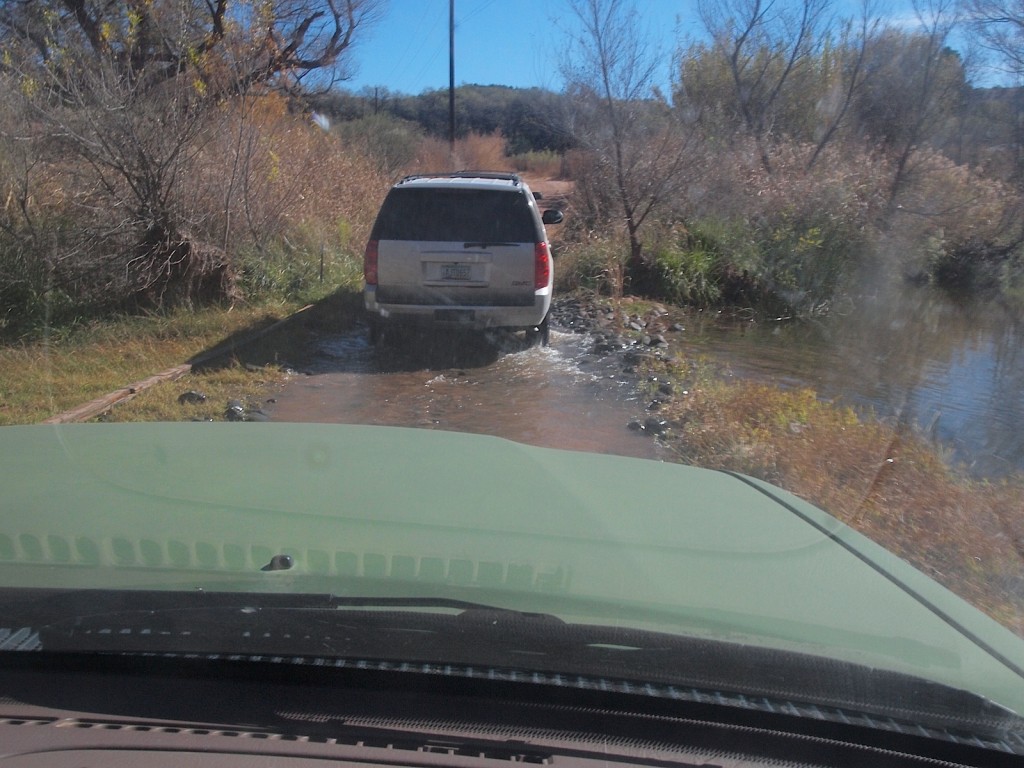 The Big Problem with figuring out how Arizona can make exciting wines – scroll down to see how I became aware that it can do that – is the rigid stereotypes in my head, in our heads. The most obvious of those stereotypes is the one that says AZ is a rocky desert filled with cacti, and it is the most difficult of them all to overcome. You see, large chunks of AZ are rocky desert filled with cacti, and other parts would be if man hadn't brought in huge quantities of irrigation water in order to grow the cities there. That fact only ingrained the stereotype more deeply. So the above photograph, poor in quality as it is, is essential to try and revise that deeply rooted perception. It shows the vehicles carrying the group of (all expenses paid) journalists I currently belong to fording a river in order to visit Caduceus Cellars' Eliphante Vineyard, the largest of their sites in the Verde Valley of Northern Arizone. As you can see, there was enough water that the drivers needed to proceed cautiously, although it's a long while since the last rainfall in this part of the state.
The fact is the landscapes and natural vegetation of AZ are way more diverse than outsiders imagine, and there are ecological niches were wine growing can function really well as long as some irrigation water is available. Annual rainfalls in these locations vary between about 8 and 20 inches, which is comparable to Eastern Washington State (a slightly cooler and distinctly less humid desert). Summer highs may go slightly over 100° F/40° C, but they go higher in Napa or Sonoma/CA, for example. The AZ wine growing climate has its foibles, most notably the danger of frost in April when the vines have just began growing after their winter dormancy, then the way later in the growing season the weather flips over from windy and dry to hot and humid. However, as a whole it isn't nearly as extreme as most people imagine it to be.
The picture of the Eliphante Vineyard below serves to undermine the preconception amongst wine pros, that while AZ may make a few drinkable wines these belong in the world of small scale semi-hobby production that doesn't deserve to be taken seriously by the mainstream wine media, somms, etc. The Eliphante Vineyard is around 30 acres/12 hectares in size and as you can see much of it isn't old enough to give a crop yet. Owner Maynard James Keenan (yes, the rock star) has planted a slew of grape varieties here, many of which are Italian, on the basis that since Sangiovese does really well in AZ it's worth taking a bet on others like Nebbiolo (from which Barolo, Barbaresco and many other high-end reds are made in Piemonte/Italy). That's a risky policy, but he's well aware of that. As he told me, "I'm not delusional. Nebbiolo could fail, because that's been the broad trend around the world." I seriously admire this serious daring.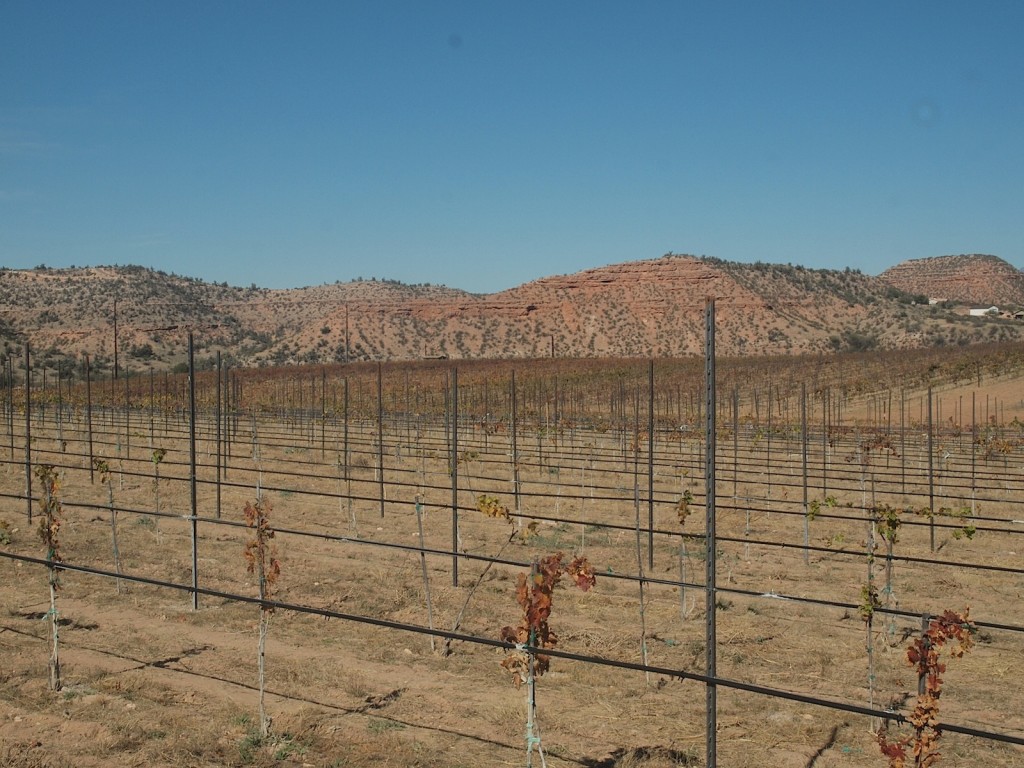 No less striking is the hidden side of Keenan's approach to cranking up the rapidly developing AZ wine industry that involves a lot of systematic thinking. He's incredibly focused and has done a great deal of thinking to try and avoid wasting time, energy and money on going down dead ends that don't lead to wines that are capable of exciting and surprising. His wild sense of humor and boundless self-confidence never seem to get in the way of the question that lies behind the complex strategy to put AZ wines on the map he's developed over the last years. But more about the man later, let's get back to the wines, which have been a font of surprises.
I would never have imagined that one of the wine categories in which AZ would shine is rosé, but the three (!) different rose´s that Caduceus Cellars produced in 2013 are conclusive proof of this. They're anything but flimsy blushing maidens, rather they're like the strong, loose women I imagine hanging around saloons in this part of the world more than a century before there was a state of Arizona (founded 1912). The picture below shows these three femme fatales, from left to right the 'Marzo', the 'Lei Li' and 'GSM'. They taste as different as those colors look, too. The 'Marzo' is 100% Sangiovese and has the bright fruit and acidity I associate with this grape married to considerable power and a candied orange note. Anything but superficially charming the 'Lei Li' is 100% Nebbiolo and a big, warm non-fruity rosé that I struggled to adequately describe this unique wine. 'GSM', a blend of  the Grenache, Syrah and Mourvèdre grapes (hence the widely-used acronym for this combo), was more like a big meaty red wine, but had a freshness that enabled it to just about fit into the rosé category. $40 per bottle isn't cheap, but these are big personalities like their maker.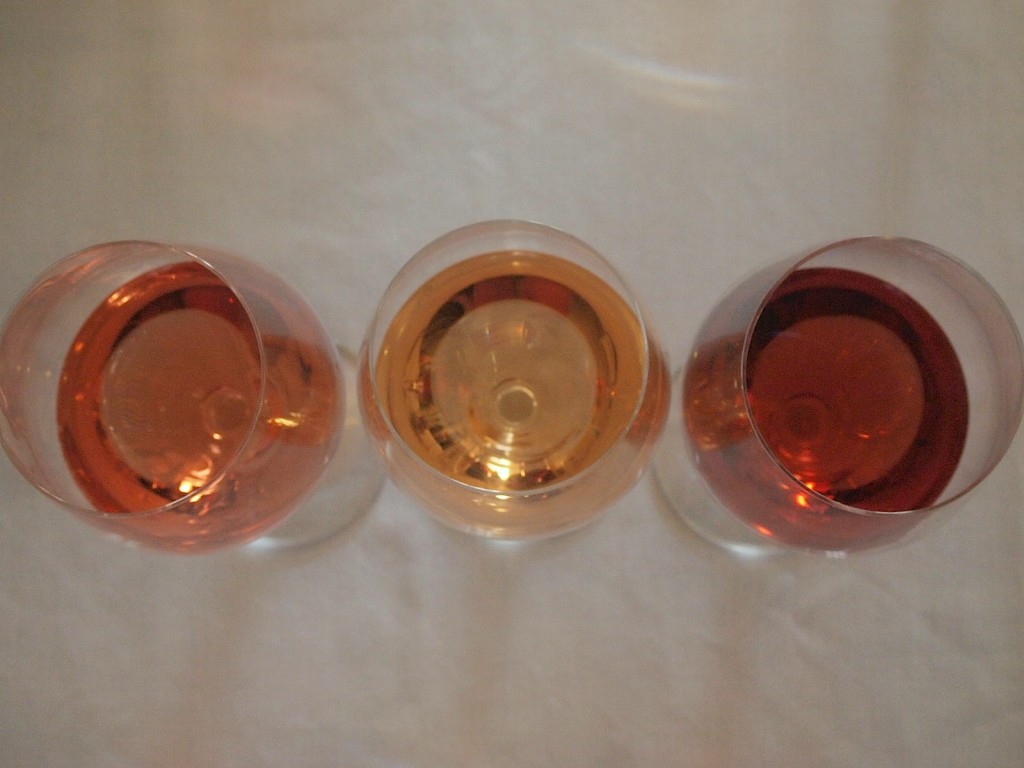 So, even before we left the North of AZ on the four and a half hour drive that brought us to the utterly different world of wine growing here in the Southeast of the state a bunch of preconceptions had to be slammed into the trash can of useless ideas. That was an exciting process that continued yesterday afternoon and will proceed further today. The next posting may also take a little while as the program is pretty intense and many of my colleagues in the group have a lot of experience and ask the wine producers strings of probing questions. As astonishing as the best wines have been it has been tough to keep up with the pace. The effort has been more than worth while though, because here is what I call a Big Subject. I will return!