Because maybe / You're gonna be the one that saves me…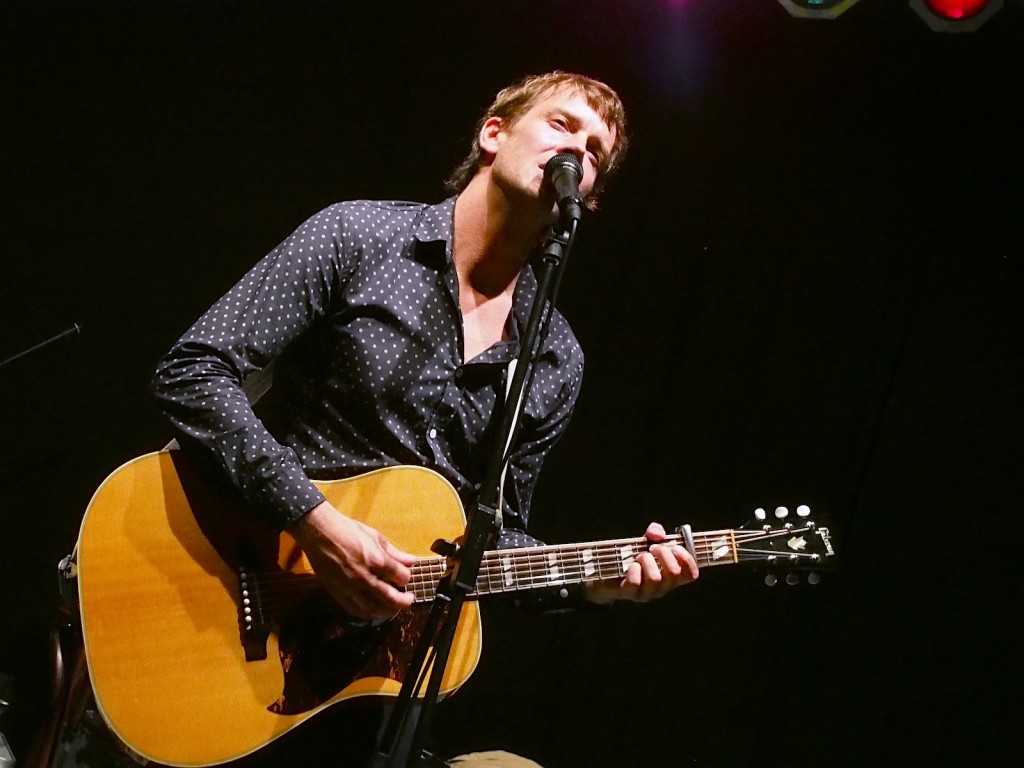 Note: Many apologies that it's been such a long time since the last posting, but a horrible virus made its home in my lungs, and it was a struggle to manage even the most urgent work. Thankfully, I could still taste and smell, because I traveled to the Mosel and tasted some great wines there. Here's the story:
Niels Frevert, pictured above, is one of the stars of Germany's answer to Brit Pop. You can hear at least a hint of Oasis or Blur in all of his songs, at least I thought I could last Saturday evening when he played at Weingut Immich-Batterieberg in Enkirch, Mosel. Of course, this is not what the world associates with Germany or with Mosel Riesling, nor is it what normally happens when a rising phoenix producer on the Mosel presents it's new vintage. However, this "unplugged" style concert in the garden of this producer really did fit the spirit of modern Mosel Riesling very well: wines that are at once rather serious, but with a playful and gentle side. At least, that's how I'd describe the way that Niels Frevert played songs like Waschmaschine last Saturday evening.
I also played a part in this event, following classical pianist Yorck Kronenberg – a very hard act to follow! – the previous evening with a talk about what terroir really means, both in general terms and specifically in relation to Immich-Batterieberg, a producer who's wine already had bundles of terroir (vineyard site) character under the last of the original owner family, Georg Immich (I met him back in '89 and he sold the property in '92). I received a fee for giving that lecture, but that doesn't alter the fact that under the present owners Dr. Volker Auerbach and Roland Probst, and director-winemaker Gernot Kollmann (since 2009) this estate has bounced back and rightly been showered with praise. To my mind, it makes striking wines with a lot of terroir / vineyard character. However, I suggest that you taste and make up your own minds about that.
Although time was very short I also managed to visit three other producers with my old school friend Richard Aczel, a lecturer on English literature and related subjects at Cologne University. He's just purchased a house on the Mosel and begun an in-depth exploration of the regions wines. Our visits to the historic Weingut Wwe. Dr. H. Thanisch (VDP) in Bernkastel, then Daniel Vollenweider and Martin Müllen, two pioneers in Traben-Trarbach, were discoveries for him.
Sofia Thanisch is currently making the best wines of her career and has developed a style that remains true to this house's commitment to the filigree style that most of the wine world considers "classic" Mosel with an impressive amount of backbone. Although the majority of the wines are in sweeter styles there are two impressive new dry wines from the 2014 vintage, the Graben Riesling GG and the Lay Riesling feinherb. Normally I don't attach much importance to numbers, but in the case of the Lay they are particularly interesting. Although this wine is dry enough to accompany savory food (it would be great with all kinds of moderately spice dishes too) it weighs in at 11.5% and costs only Euro 14,50 direct to private customers from the estate.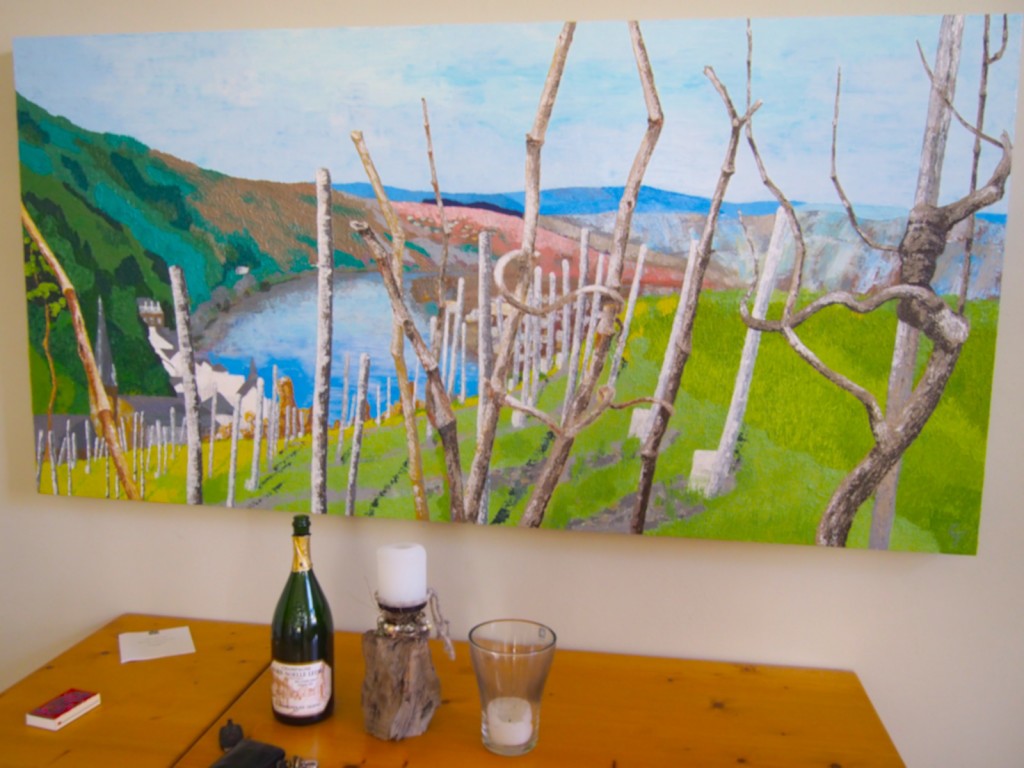 As far as I know, Daniel Vollenweider was the first complete outsider to found a winery in the Mosel when he purchased just over 3 acres of vines in the forgotten top site Wolfer Goldgrube back in 2000. Although Vollenweider comes from the wine producing canton of Graubünden in the German-speaking East of Switzerland there were no wine growers in his family. Since then he has expanded his holdings fourfold and built an excellent reputation for both sweet and dry Rieslings. He proved that you can start with almost nothing and become a Mosel winemaker with your own vineyards, and within five years he had his first imitators. Those in this part of the Mosel now have their own club, for more info see: www.klitzekleinerring.de
Even Vollenweider's basic, bone-dry 2014 Riesling Felsenfest is packed with aroma and has great vitality, and single vineyard wines like the 2014 Goldgrube Riesling "GG" and 2014 Goldgrube Spätlese are seriously concentrated without in any way being massive or in any other way willfully overdone.  Thankfully, you can say the same about his prices! The painting pictured above hangs in his tasting room and depicts the Traben-Trarbach section of the twisting Mosel Valley in a manner rooted in tradition, yet is also strikingly original just like these wines.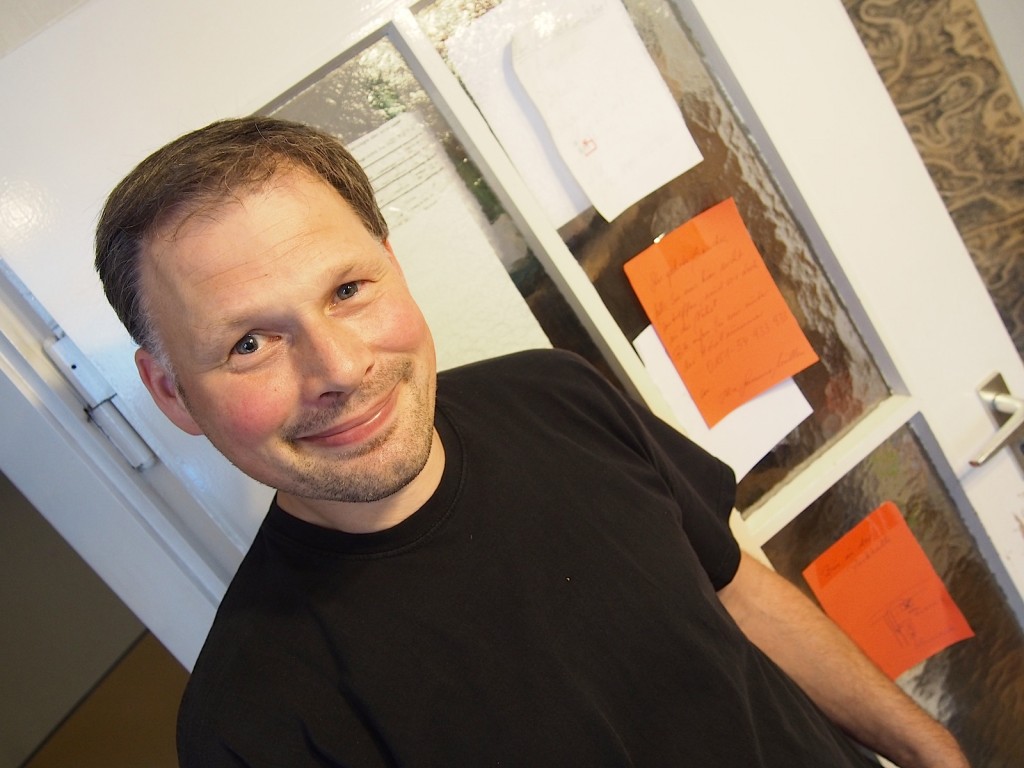 Martin Müllen is definitely not star material, because what interests him is growing and making the wines, not dancing in the spotlight on the wine and gastronomic stage, nor unleashing Twitter-storms on a world already jaded by their frequency and repetitiousness. And I think that the photo above confirms that very well. One of his focuses is light, dry wines and at their best – e.g. the 2014 Hühnerberg Riesling Kabinett trocken * – they weight in under 11% alcohol, but have great herbal and floral aromas, the acidity crisp rather than biting (often a problem in low-alcohol dry Riesling). However, it is his dry, and medium-dry Spätlese wines that blow my mind with complex spice and mineral freshness combined with enough power and discretely succulent fruit. Most of them lie in the Euro 13 – 20 range if you buy direct from him as a private customer, and for this they represent outstanding value for money. Perhaps the best value on the list at present is the 2014 Riesling Revival feinherb for Euro 11,90, a typical Müllen wine with the special character of the Hühnerberg already described above. A lot of younger newer winemakers tell me that they make their wines like a century ago. Usually, this means that they are inspired by what they think the style of those wines was and use modern equipment. Müllen actually uses an old basket press and does wild ferments in the traditional Fuder barrels of the Mosel (263 gallons, neutral oak) for all his wines! Hence the name of this wine and the slogan on the label: Unforgettable Tradition.