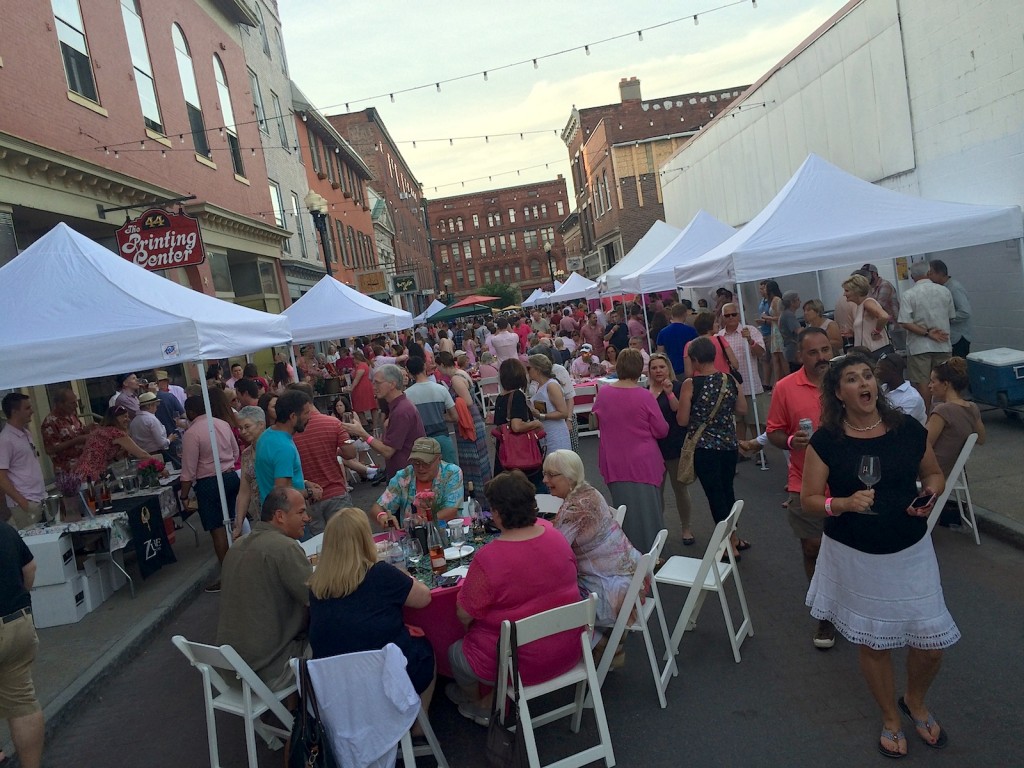 Maybe this just looks like another American street party to you, but Rosé Soirée on Linden Street in Geneva yesterday evening was anything but a regular grade American street party. The focus on dry rosé from the FLX (Finger Lakes in Upstate New York) also meant that it was not a regular wine event, because nobody else takes rosé this seriously (there were about three dozen wines to taste). Linden street is the emerging gastronomic centre of the region and because it is so compact (the photograph shows almost the entire street) it is really easy to transform it into a temporary event space.
I was going to call the event "alternative", but on reflection I think it is actually part of the New Mainstream. I say that because there was something fundamentally open, inclusive and democratic about the event – you could bring your own food or you could just wander in have one glass of wine and enjoy the live music – and I saw nobody who was obviously intoxicated, just plenty of positive high spirits. This was based on the twin pillars of interest in local wine and a spirit of co-operation amongst the producers of those wines. It may have been just one event, but these things are now changing America's relationship to wine from one of skepticism (of the alcohol it contains, and about how good it might taste) to a friendly warm embrace.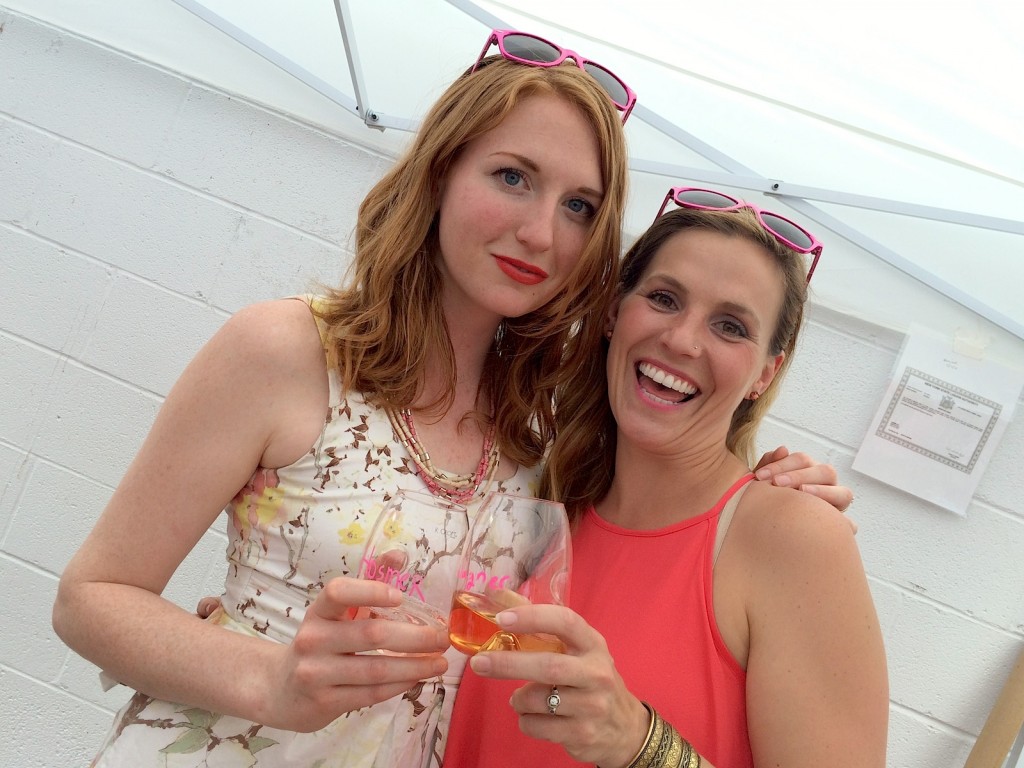 Let's face it rosé is one of the perfect wines for this kind of open-air event and in recent years the FLX has become one of the premier rosé producers, so Rosé Soirée ought to be a no-brainer. There are good reasons for the rapid advance of the FLX to this position, of which the most important is the aromatic and crisp nature of the region's wines; ideal qualities for this category. Then comes the rather large area of vineyards that were planted here with red wine grapes like Cabernet Franc and Pinot Noir during the 1990s and the first decade of the 21st century for red wine production. It turns out that both of these are ideally suited to FLX rosé wine production. The two Katies – Katie Roisen of Hosmer on the left and Katie Roller of Wagner on the right – were showing prototypical examples of these wines. The 2013 Sparking Rosé from Hosmer is 100% Pinot Noir and  has the fragrance – floral and raspberry – and delicacy that this grapes gives in the FLX (when the winemaker handles it right!) The 2015 Cabernet Franc Rosé from Wagner is much more herbal and has the redcurrant character, fuller body and bright acidity that has made it the dominant type of dry rosé in the FLX. Considering this is Wagner's first vintage of dry rosé it is quite an achievement.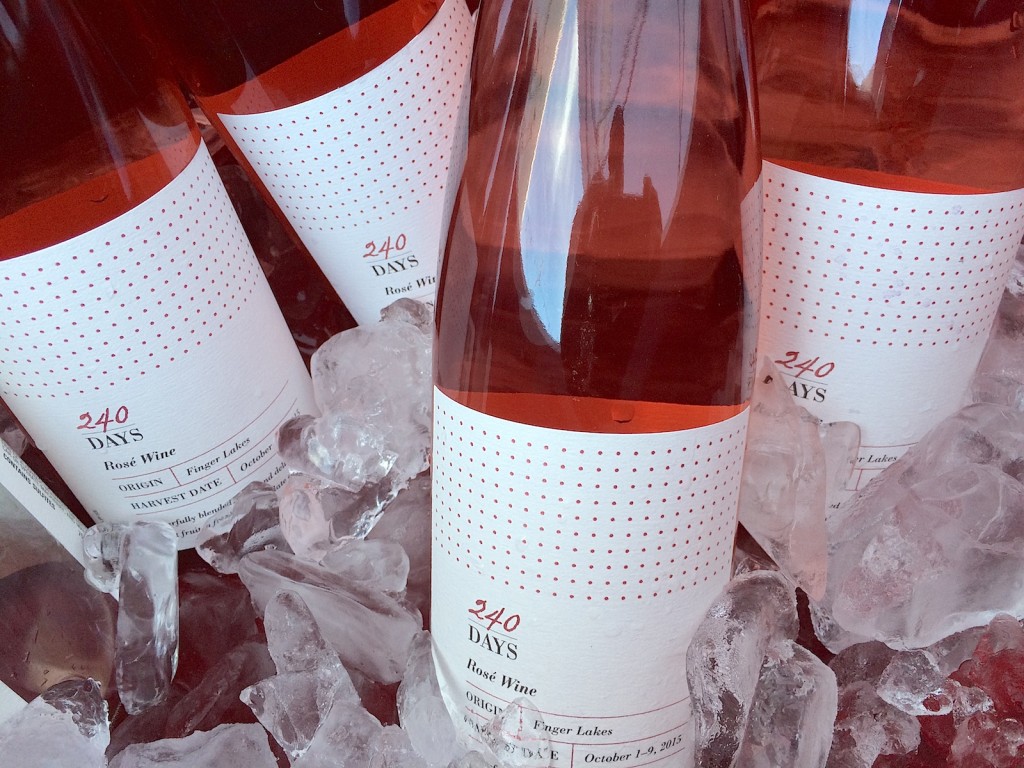 Of course, many of you are interested to know which I thought were the best rosé wines on show. The 2015 Rosé from the 240 Days is also the debut vintage for this brand, and it was perhaps the most delicious sipping/quaffing wine at the event (although there was tough competition from Sheldrake Point's Cabernet Franc Rosé and the sparkling Célèbre – Pinot Noir and Pinot Meunier – from Dr. Frank). Congratulations are due to Nova Cadamatre of Constellation Brands for proving that this corporate giant of the wine world can also make wines that are delicious and distinctive. For me, the most complex wine (herbs, herbs, herbs!) and the most exciting for the dining table was the 2015 Cabernet Franc from Kelby James Russell which he makes at Red Newt Cellars where he's the winemaker. Precisely because it has so much character it is a polarizing wine that you'll either love or push back in favor of something more fruity and charming.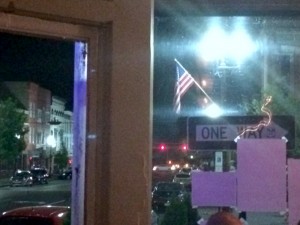 I have to admit that I have the most fun on evenings that slowly drift out of control, but where that doesn't end up going so far that the next morning I regretting something I said or did. The night of Rosé Soirée fell into exactly that category and the thumbnail image to the right documents the moment where I slipped off the rails. I was in a great new bar in Geneva called Kashong Creek at 87 Castle Street at the corner of Linden Street. After a drink there I ended up dancing in an empty restaurant with some of the staff and the owner until I realized that it was gone 2am and I'd had enough fun. That my head was clear this morning and I went out for a run without any trouble suggest that I judged it about right. I take it as further proof that Rosé Soirée was spot on!