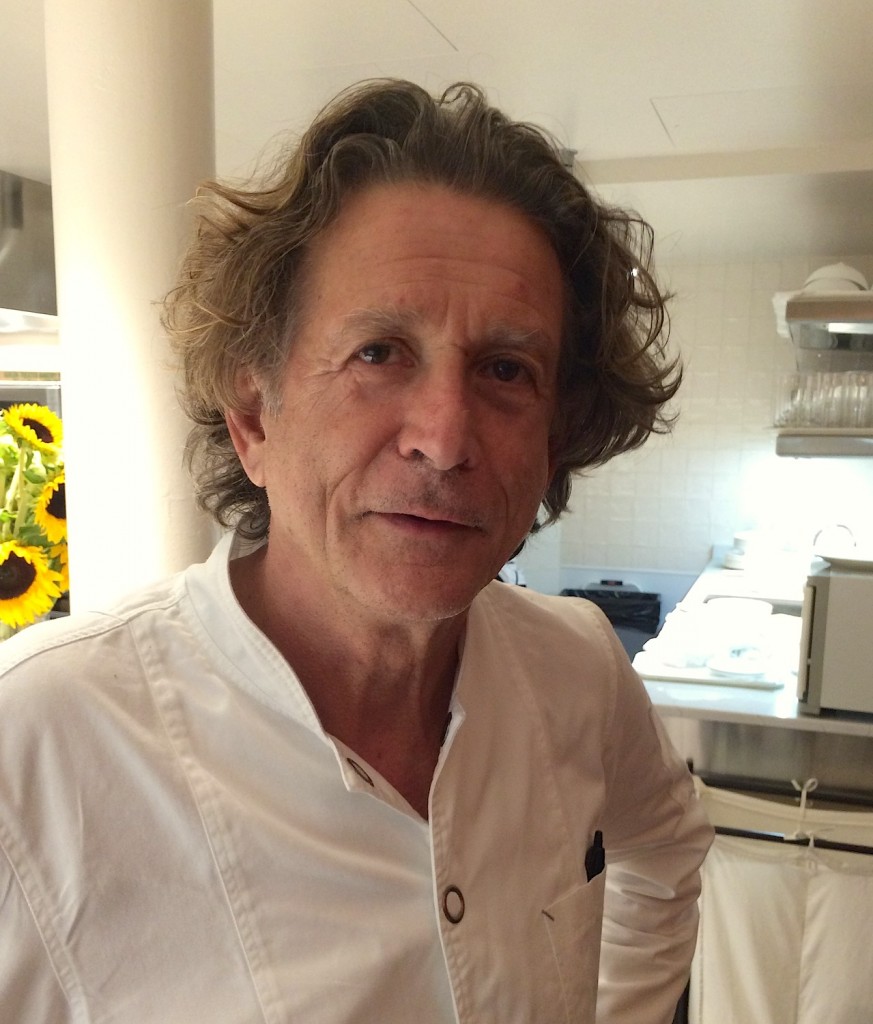 I'm frequently asked what the best wine in the world is, what my favorite wine of all time is, which the best of this or that category of wine, food, restaurant or bar is. The first couple of these questions are completely absurd, because how a wine tastes depends enormously on how you feel, your mood, what you just ate or are currently eating, and the entire situation. Therefore, what feels perfect one day won't the next. However, even the latter questions that are much more specific are often not easy to answer, because even within a seemingly arrow category like Chinese restaurants there are great differences. In this instance they begin with the fact that there are eight main schools of Chinese cooking and each of these has many local variations. However, occasionally something comes along that is so sensational that I end up saying something like my words at the end of yesterday evening: "that was the best meal I ever had in a New York restaurant!"
I had been invited by a couple of friends to a new restaurant in the Meatpacking District of Manhattan called Günter Seeger after the chef and patron. I first heard about Seeger and his new restaurant a good year ago, long before it opened. Rudi Wiest, a German wine importer based in Southern California with a great feeling for fine cuisine, told me that it was coming and it would be something special. I made a mental note, but did no more about it. I was therefore hardly well prepared for what came. Perhaps that was a good thing though, because the element of surprise definitely added something to the whole experience.
Since I had my first fine dining experiences as a teenager I've loved the buzz I get when I walk into a restaurant where hedonism hangs heavy in the air, but I don't feel that I'm in a temple where I shouldn't laugh loudly and must show some kind of exaggerated respect for the food on the plate beyond what I show any artist or crafts(wo)man with a special talent and the determination to develop its potential to the full. That's exactly what it was like last night when I stepped into Günter Seeger's restaurant, and as the evening progressed the precise, but friendly and unfussy service confirmed my impression this is an establishment that completely rejects all the show, glitz, tricks and BS that so many other fancy NYC restaurants are crushed under the weight of. The problem with all that fancy stuff which has nothing whatsoever to do with the food on the plates and the wine in the glasses is that I also feel crushed by it!
The next thing that stunned me was the wine list, a single large sheet of paper on one side of which were German wines and on the other a selection of wines from all kinds of other places. Finally a German chef in America who isn't pretending that he's some vague kind of European, but not actually German. There's a great German word for that: Lebenslüge, or a life-lie, i.e. being in denial big time. This wine list has a smattering of famous names, but also a healthy number of excellent wines from small producers at friendly prices. For example, amongst other things, we drank the 2013 Spätburgunder from Shelter Winery, a start-up in the Baden region of Germany founded in 2003 by a young couple from the beer-drinking north of Germany.
The reason that I come to the food first in paragraph five is that this is the nature of the restaurant experience when you dine at a high level; a lot happens before that first plate arrives. The Ceviche of Kona Kampachi with Cilantro and Habanero was hardly a radical innovation, but the texture and super-fresh flavor of the fish, together with the balance of the citrus and chilli flavors was exactly spot on. Optically, the food itself was very simple, but the presentation on a porcelain bowl by the Berlin-based ceramicist Stephanie Hering that looked like a snowstorm of diamonds was stunning. This was the moment when I thought to myself, why didn't I find out more about this chef before I came out tonight? That was the best ceviche I ever had!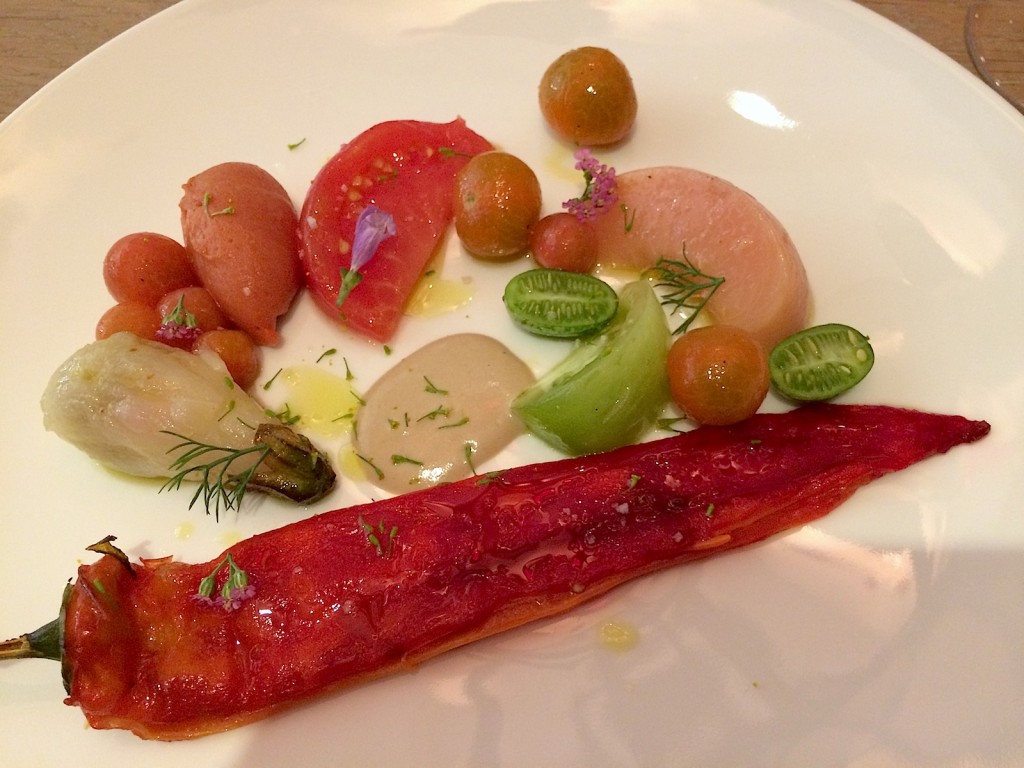 Summer Salad with Tomato Sorbet – the second dish of the six course menu – sounded like a cliché, and I feared it might be a nod to vegetarian PC, and possibly even be a filler. How wrong I was. Every type of tomato, the long red pepper of a familiar kind, a piece of perfectly ripe white peach, and the eggplant of a variety I'd never encountered before each had a completely distinctive taste. The intensely flavored tuna sauce (think Vitello Tonato) and tomato Sorbet added decisive accents that unlocked new flavor dimensions from the fresh tomatoes. This is the summer I was missing until that moment.
Grilled Solette Grenoble style is not really my mind of dish, also because normally a punch of caper flavor this powerful is too much for me. However, the fish was also no slouch and dodged that potential blow with the butterfly deftness like that of Mohammed Ali when he was right at the top.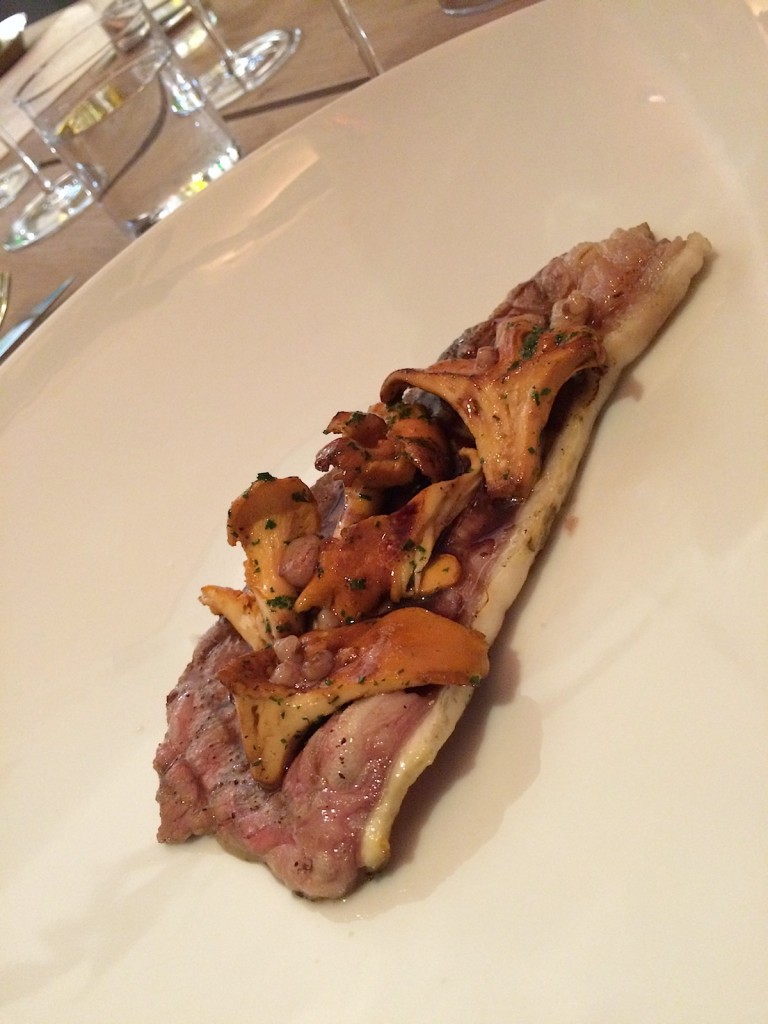 Then came the next sensation. I thought the 50-dayDry Aged Creekstone Farm Beef, Local Chanterelles with Marrow would be a rather conventional dish – hell I cook stuff vaguely like that and I'm not a particularly talented hobby cook – and when it arrived on the table the only unconventional thing about it was the thinness of the steak. What was Günter Seeger doing serving steak? One bite was enough to persuade me that this was the most complex steak I'd ever eaten. The thinness of the steak meant that almost the whole of it was external surface, dramatically increasing the roasted flavors to weight ratio. The marrow added richness to the texture and I felt like I was melting in my own mouth!
I will omit description of the excellent local cheese and the great dark German style bread served with it, but only for reasons of space. The Balivet Bubbles with Rose Petal scented Raspberries was so very delicate and literally almost lighter than air. Then I realized how soothing the interior décor of the restaurant was, although I couldn't do more than point to the well-judged subdued lighting if asked to explain that more. I had been somewhat distracted by the "action" in the open kitchen, because we were at the Kitchen Table right next to it. What I saw there was exactly the opposite of the Gordon Ramsey mud-wrestling-style theatrical violence. Instead Seeger's kitchen is a place of Zen-like calm.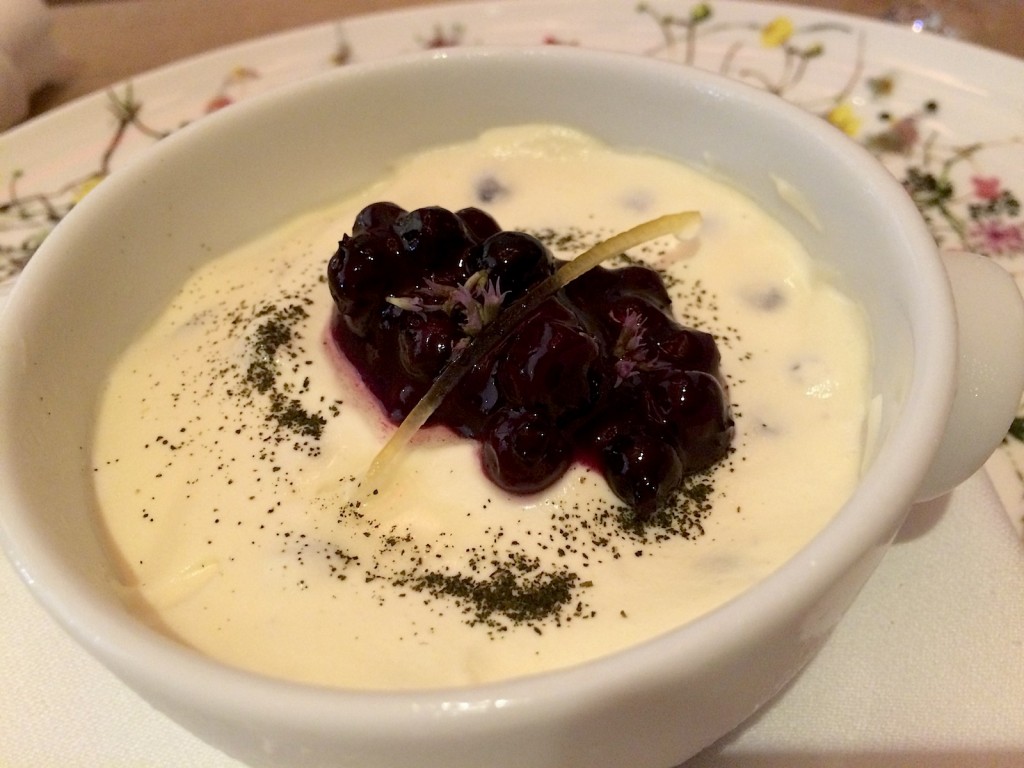 Finally, came one of the simplest and most satisfying deserts I've had in a long time. However, I have to warn you that the Wild Blueberry Soufflé Glacé with Candied Lemon Peel and Spearmint is packed with heavy cream, but its there for a purpose (a seriously erotic texture). How could the humble blueberry become the basis of a desert at once so rich and so pure in flavor? Right now I can only begin to explain it. Indeed, those words describe Seeger's cuisine as a whole. And unusually, I felt like the best thing that I could do tonight would be to return and savor those things once again. Neither was I physically over-satiated, nor was there any sense of sensual overload as so often is the case after eating at restaurants working at this level. Maybe I'm amazed by Günter Seeger!!!
For further information see: www.gunterseegerny.com
Günter Seeger NY, 641 Hudson Street, New York, NY 10014
Tel.: (1) 646 657 0045