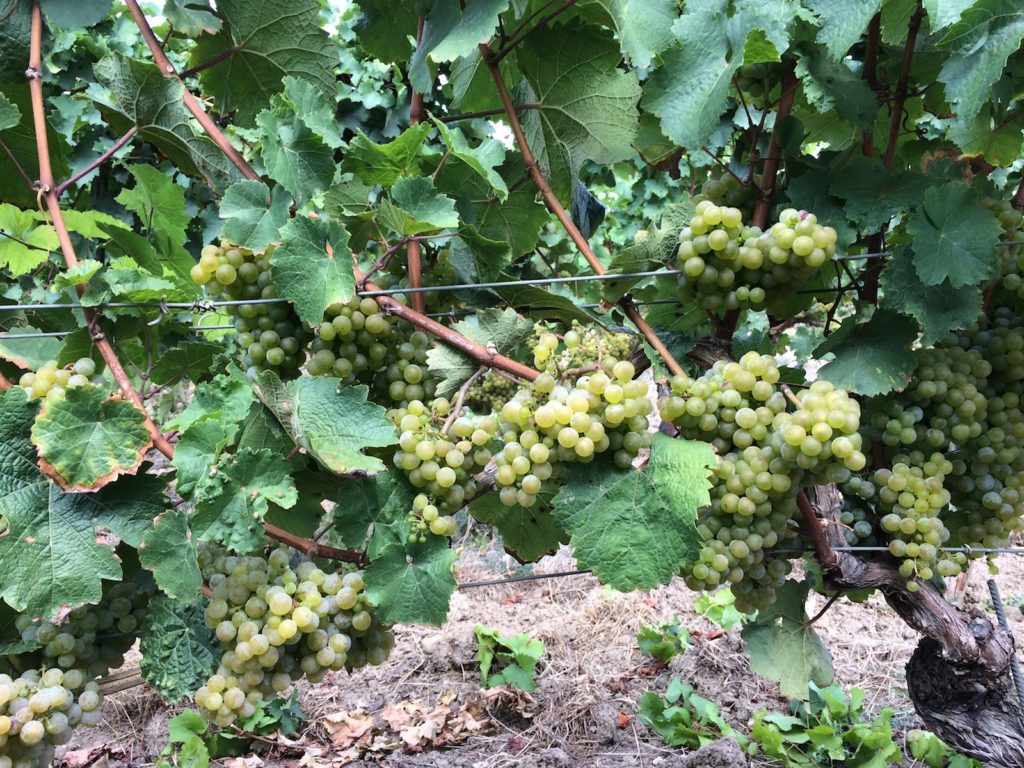 Samstagabend, den 15.09.18 findet an einem geheimen Ort im Rheingau meine offizielle Betriebsfeier zum 35. Jubiläum meiner Tätigkeit als Weinjournalist statt. Wer eingeladen ist, weiß wo und wann.
The official celebration of my 35th anniversary as a wine journalist takes place on the evening of Saturday, 15.09.18 at a secret location in the Rheingau. Those who are invited know who they are, where and when.
2018 erzeuge ich meinen ersten Riesling im Weingut Flick in Wicker/
Rheingau (siehe Foto oben von meinen Trauben am 26.08.18 – mehr darüber nach dem
Lesetag voraussichtlich am 17.09.18!)
2018 I am producing my first Riesling wine at Weingut Flick in Wicker/
Rheingau (see the photo above of my grapes on 26.08.18 – more about this after the
harvest, probably on 17.09.18!)
2016 habe ich New York aufgegeben und bin nach Eppstein/Taunus gezogen.
Gleichzeitig habe ich angefangen für www.JamesSuckling.com als
Contributing Editor zu arbeiten.
2016 I left New York and moved to Eppstein/Taunus. Simultaneously, I
began to work as a Contributing Editor for www.JamesSuckling.com.
2015 ist mein erstes E-Book Rock Stars of Wine America #1 auf Kindle
erschienen. Es folgten später im Jahr das zweite Band in dieser Reihe und
Anfang 2016 das dritte und vorläufig letzte Band.
2015 my first e-book Rock Stars of Wine America #1 appeared on Kindle.
Later the same year the second volumne in the series was published, then
the third and final one appeared early in 2016.
2014 ist mein letztes gedrucktes Buch Best White Wine on Earth (Stewart,
Tabori & Chang Verlag, New York) erschienen, später im gleichen Jahr ist die
deutschsprachige Ausgabe Planet Riesling (Tre Torri Verlag, Wiesbaden)
gefolgt.
2014 my last printed book Best White Wine on Earth (Stewart, Tabori &
Chang, New York) was published, the German language edition Planet
Riesling (Tre Torri, Wiesbaden) appearing later the same year.
2012 bin ich nach New York gezogen wo ich zuerst im Hotel of Hope in East
Village/Manhattan gewohnt habe. Später wohnte ich in der Nähe von Union
Square/Manhatten und an Bedford Avenue in Williamsburg/Brooklyn.
2012 I moved to New York initially living in the Hotel of Hope in the East
Village/Manhattan. Later I lived close to Union Square/Manhattan, then
finally on Bedford Avenue in Williamsburg/Brooklyn.
2010 habe ich mit dem Filmregiseur Alexander Saran angefangen die TV-Serie
Weinwunder Deutschland für BR zu drehen, eine Arbeit die bis weit in
2012 gedauert hat. Schließlich sind 18 Folgen von jeweils 30 Minuten
entstanden.
2010 together with film director Alexander Saran I started shooting the TV
series Weinwunder Deutschland, or wine wonder Germany, for BR Bavarain
Broadcasting. Over three years we wrote and filmed 18 episodes of 30
minutes length each.
2009 habe ich meinen ersten Wein, ein Müller-Thurgau im Grand-Cru- oder
GG-Stil im Winzerhof Stahl in Auernhofen/Franken erzeugt.
2009 I made my first wine, a Müller-Thurgau in Grand Cru or GG style at
Winzerhof Stahl in Auernhofen/Franken.
2008 ging ich als Gasthörer ein Jahr auf die Weinuniversität in Geisenheim/
Rheingau.
2008 I became a guest student at the wine university in Geisenheim/
Rheingau.
2007 erschien das gemeinsame Werk Wein spricht Deutsch (Scherz Verlag,
Frankfurt) das ich mit Ursula Heinzelmann, Chandra Kurt, Manfred Lüer und
Stephan Reinhardt geschrieben habe. Andreas Durst hat fotografiert.
2007 the joint work Wein spricht Deutsch (Scherz, Frankfurt), or wine
speaks German that I wrote together with Ursula Heinzelmann, Chandra
Kurt, Manfred Lüer and Stephan Reinhardt was published. Photography was
by Andreas Durst.
2003 habe ich angefangen meine Buch-Trilogie zum Thema Wein und
Globalisierung – Schöne neue Weinwelt (2003, Argon Verlag, Berlin), Wilder
Wein (2006, Scherz Verlag, Frankfurt), Wein weit weg (2009, Scherz Verlag,
Frankfurt) – zu schreiben.
2003 I began to write my trilogy of books about wine and globalization –
Schöne neue Weinwelt, or brave new wine world (2003, Argon, Berlin),
Wilder Wein, or wild wine (2006, Scherz) and Wein weit weg, or wine far out
(2009, Scherz, Frankfurt).
2001 bin ich Weinkolumnist der Frankfurter Allgemeine Sonntagszeitung
geworden. Seitdem erscheint meine Kolumne regelmäßig.
2001 I started to write the wine column in the Sunday edition oft he
Frankfurter Allgemeine Zeitung and it still appears there regularly.
1994 ist mein erstes deutschsprachiges Buch Die großen deutschen
Rieslingweine (Econ Verlag, Düsseldorf) erschienen. Es entfachte sich eine
große Kontroverse. Ein Bericht darüber im SPIEGEL trug den Titel Wie eine
Wildsau.
1994 my first German language book Die großen deutschen Rieslingweine
(Econ, Düsseldorf), or the great German Rieslings was published and ignited a public
controversy. The article about this in SPIEGEL magazine was titled Wie eine Wildsau, or
like a wild boar.
1993 bin ich nach Berlin gezogen.
1993 I moved to Berlin.
1989 habe ich London verlassen und eine Wohnung in Bernkastel/Mosel bezogen.
1989 I left London and moved into a flat in Bernkastel/Mosel.
1988 ist mein erstes Weinbuch Life Beyond Liebfraumlich (Sidgwick &
Jackson Verlag, London) in England erschienen. Danach habe ich die
komplette Weinlese bei Weingut Dr. Loosen in Bernkastel/Mosel gearbeitet.
1988 my first wine book Life Beyond Liebfraumilch (Sidgwick & Jackson,
London) was published in London. I worked the wine harvest at Dr. Loosen in
Bernkastel/Mosel.
1984 habe ich meine erste intensive Verkostungsreise nach Deutschland als
Gast des britischen Weinhändlers Philipp Eyres und seinen Sohn Harry Eyres
unternommen.
1984 I undertook my first intensive tasting trip as guest oft he British wine
merchant Philip Eyres and his son Harry Eyres.
1983 habe ich meinen ersten Artikel zum Thema Wein für die
Fachzeitschrift Decanter in London geschrieben.
1983 I wrote my first article fort he wine magazine Decanter in London