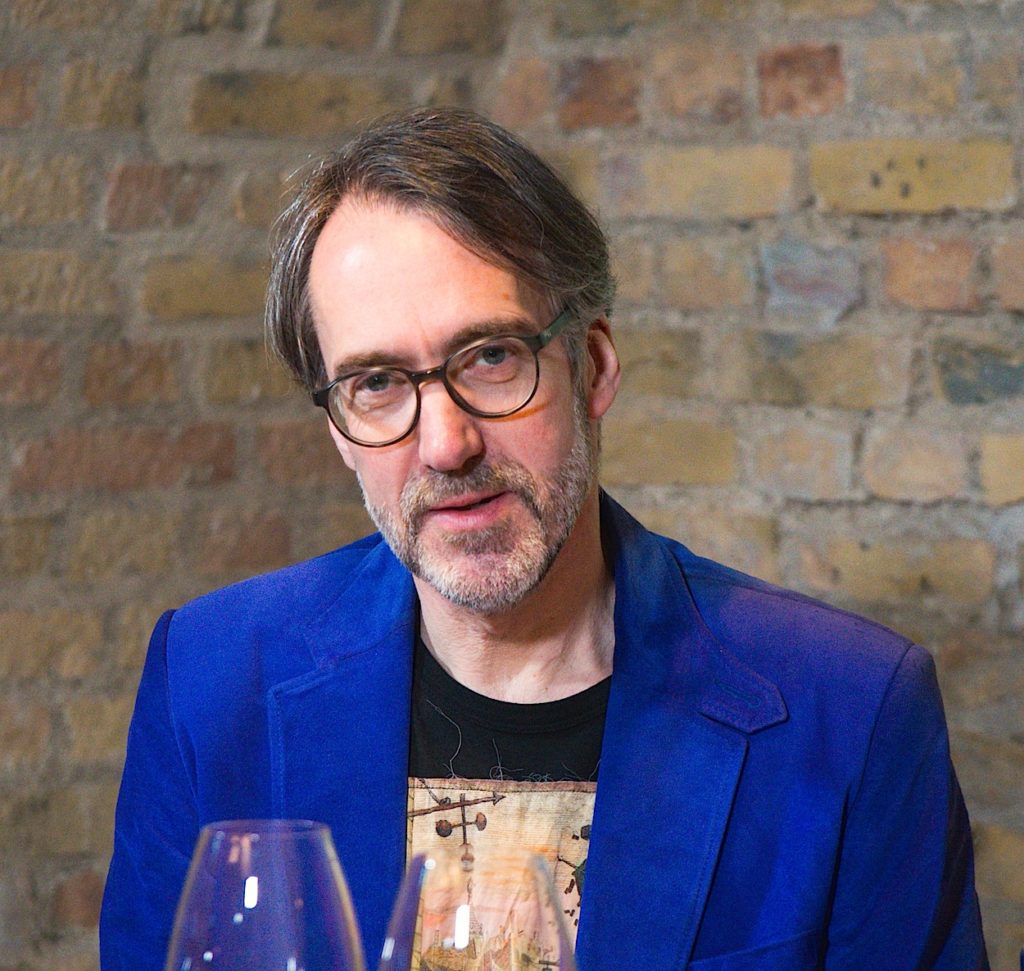 Here is the text of the press release that Wine + Partners sent out on Monday, 25th February. Bitte nach unten scrollen für die deutschspachige Version.
35 years ago Stuart Pigott visited Gut Hermannsberg, then the Staatliche Weinbaudomäne Niederhausen-Schloßböckelheim or Nahe State Domaine, for the first time. That moment is recorded in his diary entry for Thursday, 26th April 1984 where his order for several of the wines he tasted that day is also noted. "I'll never forget my very first sip of Kupfergrube, I was totally amazed and fascinated," recalls the British born journalist. Since then he has devoted himself to studying the Rieslings of Planet Wine, but those from the Nahe have always had a special place in his heart.
After many adventures in the big wide world of wine, the last of which was as Contributing Editor for James Suckling, one of the world's most influential wine critics, Pigott returns to Germany to live out at least a part of his fascination for Riesling in the beautiful and dramatic Nahe Valley.
Stuart Pigott's decision has a great deal to do with the fact that this year Gut Hermannsberg celebrates an important anniversary. 10 years ago the estate, founded in 1902 by the Prussian State, was purchased by Jens Reidel and Christine Dinse. As a result of many carefully planned investments, and through the sensitive leadership of winemaker Karsten Peter, Gut Hermannsberg has climbed back into the first league of German wine. Stuart Pigott followed this process in detail and he showered praise upon the wines Karsten Peter made from the last vintages (see www.JamesSuckling.com), particularly those from the great Hermannsberg, Kupfergrube and Bastei vineyard sites. In fact, all the estate's 30 hectares of vineyards are classified VDP Grosse Lage, or "Grand Cru".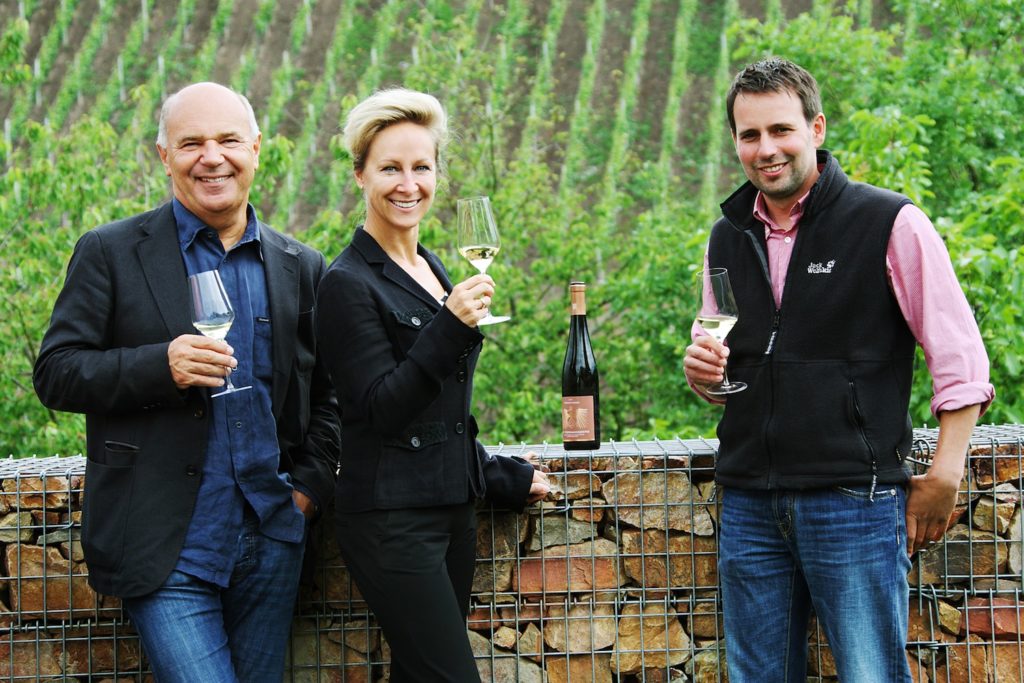 Several months ago Jens Reidel's son Jasper joined the team directing Gut Hermannsberg. Together with Achim Kirchner (sales) and Karsten Peter (production) the three are planning the future of this exceptional estate. "2019 is a particularly important year for us, because we have now completed a decade of groundwork at Gut Hermannsberg," explain Jens Reidel and Christine Dinse, "we converted the vineyards to sustainable cultivation, reduced the yields and successively pushed up the quality. We also constructed a new copper-coloured press house and opened a stylish guesthouse. By the summer the tasting and sales area will also have been modernized. Then everything at Gut Hermannsberg will be ready for a glamorous anniversary celebration and an even brighter future."
Stuart Pigott will play an important role in that process. His enormous experience with Riesling wines that reflect the geology of the vineyard, and his ability to communicate their qualities outside the conventions of modern winespeak, will be no less important for Gut Hermannsberg than his critical and analytical faculties or his global network of connections.
During their anniversary year in parallel to his journalistic work Stuart Pigott will be Gut Hermannsberg's "Riesling Ambassador". He will bring his skills as a wordsmith to texts describing the development of the estate and its remarkable wines during the last decade, and he will present the estate's Riesling wines at a series of tastings for professionals in Germany and around the world.
Vor 35 Jahren besuchte Stuart Pigott zum ersten Mal Gut Hermannsberg, das damals noch Staatliche Weinbaudomäne Niederhausen-Schloßböckelheim hieß. So steht es in seinem Terminkalender vom April 1984 eingetragen, und gleich daneben die Bestellung, die er tätigte. "Als ich den ersten Schluck Kupfergrube auf der Zunge hatte, war ich sofort fasziniert und begeistert!" schwärmt der gebürtige Brite, der sich seit Jahrzehnten mit Riesling auseinandersetzt, und das Nahetal besonders ins Herz geschlossen hat.
Nach vielen Abenteuern in der Weinwelt, die ihn zuletzt an die Seite von James Suckling gebracht hatten, kehrt Pigott nun ganz nach Deutschland zurück und wird zumindest einen Teil seiner Begeisterung für Riesling an der Nahe ausleben. 
Denn die einstige Staatliche Domäne feiert ein Jubiläum: vor zehn Jahren wurde das 1902 gegründete Weingut durch Jens Reidel und Christine Dinse erworben. Dank vieler Investitionen und unter der umsichtigen und respektvollen Führung durch Karsten Peter hat das Paradegut Schritt für Schritt wieder den Anschluss an die absolute Spitze in Deutschland geschafft. Stuart Pigott war all die Jahre ein aufmerksamer Beobachter der Entwicklungen und freut sich ganz besonders über die tollen Qualitäten, die Karsten Peter aus dem Hermannsberg, der Kupfergrube oder der Bastei entwickelt. Sämtliche Weinberge des Gutes sind übrigens VDP.Grosse Lagen.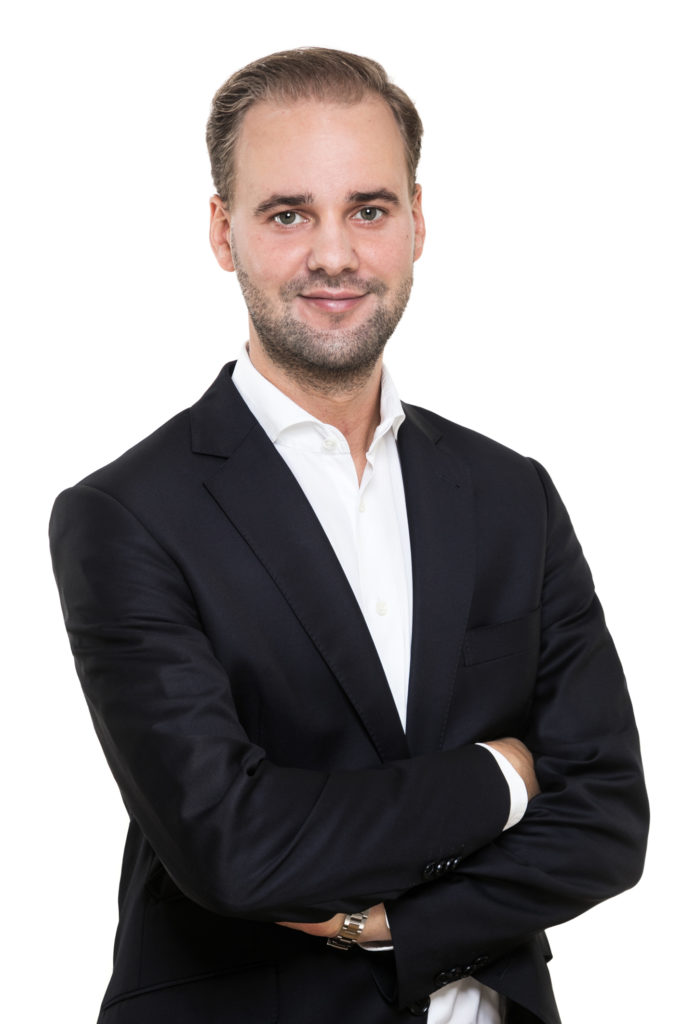 Seit einigen Monaten ist Jasper Reidel, Sohn von Jens Reidel, aktiv in der Geschäftsführung tätig. Gemeinsam mit Achim Kirchner (Verkauf) und Karsten Peter (Produktion) planen die drei nun die weitere Zukunft des außergewöhnlichen Weingutes. "Das Jahr 2019 ist ein sehr wichtiges für uns; wir haben eine Dekade lang Aufbauarbeit in allen Bereichen geleistet. In den Reben haben wir nachhaltige Bewirtschaftung umgesetzt, die Erträge haben wir reduziert, die Qualität sukzessive gesteigert. Wir haben eine neue – kupferfarbene – Kelterhalle errichtet und ein Gästehaus eröffnet. Bis zum Sommer werden wir nun noch den Degustations- und Verkaufsbereich neu gestalten. Dann ist alles bereit für ein glänzendes Fest und eine noch glänzendere Zukunft!" freuen sich Jens Reidel und Christine Dinse.
Stuart Pigott wird eine wichtige Rolle in der Vorbereitung dieser Zukunft spielen. Seine Erfahrung und sein Enthusiasmus für Riesling von geologisch-spannenden Herkünften, seine mitreißende Art, über große Weine zu schwärmen, seine Sprachgewandtheit und sein internationales Netzwerk, aber auch sein kritischer Blick machen ihn zum idealen Partner.
Neben seinen weiteren journalistischen Tätigkeiten wird Stuart Pigott für Gut Hermannsberg ab März 2019 in dem Jubiläumsjahr als "Riesling Ambassador" tätig sein und überall dort unterstützen, wo er seine Kompetenz und seine Begeisterung in gleichem Maße einbringen kann: bei der akribischen Aufarbeitung von Texten und Dokumenten der letzten 10 Jahre, bei der Vorstellung und Erläuterung der Weine, bei Degustationen mit Fachpublikum aus aller Welt und bei Events mit Weinliebhabern.