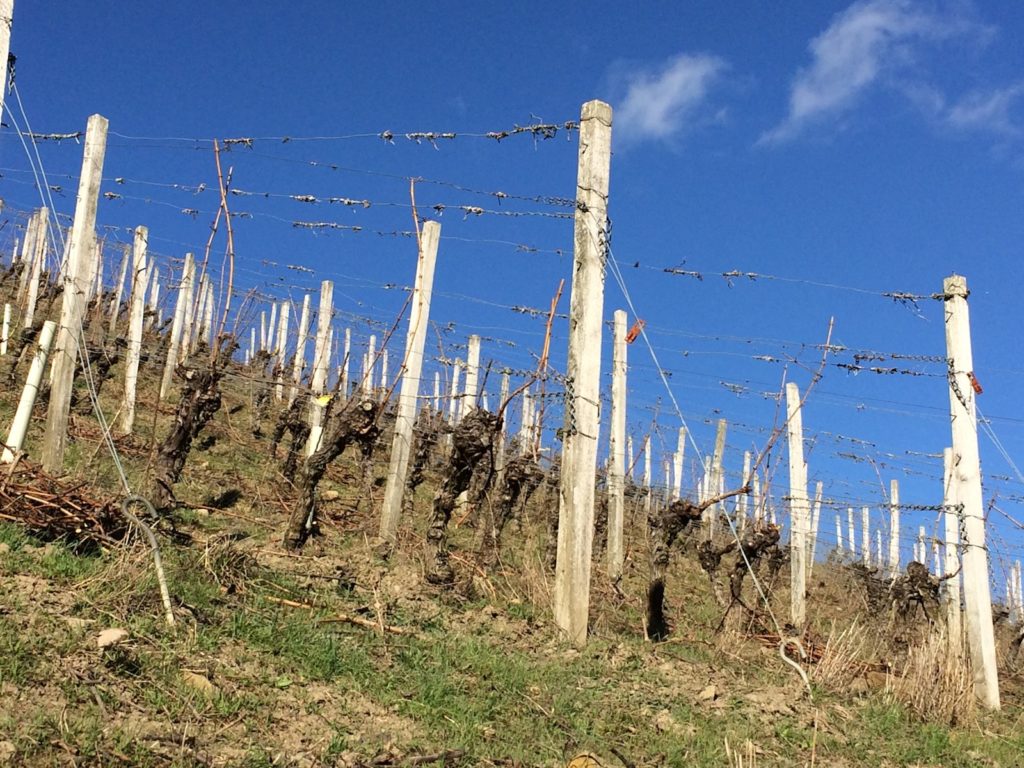 I just started as Riesling Ambassador for the Gut Hermannsberg (GHB) estate in Niederhausen/Nahe and, of course, I spent some time getting to know my new desk, where I wrote and translated a row of texts for the fast approaching ProWein trade fair in Düsseldorf. However, I also discovered lost world of wine.
Vor wenigen Tagen habe ich angefangen als Riesling Ambassador für Gut Hermannsberg (GHB) in Niederhausen/Nahe zu arbeiten. Ich habe natürlich einige Zeit an meinem neuen Schreibtisch verbracht, wo ich Texte für die bevorstehende ProWein-Messe geschrieben und übersetzt habe. Ich habe aber auch eine verlorene Welt für mich entdeckt.
It started during an extensive tasting of the current range of GHB wines, plus fast approaching additions to that range from the exceptional 2018 vintage. "Rotenberg," said winemaker Karsten Peter softly as he poured me the first of the 2017 GGs, a dry Rieslings from the Rotenberg site. It was not the most breath-taking wine of the tasting, but it was extremely striking thanks to its smoked bacon character. Smoke is what I associate with the red Syrah grape and I never tasted a Riesling like this before! It was married to ripe peach aroma that the intense mineral character and strident acidity were beautifully balanced.
Das fing bei einer Verkostung der aktuellen Weine an, sowie auch die bald dazu kommenden Gewächse des herausragenden Jahrgangs 2018. "Rotenberg" sagte mir Winemaker Karsten Peter leise, als er mir der erste von den 2017er GGs des Hauses, einen trockenen Riesling aus der Lage Rotenberg. Es war nicht der atemberaubendste Wein der Verkostung aber er stach heraus mit seiner Räucherspecknote. Dieses Aroma assoziiere ich normalerweise mit Rotweinen der Traubensorte Syrah. So was habe ich bei einem Riesling noch nie erlebt! Und es war mit genug Pfirsichfrucht gepaart um die mineralische Note und betonte Säure wunderbar zu balancieren.
GHB has a reputation for charging rather serious prices for their top wines, at least within the moderately priced context of the Nahe region that is. However, the 2017 Rotenberg GG is just Euro 26 to private customers direct from the estate, or just over half of the Euro 48 that the breath-taking 2016 Kupfergrube GG costs. This is because the Rotenberg is nowhere near as famous as the legendary Kupfergrube, and this remarkable wine therefore sometimes get's overlooked. I'd always liked the Rotenberg wines, but never really "got" them before. Now I really do, and the fact they're underdogs also makes them appeal to me!
GHB hat der Ruf, recht hohe Preise für seine Spitzenweine zu verlangen – zumindest innerhalb des eher günstigen Kontexts der Nahe. Mit Euro 26 für Privatkunden ab Hof kostet der 2017er Rotenberg GG nur etwas mehr als die Hälfte des großartigen 2016er Kupfergrube GGs (Euro 48). Die Lage Rotenberg ist unbekannt in Vergleich mit der legendären Kupfergrube und deswegen wird sie manchmal übersehen. Ich habe die Rotenberg-Weine immer gemocht aber erst vor wenigen Tagen richtig geschnallt. Ihr Underdog-Status macht sie für mich auch anziehend!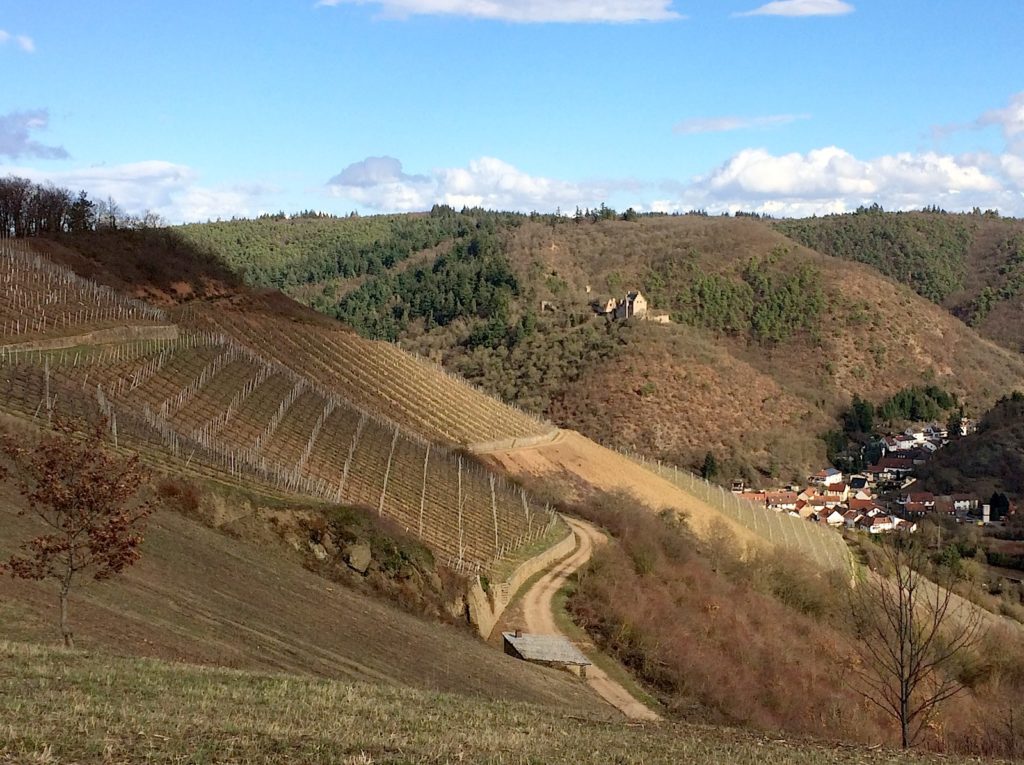 Then, Karsten Peter took me on a long vineyard tour that ended in the Rotenberg. Suddenly, Karsten's jeep pulled up at the edge of the hill country into which the Alsenz Valley is deeply cut. With not quite 30 hectares of vineyards it is composed of a series of steep and rugged islands of vines surrounded by woodland and scrub, the later on the slopes where vineyards used to be. No doubt the season accentuated the wildness of the place and it reminded me of a painting by Bruegel. On a distant hill stood a castle. Of course, we're in The Real Germany!
Dann nahm mich Karsten Peter mit auf eine lange Weinbergstour, dessen Endziel der Rotenberg war. Plötzlich hielt sein Jeep an der oberen Kante des engen Alsenztals in das wir hinab blickten. Nicht ganz 30 Hektar Weinbau gibt es noch hier. Es gibt eine Reihe von steilen und schroffen Rebinseln, umgegeben von Wald und Gestrüpp (letzteres auf den Hängen wo es mal Weinberge gegeben hat). Zweifelsohne hat die Jahreszeit die Wildheit dieser Landschaft betont. Es erinnerte mich an ein Landschaftsgemälde von Bruegel. Auf einem Berg in der Ferne stand eine Burg. Selbstverständlich! Wir sind doch im wahren unverbrauchten Deutschland!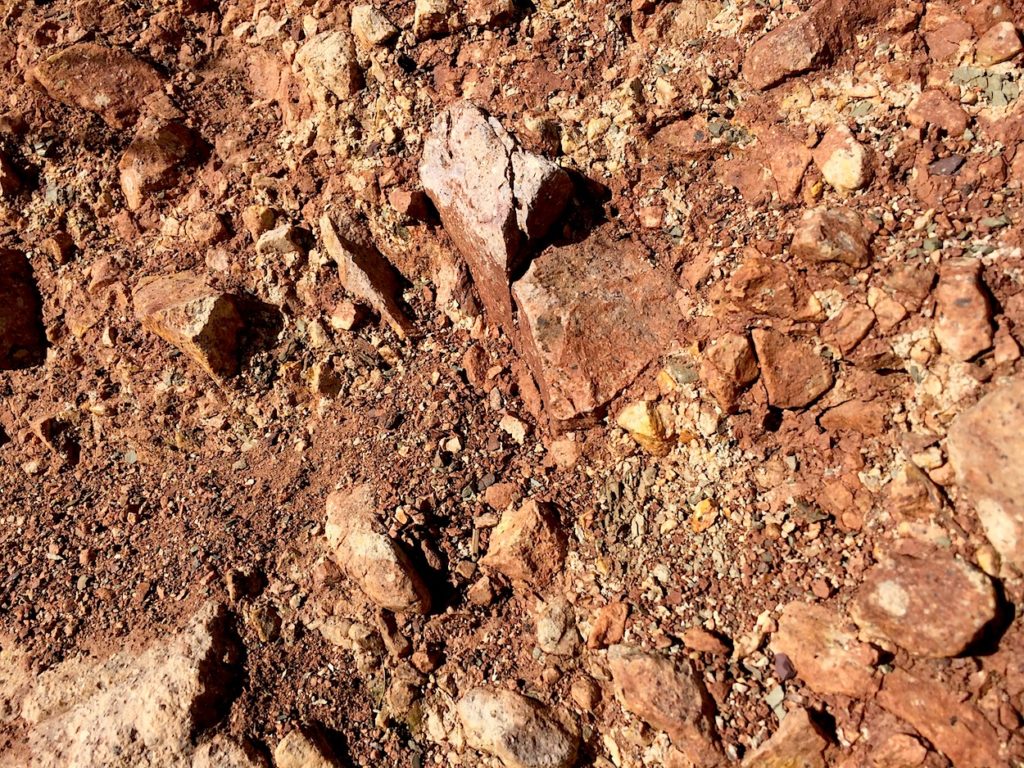 We climbed out of the jeep and as I vainly tried to get a sharp photograph of him in the blustering wind Karsten showed me bedrock where it was exposed at the side of the road. It is composed of red volcanic rhyolite with a small amount of what local winemakers call Tonschiefer, or clay slate. It made me think of the surface of Mars! Together with this precipitous south-facing slope, it surely leads to that special personality of the wines. GHB has almost 3 hectares of Riesling planted in the Rotenberg and the ground has been cleared and prepared to plant another 1 hectare, because we believe in it. Considering I never had a bottle of Rotenberg Riesling in my extensive cellar I'd say it counts as a lost world of wine!
Wir stiegen aus dem Jeep und als ich vergeblich versuchte ein scharfes Bild von Karsten, trotz heftigem Wind zu knipsen, zeigte er mir den Fels, wo er an der Straßenkante freigelegt ist. Er besteht vorwiegend aus rötlichem vulkanischen Rhyolit mit etwas Tonschiefer. Es hat mich an die Marsoberfläche erinnert! Zusammen mit diesem nach Süden exponierten Steilsthang, führt es zu diesem besonderen Wesen des Weins. GHB besitzt fast 3 Hektar Reben hier und wird bald noch 1 Hektar dazu pflanzen, weil wir daran glauben. In Anbetracht der Tatsache, dass ich nie eine Flasche Rotheberg in meinem weitläufigen Weinkeller hatte, würde ich sagen, es ist eine wahre verlorene Welt des Weins!
#GHBismyDRC  
#GHBistmeinDRC