Who dunnit?
There's been some noise in the twittersphere lately about me being crazy, and I have to admit that at the least some pretty crazy stuff happens around me. The reporter in my soul then grabs hold of things like the above. Suddenly in the early hours of this morning during the third Long Night of German Wines in New York there was this knife in the floor of Restaurant Hearth on East 12th Street at First Avenue and the piece of floor it was sticking in had been marked off – as a dangerous place or as a holy site? OK, maybe you have to be crazy to snap something like this, then publicize it.
Either way it was quite a night, although one of the conclusions I drew was a disappointing one. The three young winegrowers from Rheinhessen – Christine Huff from the Fritz Ekkehard Huff estate, Mirjam Schneider of the Schneider estate and Eva Vollmer of the eponymous estate – were the stars of the show, just as I'd hoped they'd be.  But again and again our guests fired the same question at them: where can I buy these wines? The problem is that they jumped to the normal New York Wine City (NYWC) conclusion that if the wine is this good it must already be imported to NYWC. This way of thinking is understandable when you see the gigantic range of French and Italian wines available here, but those wine growing nations have had powerful lobbies in the city for a long, long time. In comparison, German wines have only recently begun to attract that kind of attention (again) and many importers of German wines are still selecting what they import as if the recent quality revolution in places like Rheinhessen had not really  happened. That's sad also because American consumers are missing out. Calling all young / dynamic wine importers: this is one big chance for you and whoever sticks their neck out first will get to cherry pick the new generation of German winemakers. I think the expression is go for it!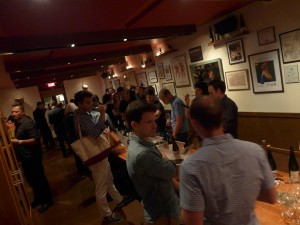 As you can see from this picture, also taken in the early hours of this morning, here was quite a buzz at the Long Night of German Wine.  It was the three winemakers standard quality wines as much as their top bottlings which amazed. In this category, the 2012 Riesling *** from Mirjam Schneider was enormously ripe for its modest price, with an aroma of yellow plums and considerable power. Christine Huff's 2012 Riesling "vom Rotliegenden" was a total contrast with its sleek, lithe body and aromas of rose hips and  herbs. Just to prove that Rheinhessen isn't only about dry Riesling Eva Vollmer's standard quality 2012 Weissburgunder (Pinot Blanc) had a bouquet of freshly-picked green beans, was powerful and round, yet fresh and cool. The single-vineyard bottlings from the trio – the Rabenturm dry Riesling from Huff, the Edelmann dry Riesling and Silvaner from Schneider, and the 'Kult' wines from Vollmer – are all of a quality which ought to earn them plenty of listings in NYWC's best restaurants.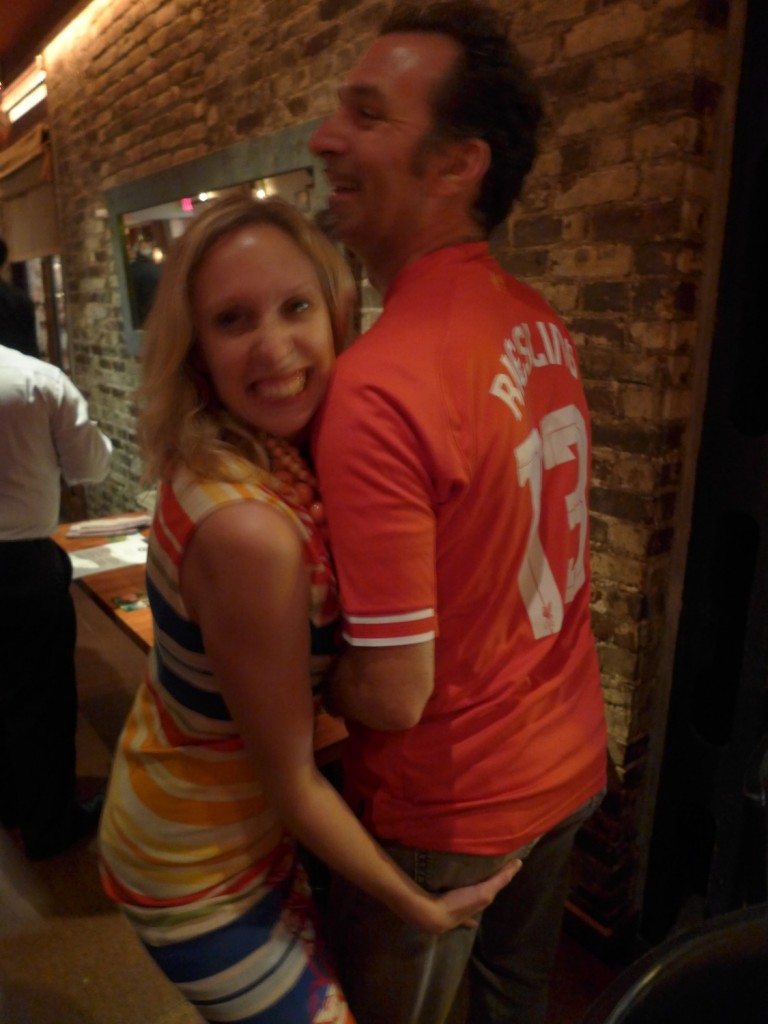 Of course, the event got a little out of control at times, but frankly any evening which doesn't get a little out of control in one way or another is lacking some life. I'm not sure why the soccer shirt (sorry, but knowing nothing about soccer I forget for which team it is) that Paul Grieco was wearing had a number 13 on the back – was it 13 German wine growing regions, or Riesling's power to overcome evil magic? – but as you can see, someone found it as irresistible as the wines.
On that from there was general amazement about how well the dry and sweet Rieslings of the 2003 vintage which I brought from my private cellar showed. Sure, I had made a positive selection, but there were enough of them to prove that it's no fluke when a 2003 German Riesling shows much better – more lively and elegant – than the reputation of the vintage would have you believe. However, even I was glad to drink a glass each of the dry 2011 "Schlank im Schrank" Riesling (from the Karlsmühle estate in the Ruwer) and the 2011 "Scheu im Heu" Scheurebe (from Winzerhof Stahl in Franken) at the end. These weirdly-named products – they translate literally as "Sleek in the Closet" and "Shy in the Hay', but obviously this loses the musical quality of the names – are both house wines from the Weinstein wine bar in the Prenzlauer Berg district of Berlin. Weinstein have been my partners in the Long Night of German Wine project since it began in 1997. Since then we have been doing this to collect donations to the HOPE foundation in Cape Town/South Africa, which works to prevent the spread of HIV / AIDS and to care for sufferers and their orphaned children. Last night we topped Euro 100,000, or at the present exchange rate just short of $135,000 total donations. All of this was done with rather small events like last night's. Thank you Hearth and everyone there who works there for pulling your weight last night!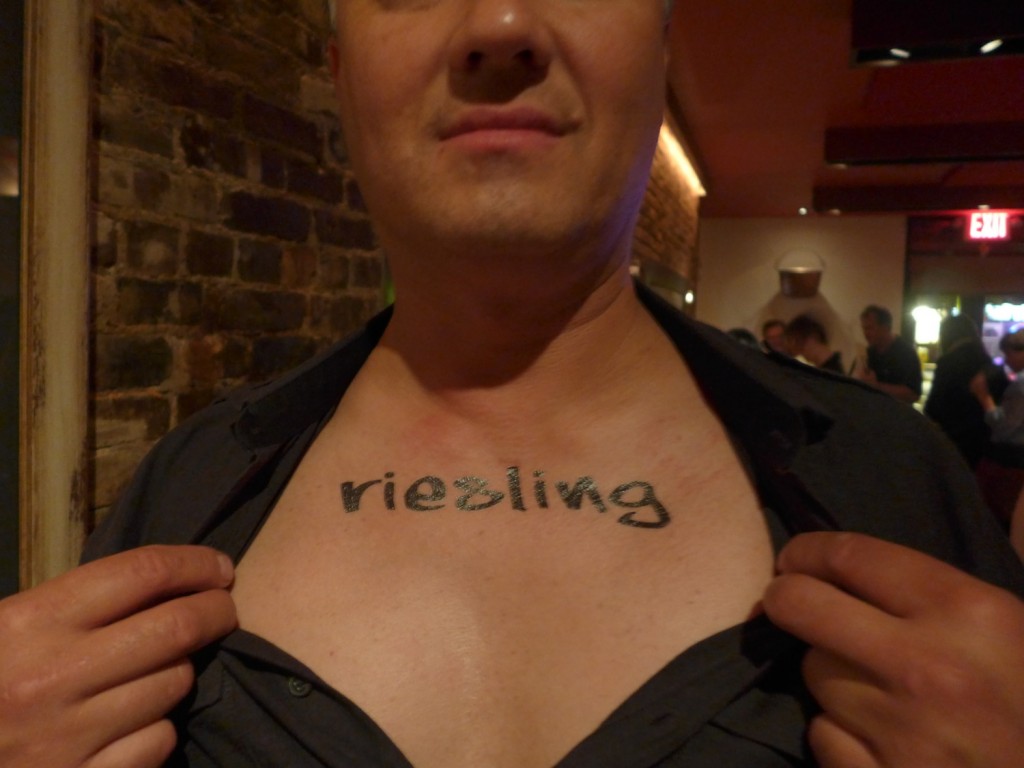 Our event was one small part of the Summer of Riesling and we are proud to have been able to do our part for this wine "festival" which has time limits (the 94 days of summer), but knows no geographical limits. Riesling is a grape and a wine, but also a way of seeing the world and a spirit. Those things are way more difficult to pin down than the grape and the wine, but hopefully this blog manages to successfully convey them in a non-linear manner fitting to their own nature. Certainly the picture above seems to do that. I hope that my logo (below) does it too, for that would justify using it so often.