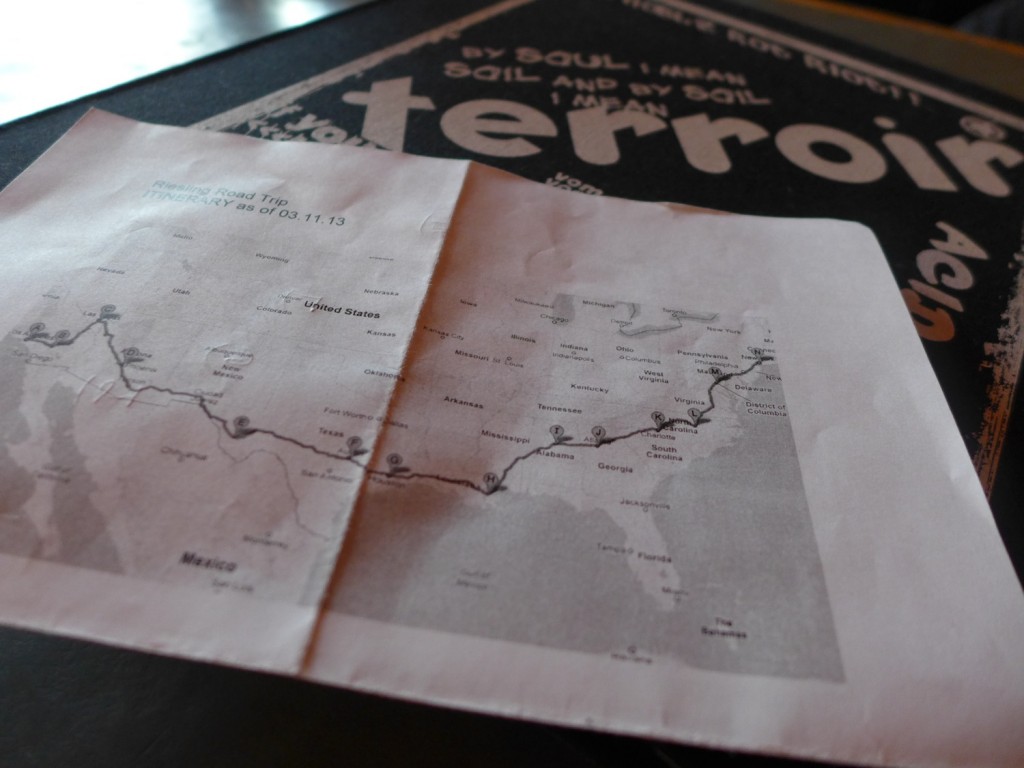 In less than one hour I dash to JFK for my flight back to Germany (the ProWein trade fair in Düsseldorf looms on the horizon), but a much more extraordinary journey, the 'Riesling Road Trip' sponsored by Wines of Germany, is in the works as the above picture from our last planning meeting at Terroir, E.Vil. in New York Wine City (NYWC) shows. On the map of the United States which I spread out on one of the wine lists one of the possible routes for the 'Riesling Road Trip' is marked. At present the only things which are certain are that I will be traveling coast-to-coast overland beginning in LA on June 19th and ending in NWYC on June 27th. For the first half of the journey I will be accompanied by an as-yet unnamed West Coast somm, and during the second half the double act will also feature Paul Grieco of Terroir and Restaurant Hearth. One of our vehicles will be mobile tasting room, details of which I am forbidden to reveal, except to say that it will look serious extraordinary.
The official goal of the 'Riesling Road Trip' is to promote German Riesling in major population centers and off the beaten track cities, but of course each of the participants will bring his/her own personal goals to the project. Mine will be to film the entire bizarre adventure for use in WATCH YOUR BACK (a Riesling movie) and to get to many parts of America I've never seen before within the space of a few days. For example, so far the only part of the Deep South I've been to was Shreveport/Louisiana, which was real interesting, but is only a small part of this vast and varied region. No doubt all kinds of unexpected stuff will happen along the way and that will all be a vital part of the Great Adventure. There's certainly no shortage of literary role models for what we're doing ranging from Jack Kerouac's 'On the Road' to Hunter S. Thompson's 'Fear and Loathing in Las Vegas', plus older classics like Mark Twain's exhaustive travel writings.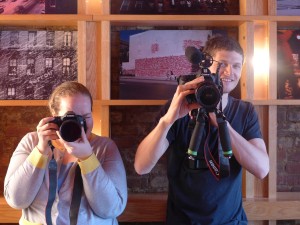 So I leave New York with high expectations for all that will happen after my return on May 21st. A later date would be impossible, because a bunch of video material must be shot in preparation for 'Riesling Road Trip' and needs to get through post production in good time to publicize the whole mad caper. That kind of material needs more planing than the photos and video interviews we shot at Terroir the other day. And earlier than May 21st wouldn't have worked for me because of all the commitments I have in Germany. As usual I'm juggling one more ball than I really know how to keep in the air, but that's what makes my life so exciting. I will sleep deeply on the flight and forget all of that as I sail across the Atlantic back to the Riesling Fatherland. Thanks you everyone in NYWC who made this such a productive and stimulating stay! I WILL RETURN!!!