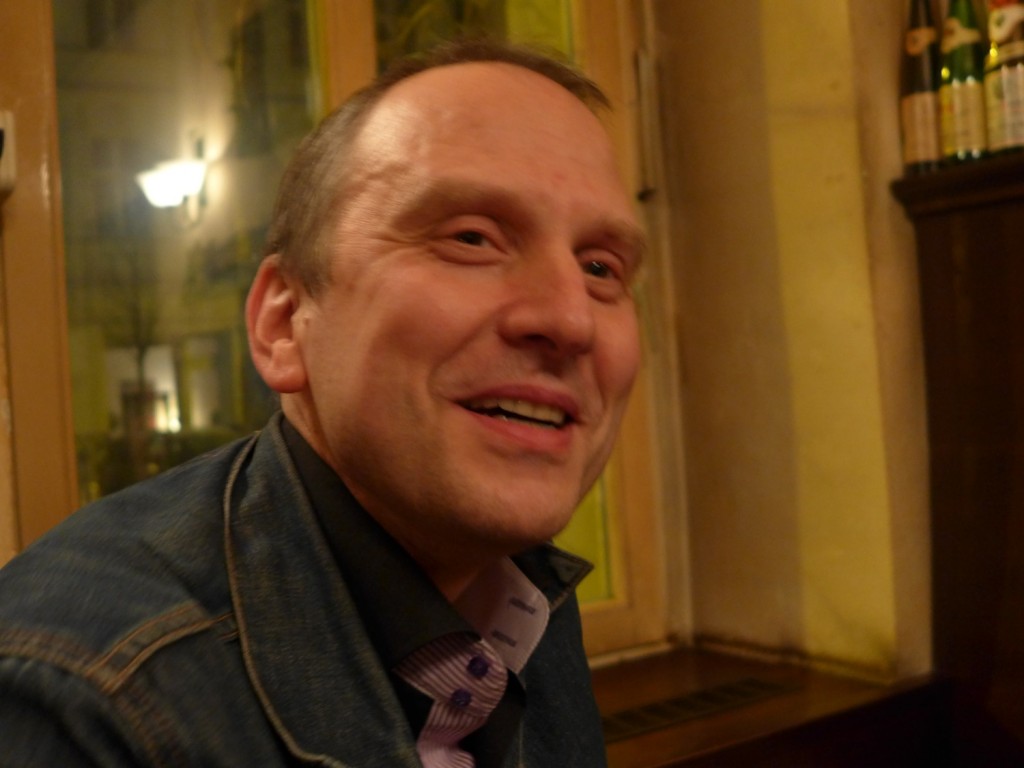 The English language part of this blog (which returns to the front page on Wednesday) has never shied away from difficult subjects that relate to wine and/or journalism in less direct ways (see "Dear NSA, Dear GCHQ". The new German language section WEINHIER will do the same. Here is a first example from Roy Metzdorf,  the guiding spirit behind the amazing WEINSTEIN wine bar in Berlin-Prenzlauer Berg where you can meet me on Saturday evening. The photo of Roy comes from my book BEST WHITE WINE ON EARTH – The Riesling Story. I would say that an English language version of Roy's article should be entitled HOMOPHOBIA – The Wine Story, because there's so much obvious and subliminal homophobia in the conservative German wine scene. Where are the openly gay or lesbian wine growers? I only know a couple in Germany, and I can well understand the nervousness of those that haven't come out yet. 
Matthias Matussek hat nichts gegen Schwule – ihm geht nur das Theater auf die Nerven von Roy Metzdorf
Der Autor, Publizist und ehemalige Kulturchef des "Spiegel", Matthias Matussek, zeiht sich in der "Welt" vom 12. Februar 2014 und in weiteren Beiträgen im Netz der Homophobie und findet das auch gut so. Angesichts des Schöpfungsauftrages, den uns Gott gegeben habe – "Gehet hin und mehret euch" – sei Homosexualität eine defizitäre Form der Liebe. Schließlich sei es eine ganz simple Einsicht, dass sich Lebewesen fortpflanzen müssten, um die Art zu erhalten. Im Gegensatz zu Heterosexuellen könnten sich Homosexuelle jedoch prinzipiell nicht für Nachwuchs entscheiden. In Übereinstimmung mit dem Philosophen Robert Spaemann hält er sie daher für unvollständig ausgestattete Wesen, denn sie verfügten nicht über die Dinge, die zu einem normalen Überleben gehörten. In diesem Sinne sei Gleichgeschlechtlichkeit ein offenkundiger Fehler der Natur, und er habe keine Lust, sich für diese Ansichten von Gleichstellungsfunktionären platt machen zu lassen, egal wie oft sie ihm vorhalten mögen, dass es auch in der Natur bei irgendwelchen Pantoffeltierchen Homosexualität gebe. Eigenartiger Weise verzichtet er zur Untermauerung seiner Thesen auf die Frage, was denn wohl geschehen würde, wenn man alle weltweit schätzungsweise 170 Millionen schwulen Männer auf eine Insel verbannen würde.
Die Einsicht, dass sich Lebewesen fortpflanzen und überdies Fressfeinden, Krankheiten und Naturkatastrophen widerstehen müssen, um zu überleben, ist für Matussek offenbar nicht mehr ganz so simpel. Arten bewerkstelligen das, indem sie weit mehr Individuen hervorbringen, als sie zur Reproduktion benötigen. Deshalb muss sich nicht jedes einzelne Lebewesen vermehren, um die Art zu erhalten. Das Merkmal Homosexualität ist somit auch ohne evolutionären Nutzen überlebensfähig. Schließlich lässt die Evolution gleichfalls solche Merkmale existieren, die für die Anpassung an den jeweiligen Lebensraum bedeutungslos sind.
Zudem gelingt die Erhaltung der menschlichen Gattung nur, wenn sich zur Fortpflanzung auch Brutpflege gesellt. Matussek wird aufgefallen sein, dass schwule Mathelehrer sich um das Zahlenverständnis der Kinder kümmern, dass schwule Bäcker das Pausenbrot backen und schwule Kinderärzte bei Krankheiten helfen. Darüber hinaus tragen sie zum Funktionieren des Gemeinwesens bei, indem sie für den Verdienst aus diesen Beschäftigungen Steuern abführen. Ihm leuchtet gewiss ein, dass Kinderlose auf diese Weise ihren Beitrag zur Arterhaltung leisten.
Und dass der Sexualtrieb über die Absicherung der Fortpflanzung hinausgehende Funktionen aufweist, sollte er im Selbstversuch herausgefunden haben. Mit der Lust am Sex verhält es sich, wie mit der Lust am Essen. Wir sind in der Lage, die geschmackliche Komplexität eines guten Essens wahrzunehmen und uns so in einen sinnlichen Rausch zu versetzen, obwohl das Hungergefühl ausreichen würde, uns zur Nahrungsaufnahme zu bewegen. Ihm ist durchaus nicht entgangen, dass Lustbefriedigung ein wichtiger Baustein zur Erhaltung des psychischen Gleichgewichts ist. Oder will er behaupten, in seinem Leben immer nur dann Sex gehabt zu haben, wenn es ihm um Fortpflanzung ging?
Sollte er das Sexualverhalten von Homosexuellen dennoch für defizitär halten, muss der gläubige Katholik Matussek ebenso das Sexualverhalten zölibatär lebender Nonnen, Mönche und Priester als einen Fehler der Natur interpretieren. Auch sie "können sich prinzipiell nicht für Nachwuchs entscheiden".
Dessen ungeachtet ist die Menschheit zu einer der erfolgreichsten Arten auf Erden geworden. In den letzten 50 Jahren hat sich die Anzahl ihrer Individuen verdoppelt.
Mit ihrem munteren, frechen Verhalten treten Schwule von heute aufmüpfig für ihre Rechte ein und haben so das Reinheitsgebot für Sex in Deutschland zu Fall gebracht. Ist das die Ursache für seine Klage: "eine Minderheit terrorisiert die Mehrheit"? Ist es glaubhaft, dass ein Intellektueller im Deutschland des 21. Jahrhunderts die Bibel wörtlich auslegt, in solch schlichten, monokausalen Zusammenhängen denkt und derart dürftig argumentiert? Kann man so jemanden ernst nehmen?
Man kann nicht nur, sondern man muss! Denn in unserer unüberschaubar vielfältigen und komplexen Welt ist niemand in der Lage, sich ein ausschließlich rationales Bild zu machen. Bleiben Erklärungslücken, stopfen wir sie mittels Emotion, Intuition und Religion. Deswegen sucht uns das Vorurteil heim. Matussek tarnt es mit der aus anderen Zusammenhängen bekannten Formel "Ich habe nichts gegen Schwule, aber…". Wenn jedoch jemand den Anschein erweckt, von der Mehrheit abweichende Individuen wären defizitär und damit fehlerhaft, ist Gefahr im Verzug. Zur Behauptung, diese Individuen seien minderwertig, ist es dann nicht mehr weit.
Die Klassifizierung von Menschen in voll- und minderwertig wird schnell zum Ausgangspunkt für Ausgrenzung und Verfolgung: Vordenker, die irrational argumentieren, große Wählergruppen, bei denen Emotionen geschürt werden, Politiker, die daraus Programme machen, Parlamentarier, die entsprechende Gesetze verabschieden und am Ende der Kette Vollstrecker, die sich hinterher auf Befehlsnotstand berufen.
Wir sollten die Aufklärung unbedingt fortführen, damit diese Prozesse nicht zum Perpetuum mobile werden.
Und was die Antwort auf die Frage nach der Schwuleninsel anbelangt: nach 100 Jahren wäre sie immer noch bewohnt, da heterosexuelle Paare ständig für neuen schwulen Nachwuchs sorgen.